While we've seen an Invasion of TV streaming services, and money thrown to Hollywood for content, it's not always for the better. In this case, producer and writer Simon Kinberg also produced The Martian. With that pedigree, I'm sure AppleTV+ hoped for something better than the Invasion of the "seemingly unrelated but coordinated events." The first three episodes dropped on October 22nd to be followed by seven more weekly episodes. So far, the folks on Earth have no clue what is happening. That's fair. Neither does the audience. Invasion is as cryptically slow as one can imagine.
From the Arabian Desert in Yemen, Idabel, Oklahoma, Long Island, New York, Tokyo, Japan, London, England, and Kandahar, Afghanistan, the viewer gets treated to . . . very little. Is this a tornado, a massive cosmic storm, terrorism. or some sort of three-legged creature? As characters in all of the aforesaid locations try to sort out it out, communications are spotty. How spotty? Just enough to allow TV broadcasters to leak tidbits of info to the viewer from time to time. Thus far, the characters have no connection to each other and make little connection to the audience. I give Invasion 3.0 Gavels and it receives a 50% Rotten Tomatoes rating with a poor 5.8/10 IMDb score.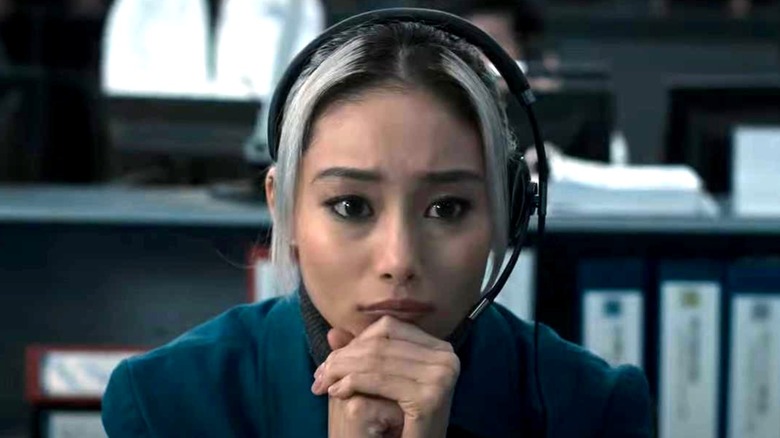 Plot
After 45 years of service, Sheriff Jim Bell Tyson is retiring, upset that he's never made a difference. Mitsuki Yamato pines for her lover about to head to the International Space Station for one year. Aneesha Malik discovers her husband is having an affair. Trevante Cole understands his duty to bring his men home safe. Bullied by his classmate, Caspar Morrow just wants to fit in. All their lives are about to change dramatically by the Invasion.
Actors
For me, Sam Neill (Ride Like A Girl, Peter Rabbit) was the draw to Invasion. Alas, in a bait-and-switch, the poor Sheriff may only appear in the very first episode. Golshifteh Farahani (Pirates of the Caribbean) is a gifted actress. But, if I wanted to watch a marriage falling apart, I wouldn't have turned on science fiction. Shiori Kutsuna (Deadpool 2) may have the best part as the communications expert seeking to understand the Invasion, but the constant shift from character to character, location to location, minimizes her effect.
Final Thoughts
Typically, if there is an Invasion, one expects invaders. As Kevin Carr (Fat Guys at The Movies) so aptly puts it, "it's nothing but a kitchen sink drama as people are running and seeing weird things happening."
"Invasion proceeds so incrementally across such a wide range of characters and their responses to extraterrestrial terrorism that you might well lose your way from week to week. Never mind your interest." Wall Street Journal
"Invasion is an admirable attempt at subverting the expectations that come with a big budget sci-fi show about alien invaders; the only problem is that it's not very interesting or exciting." We Got This Covered
Ultimately, if you want drama, then Invasion is fine. If you want science fiction, then look elsewhere.