During the dog days of August TV, I happened upon Dead Lucky. What caught my attention? From My Best Friend's Wedding to Hacksaw Ridge, and Six Feet Under to Brothers and Sisters, Rachel Griffiths is one of the many quality actors from Down Under. Besides, the Aussies generally know how to put on a good show. Is this four-part crime thriller, available on Amazon Prime, a dog? Usually, critics complain that actors try to salvage a poorly written script. Here, we have the opposite. The crimes, and the twists and turns of the story, are well done. It is the performances in Dead Lucky that just can't compare to the Brits and Masterpiece Theater.
Set in the gorgeous city of Sydney, DS Grace Gibbs deals with unscrupulous store owners, drug launderers, a serial killer, a gun runner, and a crooked cop. If that isn't enough, her trainee detective partner thinks she got his predecessor killed. Her boss wants her gone. To top it off, her ex married the finance manager of the police department. Early on, the viewer meets the police psychologist. Does Grace have anger issues? Of course she does. But like an Australian Kojak, she keeps it all under control via her lollipops. I give Dead Lucky 3.5 Gavels and it receives a 6.8/10 IMDb score.
Plot
Grace Gibbs and her partner, Lincoln Tassoni, cornered suspected serial killer, Corey Baxter. Sent to get the police cruiser, Tassoni is struck by another vehicle. In the confusion, Baxter escapes. One year later, he strikes again at a local convenience store. Iranian medical student, Mani Dalir moonlights as the cashier. Already paid less than minimum wage, he balks when asked to prevent future robberies using a gun. The store owner fires him. That night, the owner takes a bullet to the chest. Has Baxter struck again?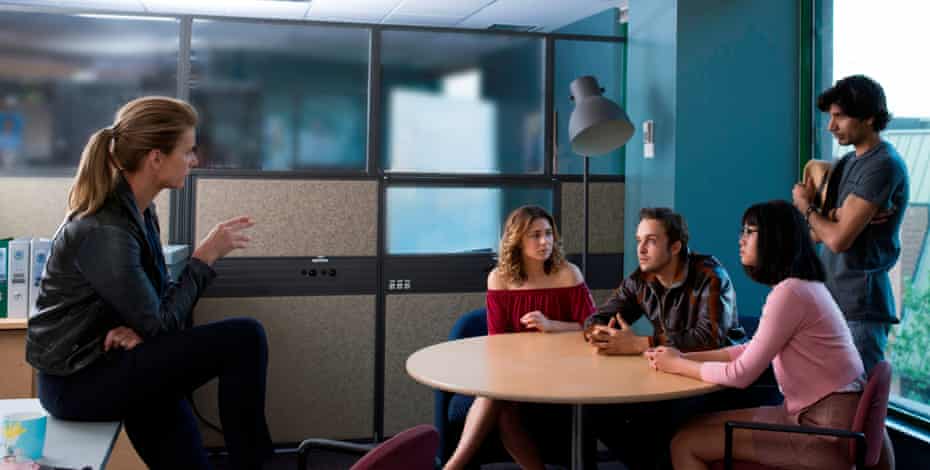 Actors
Just last year, Rachel Griffiths starred in The Wilds. As Grace Gibbs, she has a chip on her shoulder. She has every right to be a little paranoid. They are out to get her. Recently seen in Mulan and The Luminaries, Yoson An appears as trainee detective Charlie Fung. The problem is that he often looks like a trainee actor, especially alongside the more polished Griffiths. No one else stands out.
Final Thoughts
"He murders indiscriminately for his own amusement," says Gibbs of Baxter. Clearly, Baxter is on her brain. Her boss gives her seven days to find him or the case gets sent to Major Crimes. I admit the title, Dead Lucky, bemuses me. Is Mani "Dead Lucky" because Baxter left him alive?
"The plot harvests familiar tropes from the nightly news and squeezes them into a multicultural, urban crime drama: stick-ups at 7-Elevens, sharehouses overcrowded with exploited international students, vulnerable migrants driven to gambling addictions, rote family violence." The Guardian
"The plot is twisty. The killer is known to the police; they just can't lay their hands on him. But there are other mysteries to solve, all entwined with and sometimes masking the one seemingly at the series' center." LA Times
Close but no cigar is the verdict for Dead Lucky. Maybe that's the best we can hope for in August.