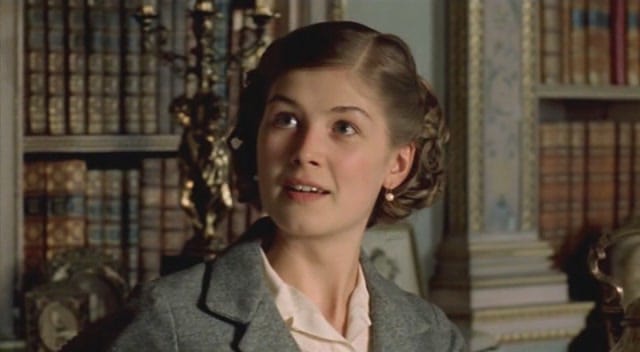 Basically, Love in a Cold Climate will leave you cold. Set from 1929 to the beginning of WWII, I can say, without hesitation, this is the worst of the BBC British period pieces, by far. Three young girls, Fanny, Linda, and Polly, are of age for their "coming out" ceremonies. Fanny's mother abandoned her at a young age and is forever known as "The Bolter." Linda's father is a prejudiced snob, and her mother, not much better, tells her "marry for money, love doesn't last." Polly, a classic blonde beauty, pays no attention to the men thrust upon her, to the consternation of her mom.
Even the production values of Love in a Cold Climate seem poor by BBC standards. Seen in three parts on Amazon, the old money hates the new money, every relationship is disapproved by both sets of parents, and most everyone is miserable. The viewer hangs in there thinking the show has to becomes less cynical. It doesn't. I give Love in a Cold Climate 3.0 Gavels and it receives a better than expected 7.1/10 IMDb rqating.
Plot
Linda, in love with the thought of love, falls for banker Tony. His only romantic gesture was to save a rabbit from drowning. Abandoning their child, she runs off with a Communist, more interested in his beliefs than showering attention on her. Polly, to be the richest heiress in Britain, after ignoring all men, marries her recently deceased aunt's husband. She is immediately disinherited, and after a short time, his eyes turn toward another, not female. While Linda is in Spain, and Polly in Italy, poor Fanny must listen to their parents moaning about their offspring, a fate almost worse than death.
Actors
This is one of Rosamund Pike's (Radioactive) earlier roles and she has the look of a deer in the headlights. In fairness, much of that is due to her character, Fanny. Apparently, Elisabeth Dermot Walsh is a daytime TV star in Britain. As Linda, she deserved a better fate. Megan Dodds was in CSI: NY back in 2012-13, and in Juliet, Naked in 2018. As a sullen young lady, the part of Polly required little acting range.
Final Thoughts
After 3.5 years of writing reviews, this is the first time I could not find a trailer. Maybe that was a hint of what wasn't to come. "Read fewer books and make the house more comfortable. That's what a man appreciates" is what passes for advice to young women in the early 20th Century.
Perhaps you will chuckle at Linda's thoughts on Communists. "Left-wing people are dreadfully gloomy because they mind so much about their causes, and their causes are always going so badly."
Originally made in 2008, starring Judi Dench among others, it appears that BBC may try yet again with Lily James. Woe is me!