Some indies are quirky good.  Some indies are quirky bad.  Juliet, Naked is quirky ho-hum.  That said, Rose Byrne moves way up on my list of top actresses; she is that good.   Before anyone gets too excited, Juliet is not naked in the film.  She is not even in the film.  "Juliet" is an album by Tucker Crowe, and "Juliet, Naked" is some of his demos.  Other than catching your eye, the word "naked" appears superfluous, but perhaps music critics will enlighten me.   Unless a sad marriage which centers around a sad has-been musician interests you, I recommend you save your money and wait for it to come to the small screen.   I give it 3.5 Gavels and it receives an 81% Rotten Tomatoes rating.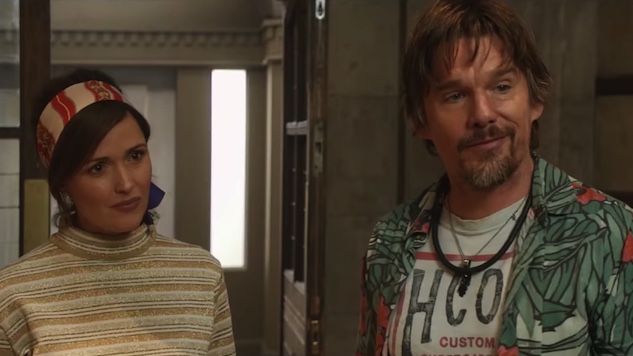 Plot
Duncan Thomson obsesses over Tucker Crowe, a musician who disappears from public life twenty-plus years earlier.   His shrine and blog irritate his wife of 15 years, Annie Platt, so much so that she anonymously criticizes Crowe on the blog.  Duncan begins to search elsewhere for affirmation while Annie starts an internet relationship with Crowe.   Annie finds out that Crowe has more baggage than any man should, but agrees to meet him.  Crowe brings that baggage to London to meet her and all sorts of problems interfere.
Actors
Rose Byrne is Annie and a wonder to behold.  The camera loves her face and you will, too.  Chris O'Dowd is her sad-sack husband, Duncan.  He demeans her so well that you want to tell Annie to "wake up!"  He is such a loser.   The weak link is Ethan Hawke as Tucker Crowe, although in his defense, he is miscast in a lousy character.  Twenty years of moping is just not good movie-watching.
Final Thoughts
Because a musician is at the center of the story, you do hear some fine music from time-to-time, just not enough.  "Charming" is the word that the critics use over and over to describe this film.  Count me among those un-charmed.  Rose is too smart to be fooled by either of these two.  If the old saying "a good man is hard to find" is true, she needs to keep looking.   The hospital scene where Annie meets the results of Crowe's past dalliances does provide some funny moments, but again, just not enough.  Overall, a fair effort, but not enough to get you off your couch.