Once you complete the more ballyhooed Little Fires Everywhere and Watchmen, you will be ready to Think Like A Dog. Needing something light, I tried My Perfect Landing on Netflix, but it had the production values of a middle-school stage play. Besides, it's the dog days of summer, so a dog movie it is. Think Like A Dog turns out to be a pleasant surprise. I would call it wondrously silly. Oliver learns that Henry, and his fellow dogs, are a lot smarter than we think. For example, "dogs know how to be happy." Dogs understand the two most important things in life are "love and family." Now, throw in a little junior-high humor with a joke-telling dog and you get to Think Like A Dog. I give it 3.5 Gavels and it receives early 70% Rotten Tomatoes and 57% Audience scores.
Plot
Twelve-year old Oliver wants to win the science competition, catch Sophie's eye, and keep his parents together. To do the first, he needs to amplify electrical disturbances in the brain to read another's thoughts. After his experiment is sabotaged, Xiao, a gamer friend from China, helps him hack into a satellite for more power. That surge gives Oliver the ability to talk to Henry. Henry's fast-talking wisdom will make it a snap to conquer goals two and three, if only an evil entrepreneur and government investigators don't get in the way.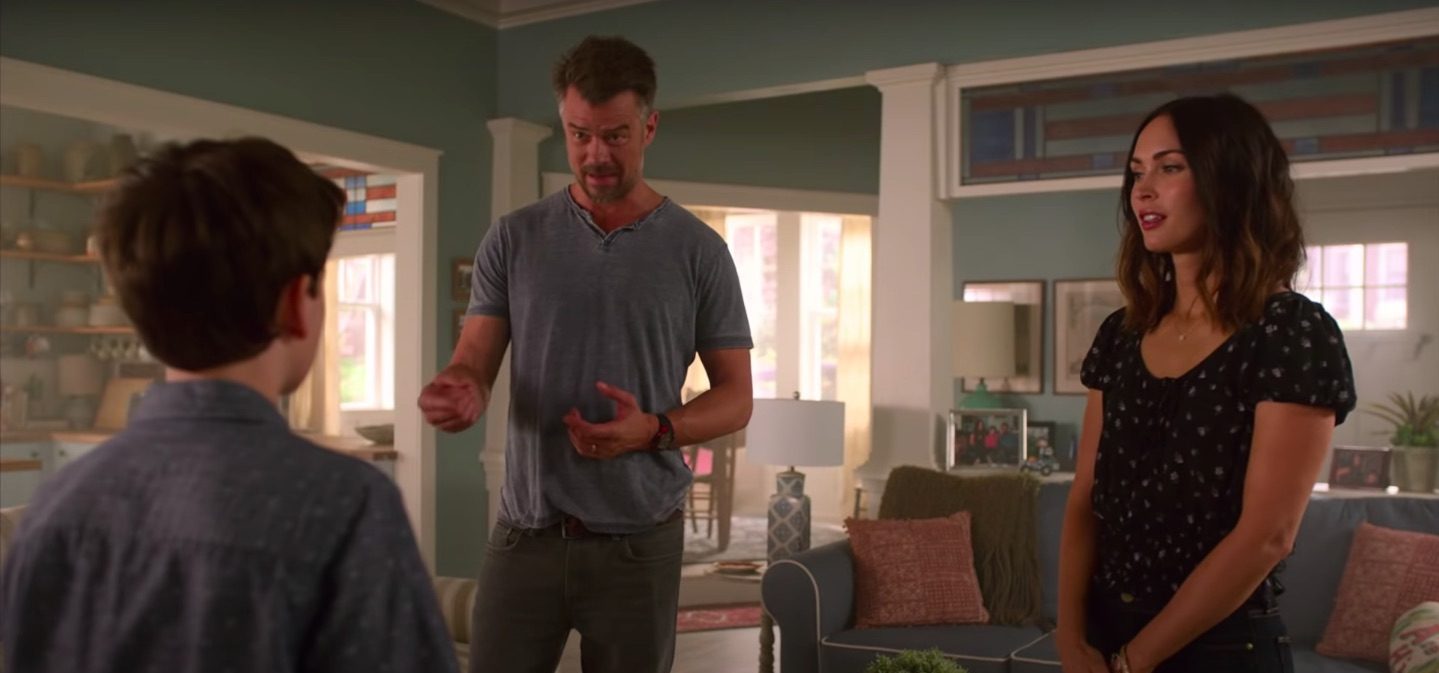 Actors
Josh Duhamel and Megan Fox, both of Transformers fame, are the star power, but mostly are window dressing as Oliver's parents. One easily believes they are separating as they have little on-screen chemistry. On the other hand, Gabriel Bateman (Playmobil: The Movie) and wise-cracking Henry are as cute as a boy and his "best friend" can be. It is probably too soon for Kunal Nayyar to lose his Raj Koothrappali image from The Big Bang Theory. His bad guy character is cartoon-like.
Final Thoughts
Henry's suggested pickup line is "are you a parking ticket?–because you have fine written all over you!" Henry acknowledges that dogs don't understand divorce, but he is determined to help Oliver avoid it. All they need to do is get his parents to get "the love look" back. The Movie Mom says Think Like A Dog is "a welcome throwback to Disney live-action classics like "The Absent-Minded Professor," "The Shaggy Dog," and "The Monkey's Uncle."
Caution Spoilers opines "Think Like A Dog won't set the world on fire (unless someone lights Henry's particularly noxious, house-clearing farts) but it's good-natured and engaging, bounding along like a puppy in a cornfield." In the end, the film is somewhat predictable. Isn't it a requirement to have a dog posse help save the day? But, after all the unhappiness of recent flicks, a little happy goes a long way.