After Normal People, this week's Emmy tour next brings us to Little Fires Everywhere. While this five-time nominated show is in the category of Outstanding Limited Series, a better classification might be Great Drama, Miserable People. Hence, you get an 80% Rotten Tomatoes rating with a 57% Audience score. Really, the quote "secrets isolate you from the ones you love" sums up Little Fires Everywhere. Elena and Mia hide so much that love turns to hate as "perfect" lives are torn apart. Or, as Mia relates "sometimes you have to scorch everything and start over." As we watch two families deal with race, infertility and adoption, abortion, poverty, and most of all, lies, there are just a few too many contrivances for my taste. Still, if this is your genre, you can't go wrong with Reese Witherspoon and Kerry Washington. I give Little Fires Everywhere 4.0 Gavels.
Plot
Shaker Heights pretends to be a Modern-Day Utopia. How could it be anything else with a philosophy that "everything should be planned to avoid uncertainty and disaster?" Elena perfectly fits as a "Mover and Shaker" being a journalist with four teens and a lawyer husband. Into her idyllic life arrives Mia, an apparent homeless artist with a 15 year old daughter, Pearl. After reporting Mia's vehicle to the police, white guilt causes Elena to offer Mia a reduced-rent duplex and a job as a "house manager." This is the first, but it won't be the last, allegation of racism. Since nothing about Mia seems to add up, Elena checks up on her. Why? "Being right is better than sex, because it lasts forever." Let the games begin!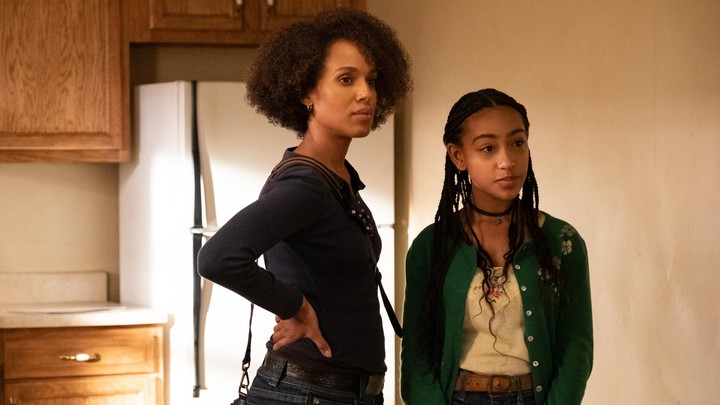 Actors
Reese Witherspoon purchased the rights to this book before it published. Her Elena gets more more and more devious, nastier and nastier, as the series progresses. Kerry Washington, as Mia, is always looking over her shoulder, always seeing a slight, even if none intended. While Reese and Kerry get the national attention, keep your eyes on Lexi Underwood (Pearl) and Megan Stott (Izzy). Each identifies more with the other's mother, to the consternation of their own. Their discontent defines the show.
Final Thoughts
From the superwoman persona to the psycho-calendar, from prickly photographer to"repulsive" art, from illegal immigrants to teen sex, Little Fires Everywhere tries to cover it all. If that isn't enough, I purposely keep another topic "secret" to avoid giving away a plot line. The Guardian writes "Little Fires Everywhere becomes, ultimately, a referendum on motherhood filtered through middlebrow drama – the choices mothers make, the worlds they do or do not provide, the secrets they keep, the control they want and increasingly can't have." Reason Online thinks "it's a show that's sometimes funny, sometimes touching, often disturbing, and almost always hard to look away from except in horror." As I said, great drama, but I prefer mine with a little less trauma.