Like Judy, My Week With Marilyn is a brief snapshot in the life of a celebrity. And like Judy Garland, Marilyn Monroe was certainly unreliable. Never knowing her father and her mother taken to an asylum, Marilyn is a mess of insecurities. What's it like to be the most famous woman in the world? Marilyn says "she just wants to be loved, to be like a normal girl." But no one thinks Marilyn is "normal."
The interesting aspect of My Week With Marilyn is the exploration of great actor vs. great film star. The consensus is that Laurence Olivier is the former, while Marilyn Monroe is the latter. Yet, as difficult as she was to work with, even the great Olivier would stand back and begrudgingly admire her work. When Marilyn is "happy," My Week With Marilyn takes flight, but all too soon her mood changes, and the film plunges to the lows of a paranoid pill-popper. I give the movie 3.0 Gavels and it receives an 83% Rotten Tomatoes rating with a 71% Audience score.
Plot
Colin Clark wants nothing to do with the life of his upper-class family. He yearns to be part of movies. Still, his connections land him a job as a third assistant director at Laurence Olivier Productions, i.e. a gofer. But, that position requires him to fetch things for Marilyn Monroe and soon, like everyone, becomes infatuated. As she feels less and less comfortable on the set, Marilyn seeks solace spending time with Colin. Many are not pleased.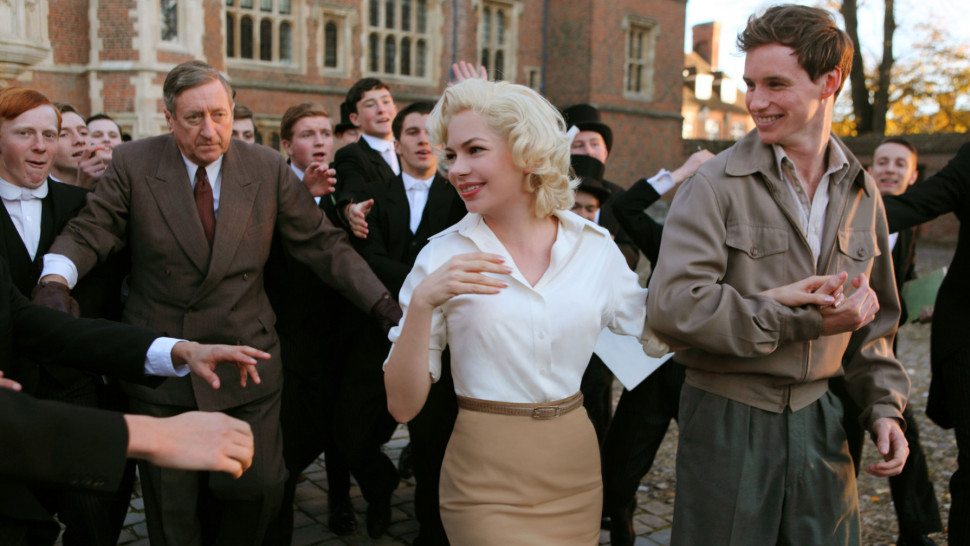 Actors
Rare is the time I don't relish watching the performance of Michelle Williams. She is terrific in The Greatest Showman and Fosse/Verdon. Yet, here, I agree with critics who contend her imitation of Marilyn is so precise that it takes away her "sensuality." Eddie Redmayne (The Aeronauts) plays the starstruck Colin quite believably. Kenneth Branaugh reminds one nothing of the late Sir Laurence Olivier.
Final Thoughts
This alleged true story takes place in 1956, and is based upon a book written by Colin Clark some 40 years later. Oddly, one of the members of the cast doesn't even remember him, much less any shenanigans (Daily Beast). I confess to never seeing The Prince and The Showgirl, but from what is shown during filming, it appears we haven't missed much. Film.com proclaims "it's an easy emotional rollercoaster to put an audience through, and while Williams nails the breathy voice and flickers of doubt, her work here is never allowed to feel truly effortless."
IndieWire states "this is a trifle of a film about a trifle of a film. But trifles can be appealing, especially English trifles, and this one is no exception." Most assuredly, I am pleased that I did not write that trifle of a quote. My take is that you can find a better movie about the life of Marilyn Monroe. Perhaps Mr. Clark's memories became a little shaky in his later years. My Week With Marilyn is not worth the 99 minute investment.