DCI Banks is another in a long line of fine British police shows. Perhaps many of you have seen Endeavor, Inspector Morse, Prime Suspect, The Tunnel, Hinterland, or Scott and Bailey. The production values, the writing, and the acting are usually superior to American fare. Generally, the main character is a little quirky. In this case, DCI Banks appears more like what a cop wants to do rather than does. When a bad guy says something racist to one of his officers, he slaps him. When he doesn't have a warrant, he lights a piece of paper on fire and smells smoke to authorize entry. And, he is definitely not afraid to get in a suspect's face. Author Peter Robinson wrote 27 novels based upon DCI Banks and each two episodes follow one novel. I give DCI Banks 3.5 Gavels and it receives a 7.6/10 IMDb rating.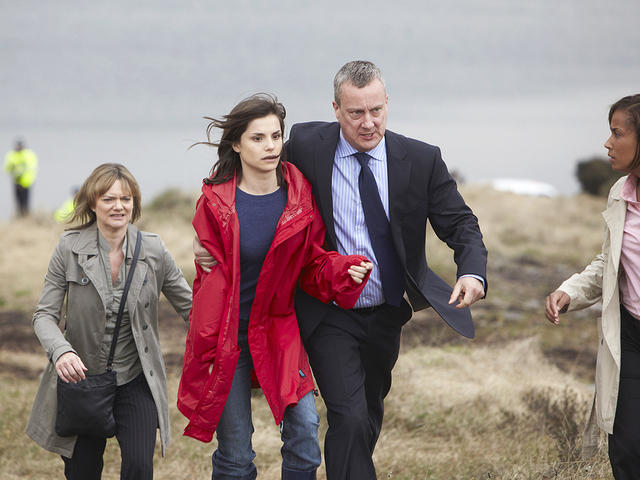 Plot
In Season One, Acting Detective Chief Inspector Banks investigates a serial rapist and murderer. When the suspect dies at the hands of an officer at arrest, Detective Sergeant Annie Cabbott from Professional Standards is appointed. One girl is still missing and Banks suspects an accomplice. Cabbott has aspirations. Will she get in the way? Later episodes include murder by arson, by poison, and by strangulation. After all, this is a Major Crimes Unit.
Actors
Stephen Tompkinson may seem an odd choice for Alan Banks, but trust me, he grows on you. In 1996, he appeared in the quintessential British cheeky movie Brassed Off. I highly recommend it. Banks describes Annie Cabbott as "ambitious, ruthless, amoral. Every team needs someone like that." Ambitious and loyal, yes, but I doubt that Andrea Lowe would otherwise chronicle her character. For those who love Doc Martin, Caroline Catz joins the show as Detective Inspector Helen Morton in Season Two.
Final Thoughts
The Independent writes "what works well for DCI Banks is that the police investigating the various crimes are simply doing their jobs, rather than indulging in a personal crusade that will involve them facing and then slaying their demons." The complaints of the show generally indicate that it is not as good as the books. When is a show, or movie, better than the book? Neither groundbreaking nor radical, DCI Banks is merely like its namesake, solid. After a diet of The Lovebirds and The Wrong Missy, that is high praise. Find it on Amazon Prime and Hulu.