On May 1, get ready for Medici: The Magnificent (Final Season). The first season entitled Medici: Masters of Florence is set in 1429 A.D. and includes Giovanni (Dustin Hoffman) and Cosimo (Richard Madden). The Medici rise to prominence as a banking and political family begins with Cosimo. Although Masters wants for some historical accuracy (DailyHistory.org), there is no doubt that this dynasty produced four popes and two queens. The second season setting for Medici: The Magnificent is some 20 years later as Lorenzo begins his ascent to power. More historically accurate (lovefromtuscany.com), it sets up the fight between the Medicis and the Pazzis for control of Florence. Each season is eight episodes on Netflix. I give Medici 3.5 Gavels and it garners a 7.9/10 IMDB rating.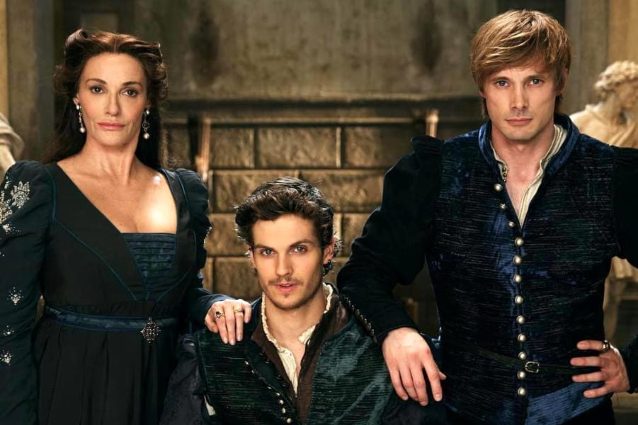 Plot
The business practices of Piero, son of Cosimo and father to Lorenzo, put the Medici bank on the verge of collapse. Chafing under the Medici influence, Jacopo Pazzi is ready to pounce. Lorenzo takes control of the bank and begins negotiations for alliance with Milan and Venice. The Pope watches with some wariness. Discovery of alum in a nearby territory sets into motion intrigue, treachery, and killing. Will Lorenzo be able to achieve peace and prosperity for the Florentines?
Actors
Without the star power of Hoffman and Madden, Season Two gets off to a rough start. Even the well-respected Sean Bean, as Jacopo Pazzi, fails to move the needle. Slowly, Daniel Sharman (Lorenzo Medici), Alessandra Mastronardi (Lucrezia Donati and recently seen in Titanic: Blood and Steel), and Synnove Karlsen (Clarice Orsini) begin find their stride and Medici takes off.
Final Thoughts
The Medicis are well known for their patronage of the arts. Season One brings Donatello and Season Two Botticelli. Art is seen throughout the episodes. Rumors are that Season Three will include Da Vinci and Michaelangelo. The complexity of the many city-states in Italy coupled with papal rule at times seems overwhelming. You need not look too close to find a Romeo and Juliet type-romance in the series. Mostly, Season Two is the hate that Jacopo has for Lorenzo and the lengths he will go to destroy the Medici family. Come for the costumes, Tuscany, and arranged marriages. Stay for the conspiracies.