Kate and Leo, meet Alessandra and Kevin! While Titanic (1997) centered on the lives of Rose DeWitt Butaker and Jack Dawson on the ship, Titanic: Blood and Steel focuses on the building of doomed craft, the politics of Belfast, and the lives and loves of those involved. See this 12 episode (approx 45 minutes each) series on Amazon Prime. Despite the numerous factual errors (Wikipedia), it remains binge-worthy, just to watch the ship construction, the clash of religion, and the wondrous costumes. Warning: The ending is somewhat unsatisfactory as nearly all the main characters board the Titanic with no resolution of their fate. But, a good love story is a good love story, and Mark and Sofia make quite the fetching couple. I give Titanic: Blood and Steel 3.5 Gavels and it receives a 7.3 out of 10 score from Internet Move Database (IMDb).
Plot
Dr. Mark Muir, a metallurgist, hides his Catholic background to enable him to return to Belfast and work on the Titanic. The Protestant management is suspicious of his new scientific methods and, most of all, the added cost for safety. Sofia Silvestri, a Catholic copyist, catches his eye, but both are warned that religion and class will keep them apart. English liberals want to give Ireland home-rule, but the conservatives believe that "home-rule means papist-rule." Against the backdrop of building the largest, "unsinkable" ships ever, workers fervently believe they need to unionize. J.P. Morgan will not be pleased if strikes delay the launch of the Titanic.
Actors
Kevin Zegers (Canadian) and Alessandra Mastronardi (Italian), as Mark and Sofia (pictured above), head an international cast for the film. The Americans get Chris Noth and Neve Campbell, the Brits get Derek Jacobi and Ophelia Lovibond (pictured below), and the Irish get Liam Cunningham and Martin McCann. There is no rating on Rotten Tomatoes for this fine ensemble cast, perhaps because no one watches the Encore channel, its original location back in 2012.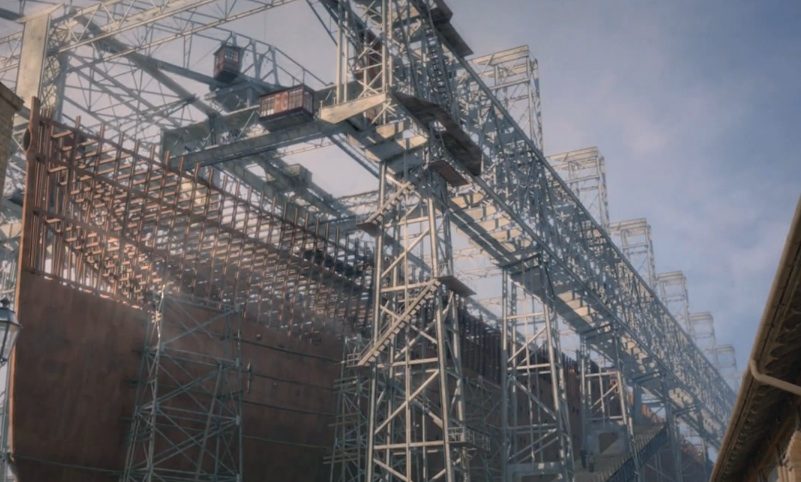 Final Thoughts
Unlike Ms. Winslet and Mr. DiCaprio, no nudity here, but lots of liaisons, each seeming to cross some inappropriate boundary of the time. That is just one of the ways that the writers emphasize the clash of cultures surrounding the building of the Titanic. It doesn't just take lots of steel, but also lots of blood, sweat, and tears. Friends and families are torn apart as they argue, and fight, over the past, present, and future. Titanic: Blood and Steel even gives us a glimpse of young Winston Churchill. Given the other errors, I can't vouch for accuracy of the upcoming Ireland/Northern Ireland split, but the perspective is compelling. These Catholics and Protestants have no use for each other. Bottom line: If you are searching for something to watch during our "quarantine," your inner engineer might enjoy watching the building of the Titanic and of two countries.