Are stories about investigative journalism your cup of tea? From Netflix via Poland, you should consider The Mire. While it is not as good as Spotlight, it is clearly the equal of The Post. Certainly, the paranoia is just as high as in All The President's Men, perhaps more so. This five-part series takes us to 1980-ish Poland behind the Iron Curtain when reporters are given the Prosecutor's "version" to print. Despite repeated orders to drop the investigation via threats, both subtle and otherwise, these reporters press on. Constantly looking over their shoulders, each slowly pick up small pieces of information. As the evidence heads one direction, another clue sends it careening elsewhere. I give The Mire 3.5 Gavels and it receives a 7.1/10 IMDb rating.
Plot
The Chairman of Youth for Progress and a prostitute are found dead in the forest. Very quickly, the hooker's boyfriend confesses, despite some obvious discrepancies. Who would want to kill the popular chairman and why were they in the cold woods? A few days earlier two teens, one male and one female, committed suicide. Is there a connection to the cases? Will Witold and Piotr be able to stick their noses into the swamp without being sucked in?
Actors
If Andrzej Seweryn looks familiar, you may have seen him in Schindler's List. As Witold, he is the grizzled, old reporter with lots of connections, some rather unsavory. David Ogrodnik (Ida) plays Piotr, the newbie, trying not only to impress, but also to get away from his high-ranking father. I don't know if we will ever see Jacek Beler ever again. As Kulik, he is certainly the creepiest prosecutor's investigator you will ever come across.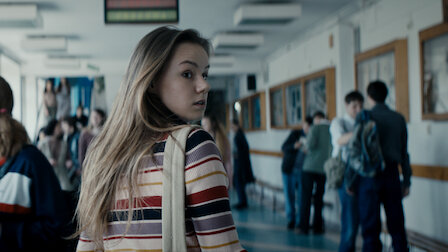 Final Thoughts
As a warning, scenes in an asylum and a sexual assault in the girl's bathroom may be disturbing. Given the multitude of characters, a number of storylines, and the foreign flavor of The Mire, at times the action can get confusing. But, by episode four, the answers come fast and furious. As in most good murder mysteries, our "popular" Chairman has lots of people who might want him dead. This one is no different. As one critic notes, "the production quality is impressive . . . you should have no problem finding the story and the characters interesting and engaging." With English dubbed, it may be helpful to turn on subtitles. Overall, I had a good time mucking it up in The Mire.