Tardy Man
How many of you read The New Yorker? Apparently, every summer they print a Flash Fiction Series. Last August, the Tardy Man appeared and, one year later, that story will likely turn into Pyros starring Reese Witherspoon. This is not your ordinary, run-of-the-mill, sweet, neighbor-next-door story. To the contrary, Tardy Man is in a fire-retardant suit fused to his spine which enables him to rescue property insured by the Wick insurance company. He may not deviate to rescue people unless that person is also so insured. So, what happens when he finds a seven-year old boy in a pool during a fire? Interesting short story; let's see where Reese takes it!
How much time will he spend in the make-up room?
Actually, Walter Cronkite got better looking with age. Still, Newsflash is a movie about Walter earning America's trust in the hours and days after the Kennedy assassination. Thus, the picture above sets the time frame. It's reported that Chris Pine is to portray America's Most Trusted Newsman. That will take some convincing for those of us who grew up with that face, that cadence, and "that's the way it is." Mark Ruffalo is to play producer, Don Hewitt. Plus, some young whippersnapper, currently not cast, will act as a young Dan Rather. Millennials will have no idea who any of these people are.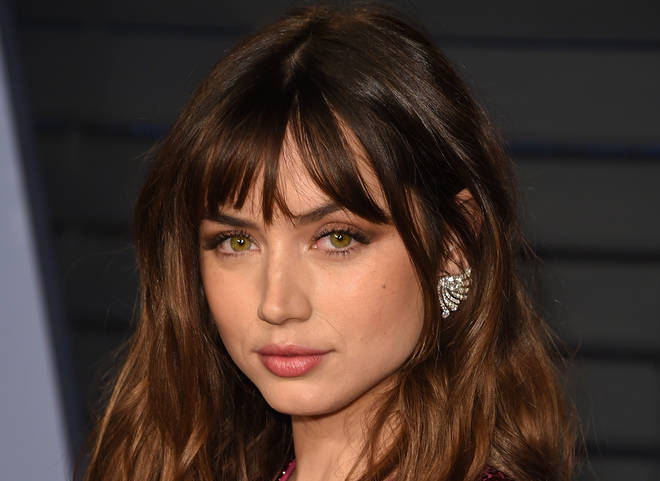 A New Bond Girl?
Busy filming Bond 25, Ana de Armas is linked with Ben Affleck to star in Deep Water. Patricia Highsmith (The Talented Mr. Ripley, The Two Faces Of January) wrote this erotic thriller in 1957. Vic and Melinda Van Allen are in a loveless marriage. To avoid a divorce, Melinda takes lovers but must not desert her family. Then, her lovers come up dead. Gillian Flynn (Gone Girl) describes it as "in-your-face-warfare between a husband and wife."
Where is he buried?
Put together Martin Scorsese, Robert De Niro, Al Pacino, and Joe Pesci and The Mob will soon follow. Set for release later this year on Netflix, The Irishman stars De Niro as Frank Sheeran reminiscing on his role as a hitman and involvement in the disappearance of Jimmy Hoffa (Pacino) in 1975. But, if he doesn't tell us where to find the body, is this just some old mobster bragging his way into his five minutes of fame? Surely, with a $200 million budget, they could spend a few bucks to dig him up and give Hoffa a proper burial. On a side note, our favorite lawyer from My Cousin Vinny, Joe Pesci, appears as crime boss Russell Bufalino. Maybe it was Vinny's legal advice that kept Sheeran out of jail until his death in 2003?
Will the Phillie Phanatic become a free agent?
In the 1970's, Bill Giles, Executive VP for the Philadelphia Phillies wanted a mascot. He wanted "a green, fat, furry, big-nosed character accessible to children." Harrison/Erickson was paid $215,000 to develop the costume and the Phanatic made his first appearance in 1978. As an aside, H/E created Miss Piggy and other Muppets for Jim Henson. Now, H/E claims to terminate the Phillie relationship due to a provision in copyright law that allows an author to reclaim rights after 35 years. There are lots of issues in this lawsuit as you might imagine, e.g., are the Phillies a co-author? Is the costume an "artistic sculpture?" What next? Will someone claim the rights Mr. Red, Rosie Red, and Gapper? Please!
Tin ear!
Judge for yourself! By now you know that a California jury concluded that Katy Perry's Dark Horse infringed upon Marcus Gray's (aka Flame) Joyful Noise. Listen carefully to the underlying beat, primarily at issue. Quirks in the case included that the sound system in the courtroom didn't work (no surprise there!) when Perry tried to sing, and a shooting took place outside (big surprise there!) when the producer testified. Hey, it's California! Anyway, it doesn't seem that similar to me, although the author of this Vox article would disagree. Dark Horse sold 13.2 million units, and Gray now gets $2.78 million of which Perry must pay $500,000. That, ladies and gentlemen, proves why I should never judge music! You Say, being the exception, of course.
Why was it pulled?
See for yourself! The Hunt was a step too far! Elites hunting kidnap victims. Who thought this was a good idea? Will it ever see the light of day?