The first woman to win the Nobel Prize!
Discoverer of radium, coined the name radioactivity, this brilliant Polish scientist proved them wrong. But, did Marie Curie (died 1934) really contemplate all that her work might accomplish? Radioactive explores her life and struggles, to be released April 24. Rosamund Pike stars as Marie, and Sam Riley is her husband, Pierre. Did you know that polonium, another element discovered by Marie, is named after her country of birth? Not only is she the only woman to win the Nobel Prize twice, she is the only person to win the Prize in two different scientific fields. Impressive!
Did you see him as Hank Williams in I Saw The Light?
Maybe you prefer him as Loki in the Thor series? Or, maybe as Jonathon Pine going mano a mano with Hugh Laurie in The Night Manager. He's back! Tom Hiddleston will star in the 10 part series White Stork for Netflix. A man running for Parliament, Hiddleston has lots of secrets. To what lengths will he go to keep those buried? Designated a political thriller, this sounds too good to miss.
More TV!
Jack Carr is a Navy Seal sniper and a best-selling author. His book, The Terminal List, will transition to a TV series starring Chris Pratt. Antoine Fuqua, known for Training Day, The Equalizer, and The Magnificent Seven is set to direct. Pratt's platoon was ambushed during a covert mission. Feeling responsible, he returns home to find a government conspiracy behind the casualties. A trained killer, he wants revenge.
Do you like weird?
Check out this trailer of Vivarium. Imogen Poots and Jesse Eisenberg just want to buy a home. But, in this cookie-cutter subdivision, they can't escape. They find a child with instructions that says "Raise the child and be released." Labeled science fiction, it looks more like horror to me. Be careful out there! If this is as good as the critics claim, why has it been on the shelf since last May?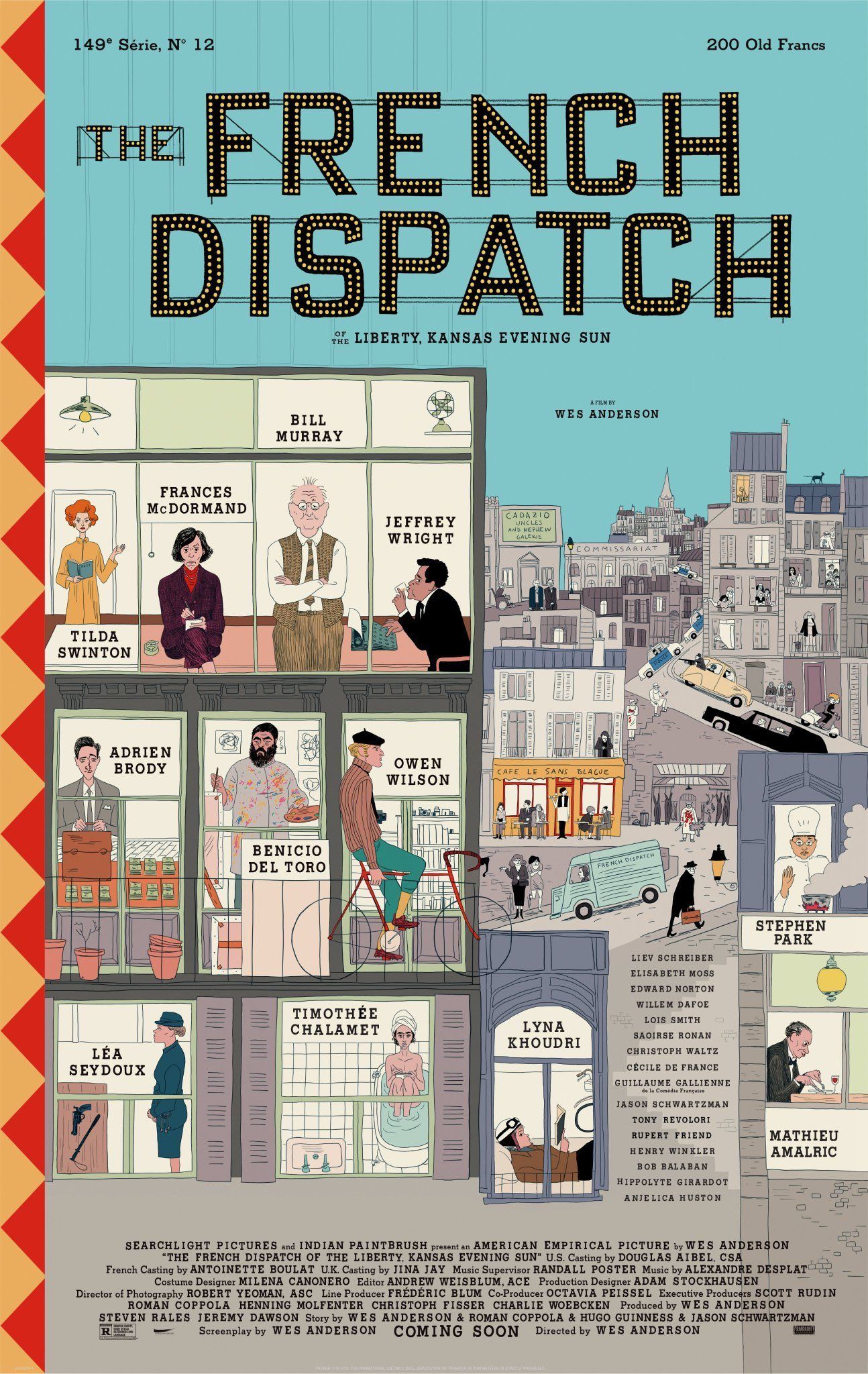 And the winner for the best movie poster is . . .
While the poster is certainly a work of art, will we be able to say the same about The French Dispatch? The films of Wes Anderson are generally beyond my understanding, for example, The Grand Budapest Hotel. The official trailer for The French Dispatch is no different. Even Mr. Anderson admits "the story is not easy to explain." To be released July 24, an American (Bill Murray) publishes a magazine in France based on The New Yorker. Are you excited yet? Me, neither.
If at first you don't succeed, try, try, try again!
In Thursday Morning Coffee — 8/15/19, along with others, I indicated that a film where elites hunt kidnapped humans for sport was "a step too far." After pulling the film last year, the producers are about to try again with a new strategy. They think that releasing this now designated horror-thriller movie on Friday March 13th will mute the outrage. Marketed as the most controversial movie no one has ever seen, The Hunt still has the same flaws. But, will the American public notice?
Once Upon A Time In Hollywood . . .
Taylor Swift's problems with her recording contract were documented in Thursday Morning Coffee — 9/5/19. She's not the only one but Kesha's problems go much deeper. (It's OK if you are over 30 and don't know who she is. But, she has sold over 134 million records worldwide!) In 2014, she filed suit accusing her producer, Dr. Luke, of sexual assault, etc. He counterclaimed for breach of contract and defamation alleging hers was a sham lawsuit to get out of her recording contract. Now, a New York trial court ruled the case will proceed acknowledging that there are very different accounts about what happened on the night in question and whether Kesha's complaint was brought in good faith. But, the judge ruled that when Kesha texted Lady Gaga that Dr. Luke also raped Katy Perry, she defamed him. Both Luke and Perry denied it happened and Kesha presented no alternative evidence. Belatedly, Kesha paid $1.3 million to Dr. Luke in royalties but he wants interest and damages.
Schedule of upcoming reviews:
Friday February 28 — The Last Thing He Wanted
Saturday February 29 — The Rise of Empires: Ottoman
Tuesday March 3 — Messiah