Duplicative of Fat Guy at the Movies' quote on characters in Emergency, "I find the people in Angelyne repulsive." Maybe repulsive is too strong a word. How about narcissistic? Emmy Rossum (Cold Pursuit, Mr. Robot) may well win awards for vamping as Angelyne: Billboard Queen, but that's not enough for me to hang around past episode one. Labeled as must-see tv by critics (86% Rotten Tomatoes rating), the viewing public is much less kind with a 5.7/10 IMDB score. For your information, the first episode is free with commercials on Peacock. If you want more torture, you have to buy one of their premium services. Here's wagering that you won't.
Advertised as being "famous for being famous" before there was social media, Angelyne is based on a true story. Her first billboard went up in 1981 or 1982, "depending on who you ask." With just a single name and her picture, the obvious question was "who is she and what is she advertising?" A woman of mystery, and an even greater sense for marketing, she keeps her name and age secret until 2017. Remember the old joke, what are the fastest methods of communication? Answer: Telephone, telegraph, and tell-a-woman. (No hate mail, please!) Obviously, that didn't apply to Angelyne. At her peak, she had over 200 billboards all over Los Angeles. Regardless, I give the five-part series 2.0 Gavels.
Plot
"I am not a woman. I am an icon," is the mantra of Angelyne. Although the versions differ "depending on who you ask," she hooks up with a band going nowhere with the name Baby Blue. Immediately, she becomes their voice, guiding them to the promised land, the club Whisky a Go Go. The critics are not kind. "Last night, the LA punk scene suffered a fatal heart attack." Although upset, smitten band leader still buys Angelyne a blue Corvette. Soon, it will turn pink and be one part of her signature style. As she says, "I know how to get what I want from men."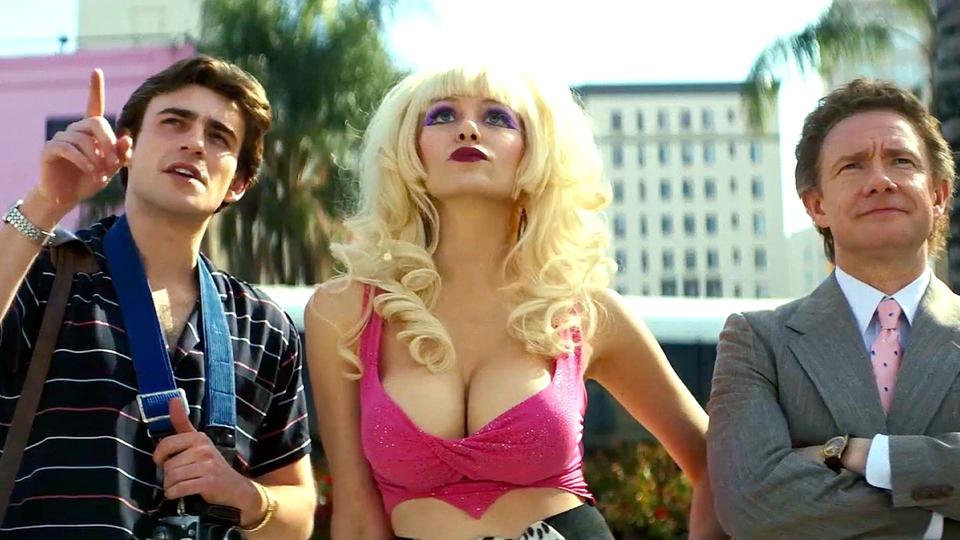 Actors
If vamping is acting seductively in front of the camera, what would be acting seductively in front of an entire city? This is not the Emmy Rossum you remember from Phantom of the Opera. Angelyne knows what she wants, to be like Barbie, an American icon. Hamish Linklater (Gaslit) appears as her manager, Rich Krause. Since he apparently paid to have an 85 foot mural of her painted on the side of a building at Hollywood and Vine, presumably the viewer will see much more of him. Through one, none of the cast stands out.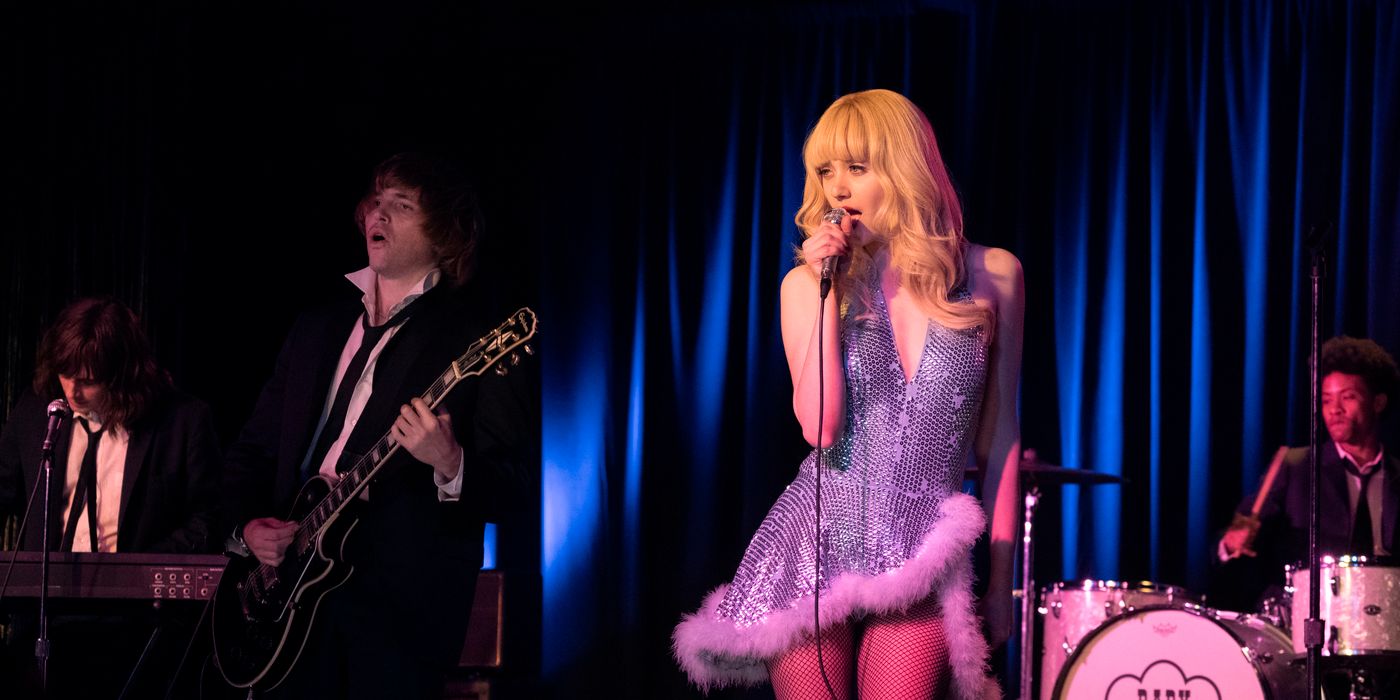 Final Thoughts
More of the critic's aforesaid review includes "the lead couldn't decide if she wanted to sing or strip." Presumably, Angelyne operates under the principle the "any publicity is good publicity." Within a short time, her breast are enhanced, the vehicle is pink, and she has her first billboard. Fame is on the way.
"Angelyne approximates its subject in the wrong ways: It's big, attention-getting and has all the depth of a billboard." CNN.com
"I liked Angelyne better as it went on… without ever being wholly convinced that it was a trip I needed to take." Los Angeles Times
She lost me for good when she declared that Marilyn Monroe was "her honorary mother." More Angelyne quotes comprise "the crowd is my drug" and "I'm like uncut heroin." Angelyne is addicted to herself and I do not share the addiction.