Originated in 1943, Chip 'n Dale were favorites of mine growing up, appearing occasionally on The Mickey Mouse Club and Walt Disney's Wonderful World of Color. Revived in 1989 as Chip 'n Dale: Rescue Rangers on The Disney Channel, the series lasted but two years. So, where have they been for the last thirty years? Channel your inner Who Framed Roger Rabbit and catch up on the boys. Just don't ever, ever, compare them to Alvin and the Chipmunks! And, along the way, you just might run in to a bunch of other familiar characters, out-of-work but always looking for a new gig.
If, like me, you've never seen an episode of Chip 'n Dale: Rescue Rangers, don't fret. I'll bring you up-to date. The pair open a detective agency, along with pals inventor Gadget Hackworth, adventurer Monterey Jack, and Zipper, a fly. "The pint-sized detectives deal with crimes that are often 'too small' for the police to handle, usually with other animals as their clients." Now, in 2022, they co-exist alongside humans and they handle a case that baffles the cops. Sweet Pete and The Valley Gang kidnaps Monterey Jack and at least six other cartoon characters. Pete takes his hostages overseas and forces them to make bootleg movies. Ignored by Captain Putty, only Detective Ellie Steckler seems willing to help. Satirizing cartoons and stars alike, I give Chip 'n Dale 4.0 Gavels and it receives an 82% Rotten Tomatoes rating with a 7.1/10 IMDb score.
Plot
After a successful two year run, Dale decides to leave Rescue Rangers to become famous super spy Double-O Dale. It failed, Rescue Rangers cancelled, and Chip is now a bitter insurance salesman. A call from a worried Monterey Jack leads Dale to the conclusion that a reboot of Rescue Rangers is now possible. Chip will work with Dale but only until they find Jack. Clues lead to the wrong side of the tracks, the Uncanny Valley and Fan-Con. Along the way, you'll run into Baloo, Sonic, Lumeniere, Paul Rudd as "Aunt-Man," Voltron, Winnie the Pooh, The Simpsons, a Knight Rider lunchbox, Scrooge McDuck, and a host of others. That Sweet Pete is one dastardly character.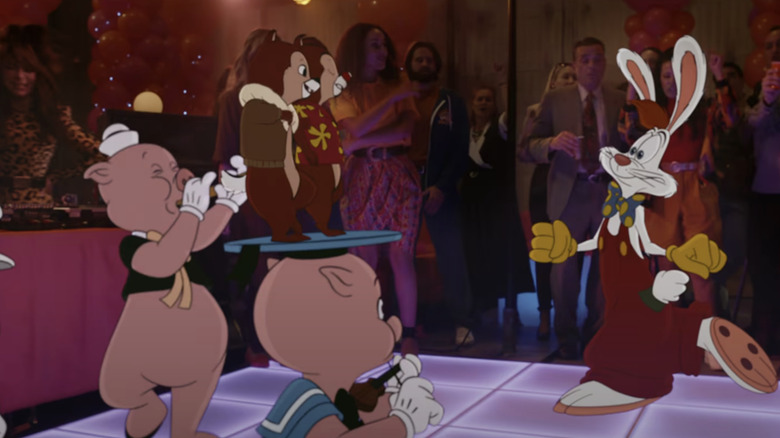 Actors
John Mulaney (Into the Spider-Verse) and Andy Samburg (Hotel Transylvania 4) voice Chip 'n Dale. If you've noticed that the two look different, now making appearances at cartoon conventions, Dale had CGI surgery. Recently in Coming 2 America, KiKi Layne is the Rescue Ranger-loving Det. Steckler, the primary human figure in the film. Other voices of note include J.K. Simmons, Will Arnett, Eric Bana, Seth Rogan, and Keegan-Michael Key. Perhaps the best of all is the deep voice of Dennis Haysbert (Allstate Insurance) as the tiny Zipper.
Final Thoughts
The theme of the Disney+ ninety-seven minute Chip 'n Dale is "the biggest risk is not taking a risk at all." Here, the producers take a Roger Rabbit-like risk and it pays off big time. Slashfilm gives you a partial list of some Easter Eggs you might miss. In reality, the whole film is one Easter Egg after another.
"It's the funniest movie of the year so far, either animated or live-action. Or in this case both, since it ingeniously melds the two…" Hollywood Reporter
"The straight-to-Disney+ buddy movie offers an exciting taste of what Disney can achieve when it decides to take risks and get clever when it dusts off its extensive archives." Inverse
Everybody wants a re-boot, a second chance to entertain. If they can keep up this quality, Chip 'n Dale deserves one.