In Love and Monsters, we find yet another ill-equipped backpacker venturing out into hostile territory. In Dark Divide, Robert Pyle set out to find some salve for his grief and anger. To his everlasting credit, twenty-four year old Joel Dawson journeys out for love. In somewhat of a far-fetched beginning, Joel describes the end of the world seven years earlier. A large asteroid, Agatha 616, barrels toward Earth. Humanity cheers as bombs destroy the asteroid, only to suffer large amounts of chemicals raining down on the planet. Creatures mutate and eat 95% of the world's population. Since then, survivors hide in colonies in underground bunkers.
Thus far, Love and Monsters would little interest me. I'm really not into supersized cockroaches, giant snails, and radioactively enlarged crabs. So, how does Love and Monsters earn a 94% Rotten Tomatoes rating with a good, not great, 7.0/10 IMDb score? I admit the film does have a sweetness, a certain charm, that elevates it above most in the apocalypse genre. Joel Dawson is an innocent, separated by events beyond his control, from his true love. Searching for years over a ham radio, he learns she resides in a colony only 85 miles away. As an artist, cook, and part-time radio repairman, Joel has no fighting skills, no match for the killers above ground. To the contrary, he freezes during any confrontation. Facing certain death, Joel's colony pleads with him to stay. The pull of the first teen love is just too strong. I give Love and Monsters 3.5 Gavels.
Plot
Fairfield, California was ground zero for the initial attack by the monsters. Joel lost his parents. Very few survived. Now alone and heading west to find Aimee's ocean colony, Joel finds green grass and blue skies, not quite the death and destruction he expects. A stray dog, Boy, saves him from being swallowed by a giant toad. Soon after, Clyde and Minnow rescue Joel from the Sandgobblers. He's now taught some rules of survival, not that either think it will do much good. Clyde and Mavis are on their way to Snow Mountain Wilderness where it is said that the cold and elevation help keep the monsters away. But, love is stronger than self-preservation for Joel. He has many miles yet to go.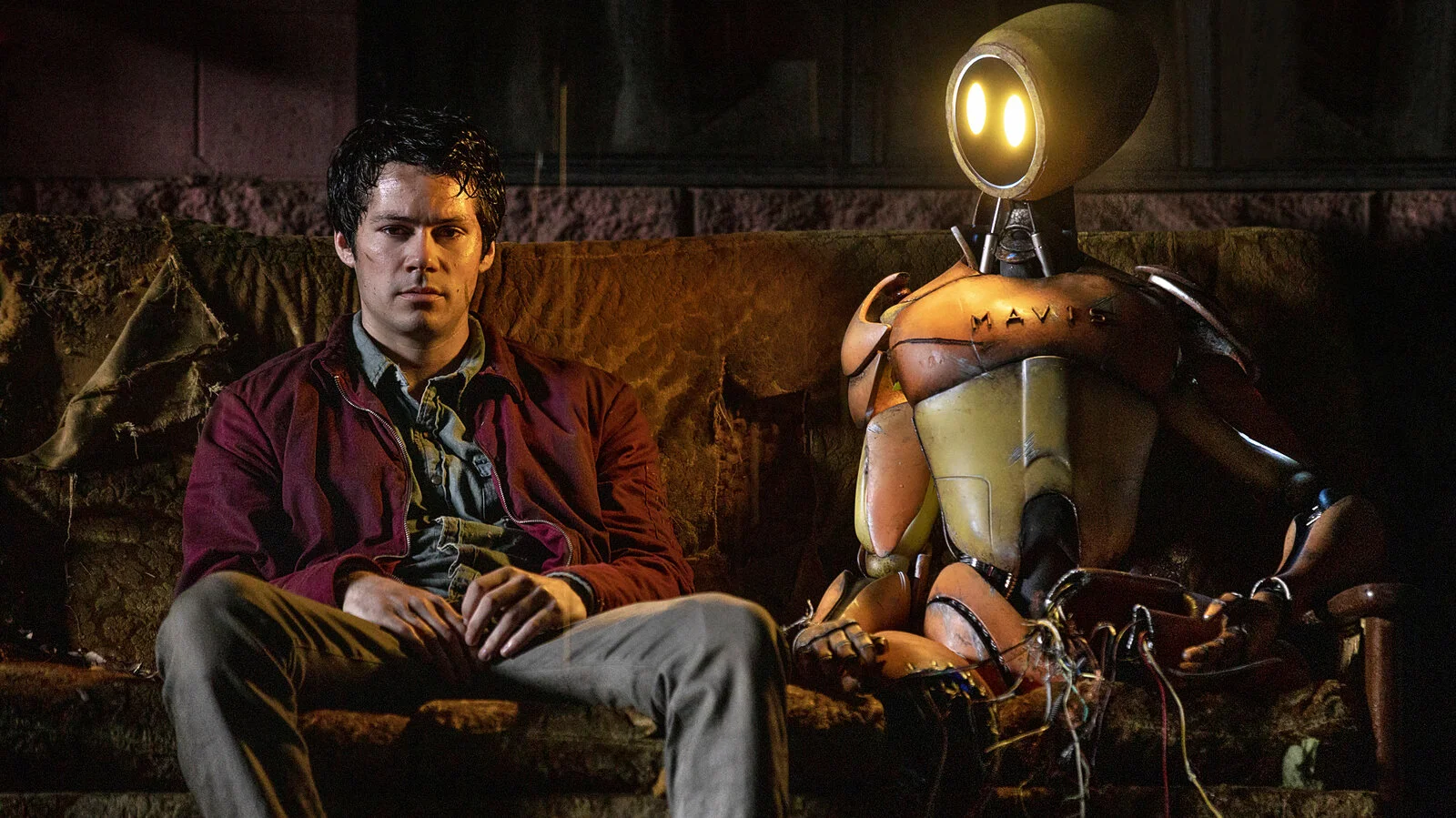 Actors
The voice of Bumblebee, but better known for his role in the Maze Runner series, Dylan O'Brien perfectly captures blissful ignorance as Joel. Will the lovely Aimee still be the same person years later? Already seen in Star Wars: The Force Awakens, Game of Thrones and Underwater, Jessica Henwick is a hot commodity. Soon, she'll be in Matrix Resurrections and Knives Out 2. As a caregiver for her colony, Aimee has changed. But, have her feelings changed? Michael Rooker (Suicide Squad) and Ariana Greenblatt (The One and Only Ivan), as Clyde and Minnow, nearly steal the movie. They set up nicely for a sequel.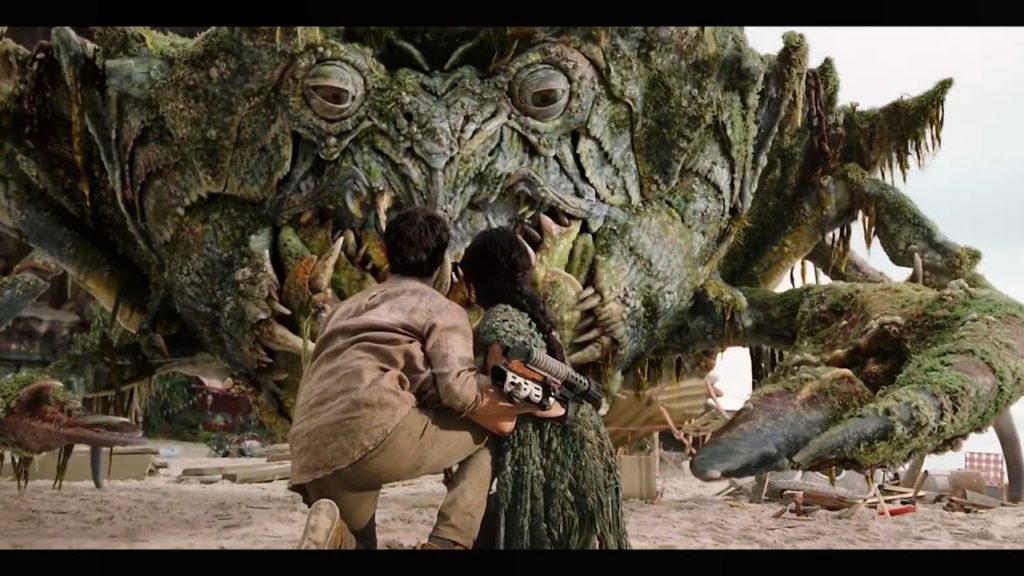 Final Thoughts
Just how big is your tolerance for gooey leeches and exploding Queen Sandgobblers? If you can hang in there, you'll find a much more helpful and pleasant Mav1s (see pic above). Most of all, you'll find the resiliency of man. Joel learns not just to survive but to live. Hiding underground is not the answer and he spreads the word. He also learns not to take his colony for granted. All in all, disgusting monsters aside, Love and Monsters delivers a heartfelt and important message.
"Love And Monsters is a blast, an unassuming, immensely winning monster movie filled with great lo-fi creatures and a likeable cast. As a template for making a leaner, less bloated summer movie, Hollywood could do a lot worse." Empire Magazine
"If this sparks a Giant Crab Cinematic Universe, I'm all for it." Mad for Movies Podcast
Find this one on Hulu or Amazon Prime. It's almost as if John Hughes and Molly Ringwald were back together again. Or, maybe John Cusack in Say Anything . . .