Given the tragic and completely avoidable death on the set of Rust, the viewer can't watch Pixie without connecting the two. Why? Father Hector McGrath is the head of a drug syndicate using the Catholic Church as a cover in Ireland. No one bothers the priests in Ireland. And, you surely don't want "deadly gangster priests after you." So, what's the connection? Father McGrath is Alec Baldwin (see below) wielding a gun. It's not often you see priests and nuns in a shoot-out in a church against another set of gun-toting gangsters. To top it off, after his drugs are stolen and four of his priests killed in the process, Father McGrath declares "the Lord will have his vengeance."
Pixie sets up its dark comedy tone with Once Upon a Time in The West . . . of Ireland. Then, we meet Pixie. When one thinks Pixie, one imagines childhood innocence and Pixie dust. Rather, Pixie describes herself as having "complex family issues." At her mother's grave, dead some four years, Pixie declares "I'm gonna set a bomb under this town for what they did to you." And, off we go into a world of violence that sometimes borders on comedic, along with a few raunchy sexual references, as this young lady seeks her revenge. Think Tarantino meets Dublin. I give the film, available on Showtime and Hulu, 3.5 Gavels ands it receives a 75% Rotten Tomatoes rating with a less favorable 5.8/10 IMDb score.
Plot
Best friends Colin and Fergus receive information that four priests hold 15 kilos of MDMA and cash. In the first of several shootouts, they escape with the drugs and money. Then, Colin learns that Fergus sleeps with his ex-girlfriend, Pixie. The result is not pretty. Waiting at the airport to escape to San Francisco with Fergus, Pixie realizes something went wrong. Now, she has to re-set her plans with the equally inept Frank and Harland. How long will it be before Father McGrath realizes that his archenemy's stepdaughter is the mastermind? In this business, it always helps if your stepfather, Dermot O'Brien, is also a gangster.
Actors
Seen in Ready Player One, Olivia Cooke is a delight as the flirtatious Pixie. She manipulates the men around her as she seeks revenge for her mother. Colm Meaney (The Banker) is in every Irish film (not really), and rightfully so. He is the quintessential Irish gangster. But for Rust, this would be just another forgettable role for Alec Baldwin (The Boss Baby). He gets to ham it up as he tells his minions "these guns aren't going to shoot themselves."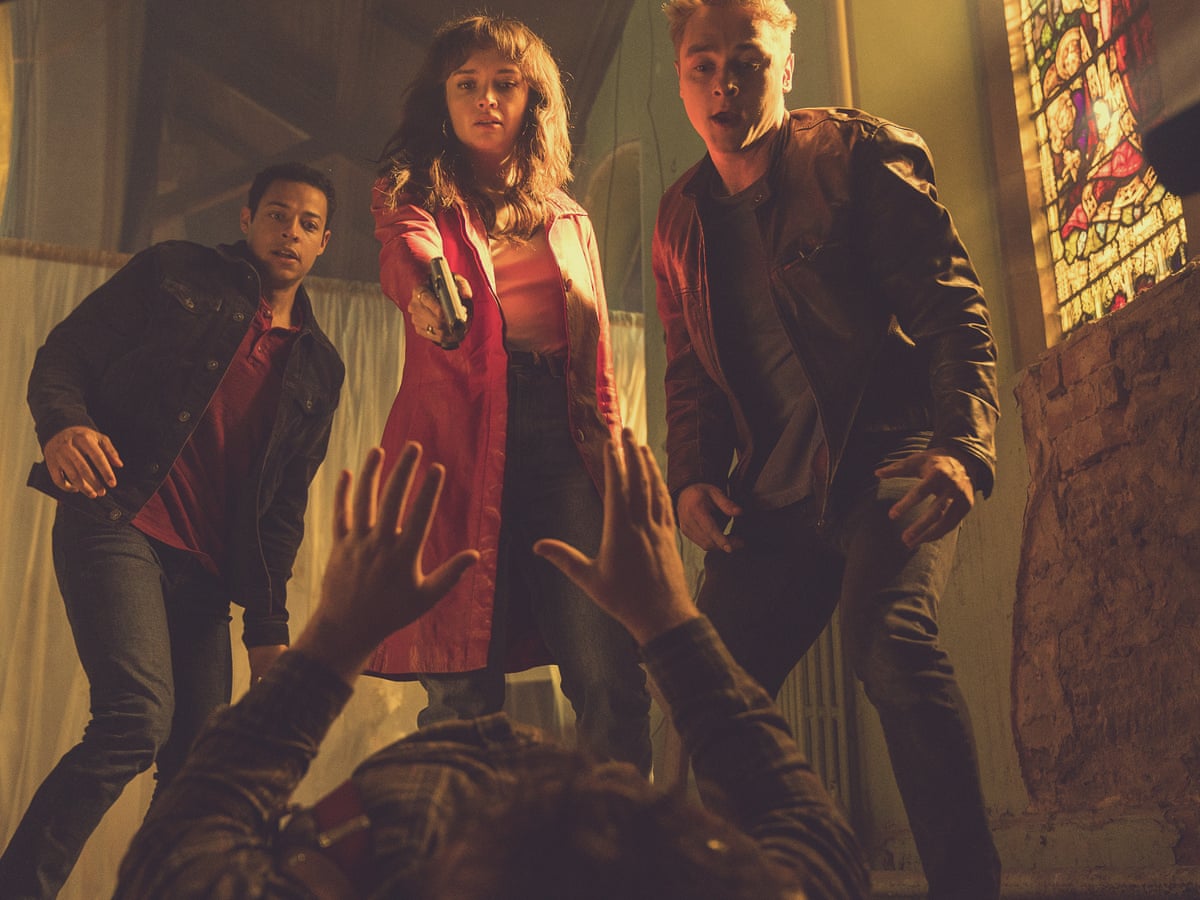 Final Thoughts
In this season just past of Halloween horror, how does one find a film like Pixie? DirecTV offers 90 days of free Showtime. Why free? This was the best I could find. Wakefield is Showtime's big offering right now about a mental health unit in Australia. The description doesn't sound like it will attract hordes of viewers. Back to Pixie, it's not my favorite genre, but you do get some nice views of rural Ireland.
Pro — "Some gorgeous Irish scenery along with stunning (sometimes violent) plot twists and snappy one-liners make Pixie a quirky winner, ideal for the weekend while knocking back a Guinness." San Jose Mercury News
Con — "Pixie feels as if it arrived via time-warp from about 1998, most likely on a VHS cassette with a 'CLEARANCE' sticker on the slipcase." RogerEbert.com
Neither fish or fowl, Pixie falls somewhere in the middle, depending upon your taste.