Clarkson's Farm is a rather unpretentious title for a 1,000 acre farm in the Cotswolds. Where might you find the Cotswolds? It's an Area of Outstanding Natural Beauty located west of London. Why should you care? Clarkson's Farm is the wit and silliness of Top Gear and The Grand Tour combined with the innocence of The Biggest Little Farm. Generally, no one would ever use Jeremy Clarkson and innocence in the same sentence. After all, the man fired from Top Gear never hesitates to speak his mind, nor put his foot in his mouth. Yet, how else do you describe a man who knows nothing about farming, but with a $60 million net worth, jumps in with a passion.
In 2008, Clarkson buys the farm, but allows another to run it. By 2018, that man retires and Clarkson is on his own, with no equipment, no seed, no fertilizer, no animals, and worst of all, absolutely no farming background. How hard can it be? After all, he's a man who's travelled the world, traversed every road, driven and repaired every vehicle. This is just "tractoring." Then again, this is England where it rains 364 days of the year. (Actually, it rains about 14 days per month but who's counting?)
And, a man who like fast cars must have a big tractor. Raise your hand if you knew Lamborghini made tractors (See picture below.) It's only a minor problem when it didn't fit in the barn. And, what with the European Union and local regulations, Clarkson's Farm runs into the inevitable red tape. Explained well for city folks, with a great deal of empathy for farmers, and humor for all, I give Clarkson's Farm 4.0 Gavels and it receives an excellent 9.1/10 IMDb score.
Plot
Charlie Ireland tries to give advice to the novice farmer, Jeremy Clarkson. It turns out that equipment, feed, and fertilizer is quite expensive. If Clarkson wants maximum yield, he must till and plant in two weeks. Twenty-one year old Kaleb Cooper wonders why Clarkson would buy a tractor with instructions only in Italian or German. He also warns Clarkson that his rows look like roundabouts and will certainly be the talk of the local pubs. Later, Clarkson is amazed that two males can inseminate his 98 "female "sheeps." And, if you have seven million twitter followers, why not sell your potatoes at your Diddly Squat Farm Shop. You have 28 days to get it built before the potatoes start to rot.
Actors
At age 60, Jeremy Clarkson has legions of fans despite his occasional spats. His unfiltered humor may not be for everyone, but millions clamor for it. Young Kaleb Cooper is a perfect foil. He's unimpressed by this city slicker and never hesitates to put him in his place. Clarkson needs Cooper more than Cooper needs Clarkson, and both know it.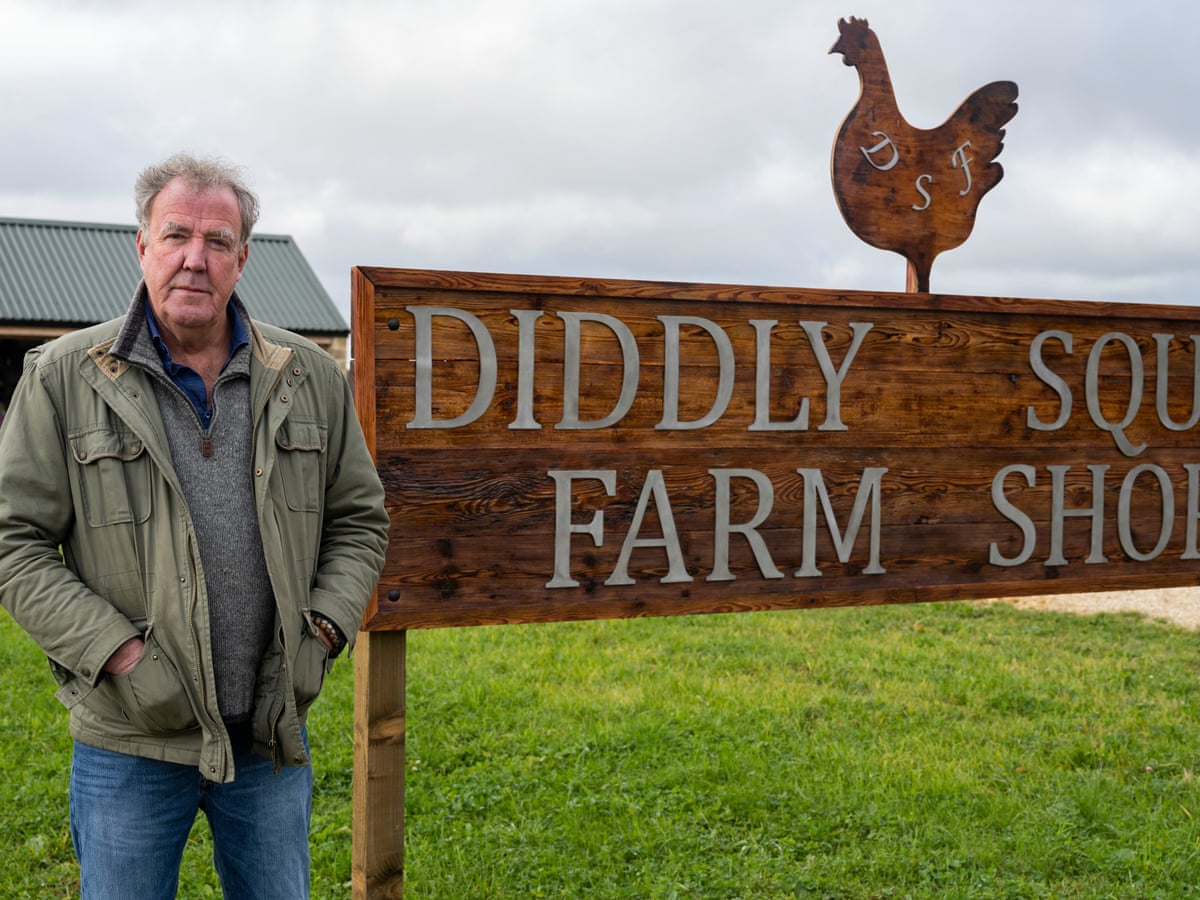 Final Thoughts
"The old bombast is there (good!), but Clarkson's Farm has a genuine affection for its subject that will transcend the presenter's typical audience."
"What's unusual about Clarkson's Farm is that it's a series that will appeal almost equally to Clarkson's legions of fans and to those who want to see him humbled. All that while providing an in-depth look at how hard farming really is." Sydney Morning Herald
Despite farming over 400 acres, Clarkson's net profit at the end of the year is less than $200. Over eight episodes on Amazon Prime and profligate spending, a loss seemed inevitable. If you are looking for something different, educational, and slightly off-kilter, give Jeremy a look-see.