Episode seven of Goliath 4 is entitled Lawyer Trickery B___S____. Billy McBride takes no prisoners, a man with lots of experience with the Grievance Committee. As a legal tutorial, it fails miserably. But, as a drama, it doesn't get much better. Season Four on Amazon Prime starts slowly as Billy is recovering from his wounds at the end of the prior season of Goliath. With some strange death scenes and an even more inappropriate song-and-dance number by J. K. Simmons, you might agree with the character who asks "don't you ever wish Diana McBride was a better shot?" Yet, by the middle of Episode Two, Goliath 4 is as addictive as ever.
And, there's the hook for Goliath 4. McBride and company take on Big Pharma and the opioid addiction problem. Channeling his Oscar-winning performance in Whiplash, J. K. Simmons goes mano-a-mano against Billy Bob Thornton. The expletives fly as neither intends to back down, both determined to break the other at any cost. Simmons plays George Zax, CEO of Zax Pharma, manufacturer of a popular opioid pain reliever. In a show that never wants for star power, Bruce Dern (The Peanut Butter Falcon) acts as his brother, Arthur. Arthur was the chief chemist for Zax Pharma until his life, and daughter, got co-opted by George. The explosive Arthur just adds more spice to a terrific ensemble. This year, moved to San Francisco from L.A., and much in a film noir style, Goliath 4 receives a fine 7.9/10 IMDb score. I rate it 4.0 Gavels.
Plot
Patty now works with the firm Margolis and True in San Francisco. Hired by the state attorney general to pursue litigation against Zax Pharma, Tillinger Health, and Russell Drug, Tom True seeks to bankrupt all three as he lost his daughter to addiction. Certain that someone is after him, True goes missing and Samantha Margolis hires Billy McBride to handle the cases. Still recovering from his wounds and drinking heavily, McBride seems an odd choice to everyone. McBride needs a whistleblower. Without one, Samantha and the State want settlements. McBride undermines his clients wishes. The judge is not happy.
Actors
Nina Arianda and Tania Raymonde return as Patty and Brittany respectively. Both well passed their realtor and prostitute days and are now solid "partners" in McBride's quest for justice. Some twenty years ago, Jena Malone appeared as a sixteen year old in a favorite of mine, Life As A House, opposite Kevin Kline. Trying to keep her father's law firm intact, and suffering from M.S., why is she trying to sabotage McBride? Over twenty years ago, an eleven year old actor starred in The Sixth Sense. Haley Joel Osment signs on here as George Zax' son, Dylan. He gets in a punch!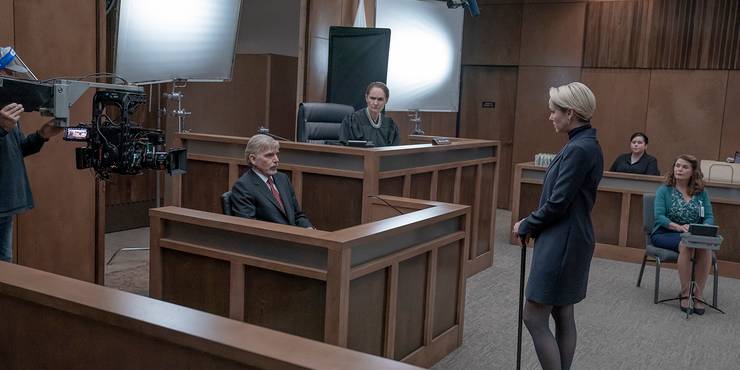 Final Thoughts
Ava Wallace Margolis, widow of the founding partner and now Chairwoman of the Executive Committee of Margolis and True, seeks to demean Patty as a graduate of La Verne Law School. Are you thinking Laverne and Shirley? FYI, it turns out that La Verne is real and located in Ontario, California. Sam Margolis doesn't much like her stepmother. "If you want to be safe, I'd take the stairs." Don't miss the cameo of William Hurt, just one of many wonderful vignettes in Goliath 4.
"Thanks to Thornton's consistent performance and the addition of heavy hitters like J.K. Simmons and Bruce Dern, it's more than worth your while." Decider
"Goliath Season 4 is a visually dazzling and emotionally rewarding farewell and one last chance for Billy McBride to reinvent himself." TV Fanatic
If this is truly the last season of Goliath, it is shame. One hopes to get at least seven or eight seasons out of a compelling character before they call it quits. Here's hoping they reconsider.