Until I saw Lorne Michael's name associated with Schmigadoon, I had hope. After all, I like musicals. I guess the title was the first hint that the topic was not to be taken seriously. Reported as a parody of 1947's Brigadoon, Oklahoma of 1943 also comes to mind. What starts out as an interesting concept, quickly turns into something corny. On July 16, Apple TV+ dropped the first two episodes, with the next four coming weekly ending August 13th. Will our lovers successfully find their way out of Schmigadoon? If you find out, drop me a line. I lost interest.
The screenwriters, Cinco Paul and Ken Daurio, certainly have the pedigree for excellence. They've written The Secret Life of Pets and Despicable Me 3. Here, Paul also writes the songs, with varying degrees of success. Schmigadoon presents itself as a musical on a 1940's set. Melissa and Josh are quite the modern couple, successful, unmarried-but-living-together doctors trying to rekindle the spark. The residents of Schmigadoon have rules, such as an unhitched couple must take separate rooms in the hotel. And, two rooms for one night cost a whole dollar. These are such backward folk! To further belittle the genre, the bossy wife of the town preacher insists on burning books. Of course, since Lorne Michaels is involved and flyover-country is disparaged, the critics love it. I give Schmigadoon 2.5 Gavels and it receives an 88% Rotten Tomatoes rating with a better-than-expected, early 7.6/10 IMDb score.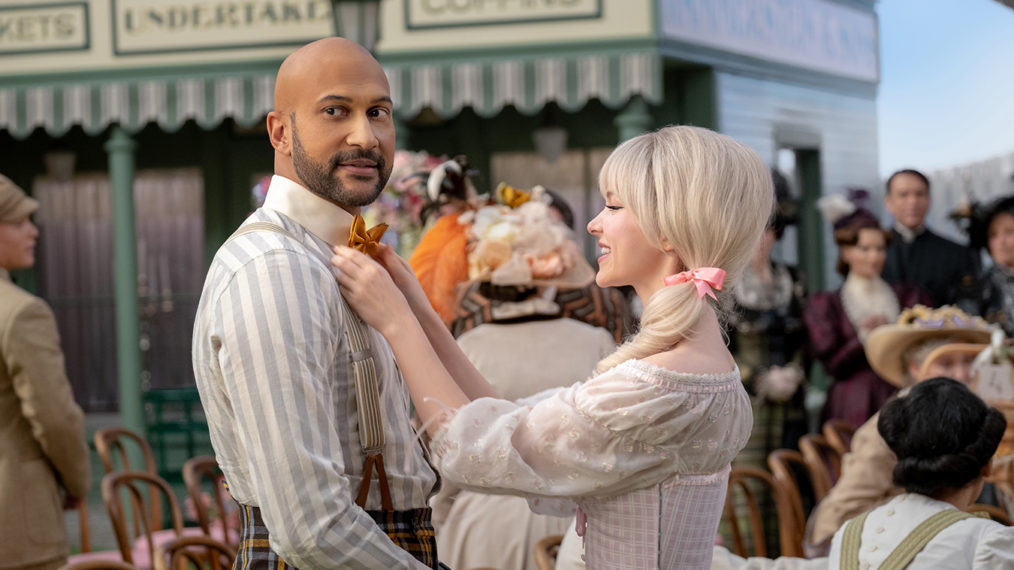 Plot
Three years and two months after they first met, Melissa and Josh hike the Sacred Heart Love Trail. Lost, they cross a bridge, and after the fog lifts, receive a warm welcome in a town whose motto is "we always strive for peace and happiness." The townsfolk of Schmigadoon never waste an opportunity to break out into song and dance. Josh hates musicals, Melissa finds them enchanting. Soon, rapscallion Danny flirts with Melissa, and waitress Betsy sidles up next to Josh. As Josh and Melissa try to return to the real world, a leprechaun advises them they cannot leave until they find true love. A lover's spat is about to become a break-up.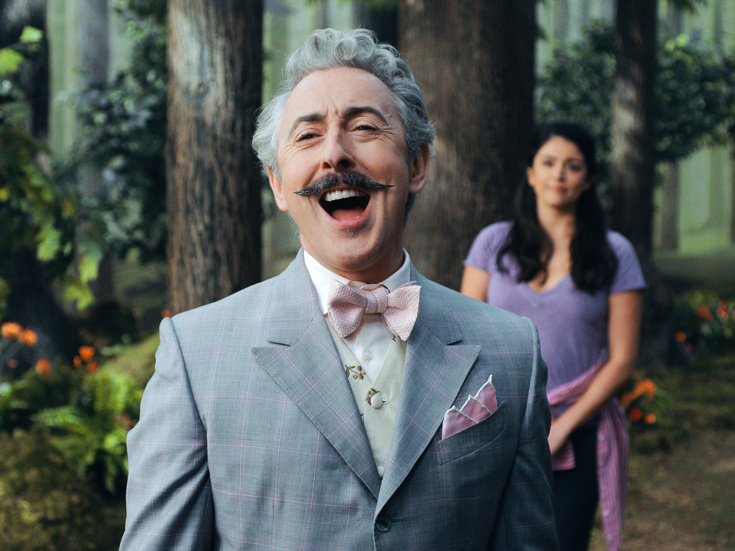 Actors
Cecily Strong is a fine, likable comedian. That said, her song and dance skills in the first two episodes are much better suited for SNL than a "musical." Seen in The Prom, this certainly isn't Keegan-Michael Key's first rodeo in a musical spoof. He's such a strong presence, I wonder why he keeps doing these silly parts. The writers waste the talents of Kristen Chenoweth (preacher's wife) and Alan Cumming (mayor). When asked if he is "gay," the mayor replies that he always tries to be "gay." Trying to be witty, it just comes off as sad.
Final Thoughts
Melissa becomes "tipsy on the spectrum of consent" at the picnic basket auction, i.e., "men bidding on women like livestock." Then, Betsy sends mixed messages to Josh at the "Virginity Ruins," although she's "gonna wait until she's a bride." Isn't there a lot of sexual innuendo for a 1940's re-do? Could anything be cornier than "Corn Puddin?"
"What seems like a strength at first, of having every song and dance as a full production number, quickly becomes wearing after the initial impressiveness wears off." Guardian
"Like so many quality control-lacking project with Lorne Michaels as an executive producer, this series… is an SNL skit in search of a story." Deadline Hollywood Daily
"Somewhere Love is Waiting For You" sings the Mayor to Melissa. Sorry, it's not in this review. It will have to look for love elsewhere.