After 20 long years, Disney+ finally builds on the success of Monsters, Inc. with Monsters at Work. Quite the success, the Pixar original earned $577 million and an Oscar for Best Original Song. It lost to blockbuster Shrek for Best Animated Feature despite out-earning it at the box office. Now, we have a streaming service and need content, so why not resurrect these wonderful characters? Since July 7, three episodes are available with six more to come over the next six weeks. One might say that Monsters at Work is a work in progress. Why? Because episodes two and three are so much better than the trailer and episode one. We know Mike and Sulley. We're just getting to know Tylor.
The early weakness of Monsters at Work is too little Mike and Sulley. Although Sulley is now the CEO of Monsters, Inc, it seems like Mike is running the show. Perhaps, this is understandable as we convert from "scarers" to "jokesters," but Sulley is so "huggibly" monstrous. Still, Mike's Comedy Classes can be quite funny. So, why are we converting from scarers to jokesters? The City of Monstropolis no longer runs on the screams of little children. Now, it runs on laughter.
The key character is Tylor Tuskmon, top "scarer" graduate from Monster University. Destined for the "scarer" floor at Monsters, Inc., he finds it no longer exists. His new goal is to take the Comedy Class at lunch and get on the Laugh Floor." All baseball fans will appreciate "The Green Monster" at the Monstropolis Creepies vs. the Boostown Red Shocks baseball game. I give Monsters at Work 4.0 Gavels and it receives a 70% Rotten Tomatoes rating with a 7.3/10 IMDb score.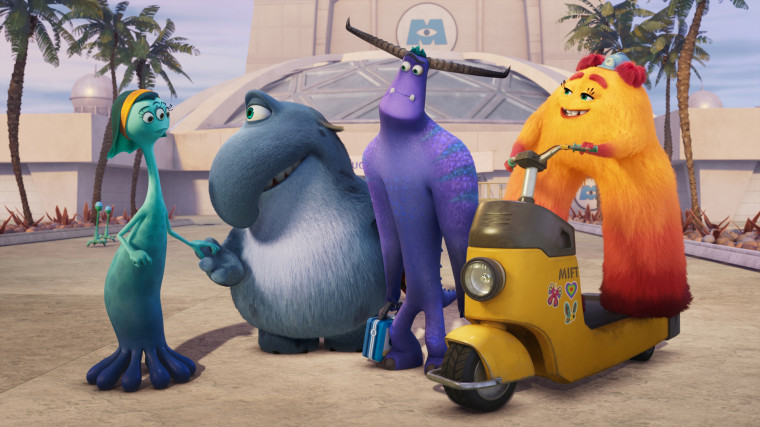 Plot
No longer needed, Tylor gets an assignment in the basement as a member of MIFT–Monsters, Inc. Facilities Team. It's their job to repair whatever The Laugh Floor breaks. Certain this is a mere temporary job, Tylor is reluctant to accept The Sacred Wrench. Surely, the Comedy Class will soon take him directly to the Laugh Floor. Meanwhile. Mike is now Senior Co-President of Monsters, Inc. and Chief Executive Vice-Deputy Administrative Director of Comedy Resources Management. To keep the supply of laugh canisters flowing, he takes a 36 and one-half hour energy drink. As expected, that only lasts the frenetic Mike two hours. All in all, it still sounds better than the rotdog he buys at the ball park, and Tylor's favorite candy, the Hot Snots.
Actors
Billy Crystal (Here Today) is still crazy as Mike and John Goodman (Atomic Blonde) rarely used as Sulley. Ben Feldman (Superstore) voices Tylor and Mindy Kaling (Late Night) does the same for "love interest," co-worker, mechanic Val. Oher recognizable voices include Henry Winkler, Bonnie Hunt, and Jennifer Tilly. In this case, it's not the voices that get you, it's the eyes!
Final Thoughts
Monster's, Inc.'s old motto was "We scare because we care." The new motto is "It's laughter we're after." You don't have to study at Monster University to work at Monsters, Inc.. You might also attend Ghoulliard. Most assuredly, you would vacation in the Scaribbean. My nomination for Best Song is "I'm not Going to Sing You a Song." Makes sense, doesn't it?
"The show doesn't deliver belly laughs, but it nimbly slides into the "Monsters" timeline and cleverly builds on a particularly fertile Pixar concept." CNN.com
"Like the movies, cuteness and wit combine for good children's programming." Entertainment Voice
Like many other Disney offerings, Monsters at Work takes its time building its world. Will it ultimately deliver? Who knows? This one gets the chance to prove itself.