Bosch 7 is comfort food for the TMJ household. For seven seasons, we've loved the antics of Harry and Jerry, Crate and Barrel, Chief Irvin Irving and the LT, Honey "Money" Chandler and Maddie, and the list goes on and on. We mourn the loss of these "friends," but then episode eight throws us a bone. Could there be a spin-off? Until then, rest assured that Bosch 7 continues to weave multiple storylines with an ensemble cast as good as any show might wish. Plus, as the theme song goes, Bosch's "got a feeling I can't let go," even if it means career suicide.
Some might describe the acting style of Titus Welliver (Bosch) as wooden or stiff, while others think him laid-back and cool. Certainly, his jazz music gives him a level of cachet. In any case, Welliver provides an indelible character, not soon forgotten, reminiscent of Raymond Burr's Perry Mason. Who else can constantly rile his superiors and co-workers so effortlessly that he gets at least one "F—ing Bosch" per episode?
But, Bosch 7 and its predecessors are far from a one-man show. Sometimes you feel like you need a scorecard to keep up with all the actors. From time to time, the writers insert brief thirty-second scenes that likely have major implications. Where does that actor fit in? When will we see him/her again? Was that a red herring? Bosch 7 keeps you on your toes. And, for comic relief, Crate and Barrel never let you down. I give the eight part Amazon series 4.5 Gavels and it receives an overall 97% Rotten Tomatoes rating with a very good 8.4/10 IMDb score.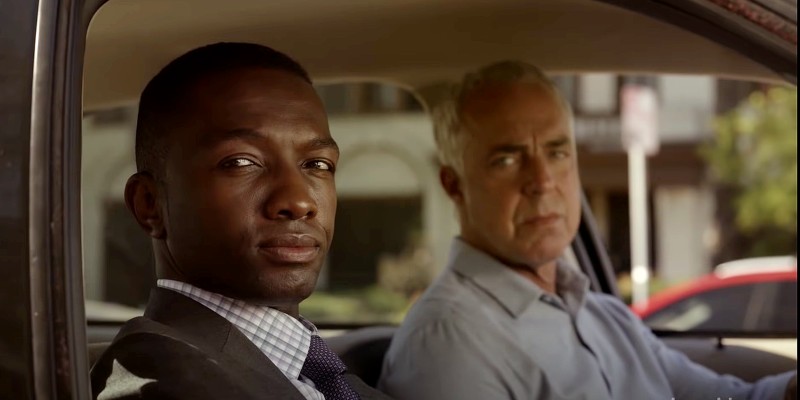 Plot
New Year's Eve 2019 begins ominously as a Molotov cocktail thrown into an East Hollywood apartment building kills three, including ten year old Sonia Hernandez. The new owners tried to rid the complex of the local drug gang, run by La Mayorista, Gladys Rodriguez. In turn, she pays Miguel Pena and the Los Palmas for muscle. Bosch and company have a pretty good idea who is responsible. Meantime, Vincent Franzen secures the attorney services of Honey Chandler to represent him in a $200 million Ponzi scheme indictment. Lt. Grace Billets suffers harassment from members of her own department. The Mayor decides that she no longer needs Chief Irving. Finally, any female close to Bosch will find themselves in danger. In other words, situation normal.
Actors
Of special note in Bosch 7 are Lance Reddick (Chief Irving), Jamie Hector as Det. Jerry Edgar, and Amy Aquino as Lt. Billets. Irving can always be counted on to do what's best for Irving. Edgar still reels from his killing of Jacques Avril in Season 6. While dealing with her professional issues, the LT always has Bosch's back. The character who has grown the most is Maddie, Bosch's daughter played by Madison Lintz. As smart as her father, and much less prickly, expect her to have a major part in any spin-off. All this time, I was sure she would end up in the D.A.'s office. She's full of surprises.
Final Thoughts
As Bosch 7 develops, he warns us that he is having "a full blown crisis of faith, a cancer of the soul." Will too many behind-the-scenes deals prevent justice for Sonia Hernandez? Of course, Bosch always has a "workaround." But, at what cost? Lots of bodies in Season 7 and lots of blame to go around. As always, Bosch leaves you wanting more.
"Bosch is an unhurried, unglamorized slice of L.A. crime noir, as real as this genre gets, echoing the glory days of Steven Bochco (NYPD Blue) and Joseph Wambaugh (Police Story)." TV Insider
"Bosch rewards fans in season 7 by bringing back several old fan favorites and using clever callbacks throughout the script. There is a lot of nostalgia intertwined with the captivating case investigations." Somanyshows.com
Enough of the suspense already! The faithful will be pleased to learn that the first production of IMDb TV will be the Bosch spin-off. Reportedly, it will be set approximately eighteen months after the Bosch 7 finale. Once again, the show will be available through Amazon Prime. In particular, Harry, Maddie, and Honey return! Ain't life grand?