Full of horses and apples and strawberries, Spirit Untamed makes you wish for a nine year old daughter to share the experience. Produced by Dreamworks, its predecessor, Spirit: Stallion of the Cimarron earned $122 million in 2002 and an Oscar nomination for Best Animated Feature. The original garnered a 70% Rotten Tomatoes rating and a 77% Audience score. Notably, Spirit Untamed does much worse with the critics at 45%, but much better with the Audience at 96%. Clearly, the target audience is pre-teen girls. Perhaps your daughters or granddaughters enjoyed the eight seasons, two specials, and four more spinoffs of Spirit Riding Free on Netflix. This is officially a franchise.
As a computer-animated film, Spirit Untamed captures the "spirit" of wild horses in the West. Certainly, it oversimplifies the manner and time to build trust with a horse, not to mention the dangers of riding on rocky outcroppings. This is a story to capture the imagination of children, not intended as a how-to guide to to break a horse. It's meant for giggles, not for instruction. Guidance does come in the form of "your herd needs you, and my herd needs me." It's a touching moment when Lucky and Spirit must decide their future. Splendid are the animated vistas of the West. Thus, rating the film for its intended audience, Spirit Untamed receives 4.0 Gavels. The very early IMDb score is only 5.7/10.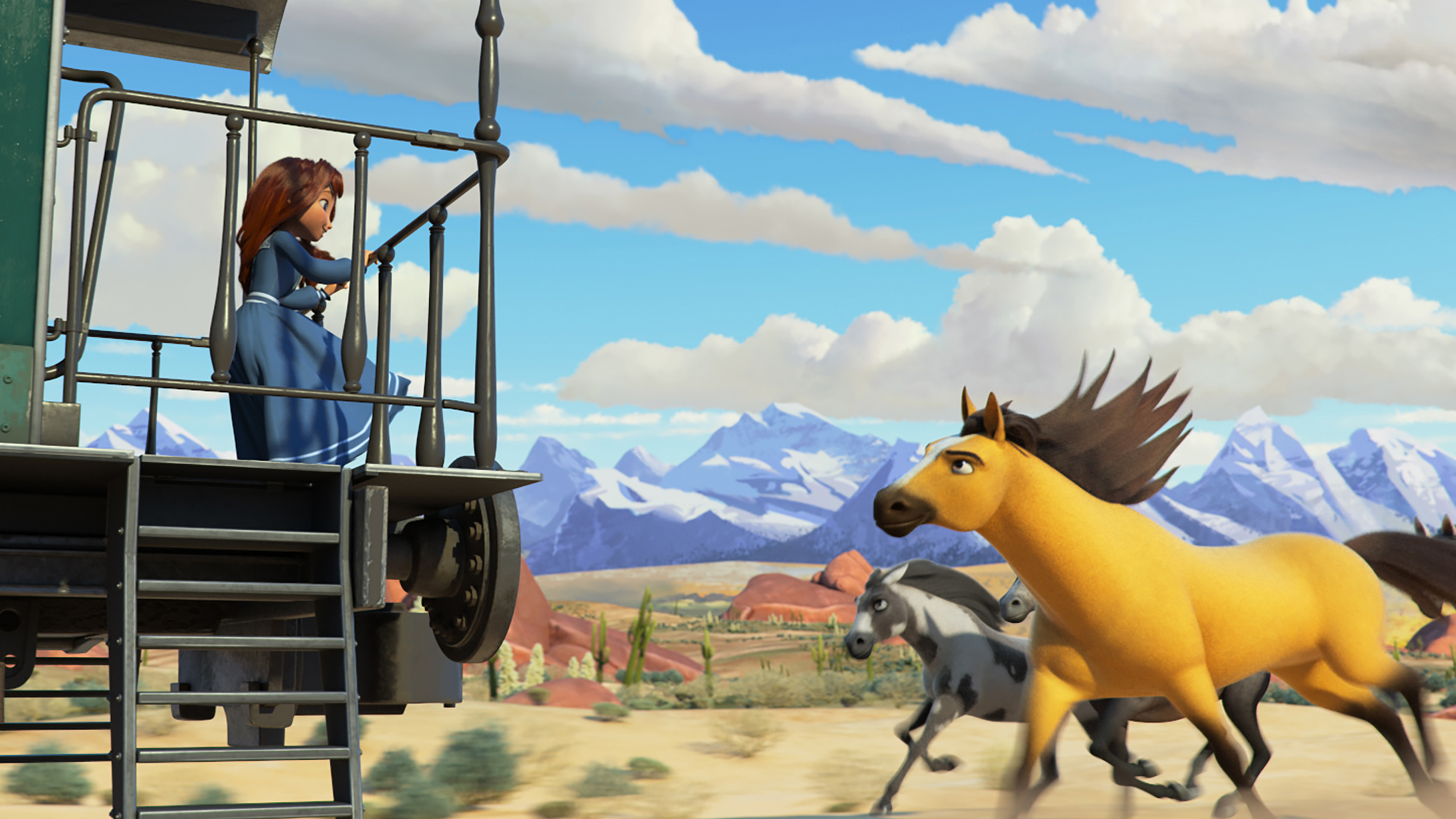 Plot
Lucky's mother died shorty after giving birth in a riding accident. For the past 10 years, Lucky lived with her grandfather and Aunt Cora. Somewhat a mischievous child, her grandfather orders the two to spend the summer in Miradero with her father, Jim. The train ride introduces Lucky to Spirit, unaware they are fated to meet again due to the actions of wanted horse wranglers. Jim commands that Lucky stay away from horses, oblivious to the bonding taking place. Together with her PALS, Prudence and Abigail, these girls are about to cross Heck Mountain to rescue Spirit's herd.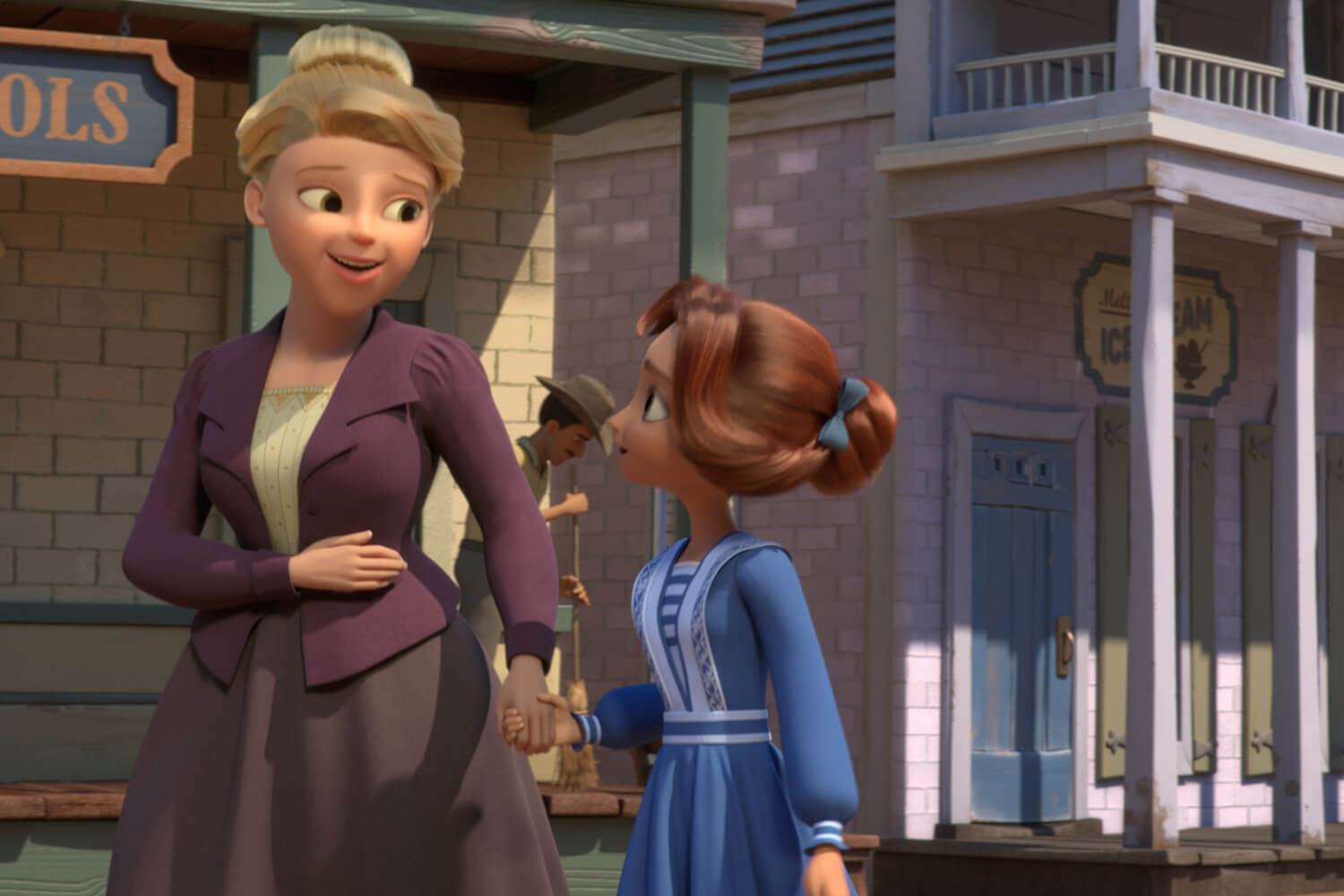 Actors
You saw her as the lead in Dora and the Lost City of Gold. Now, Isabela Merced is the voice of Lucky. Jake Gyllenhaal voices her clueless father, and Julianne Moore (Gloria Bell) her sympathetic aunt. As in Justified, Walton Goggins gets the role of bad guy, Hendricks. TV favorite Andre Braugher is the impressive voice of Pru's father.
Final Thoughts
Ten days after its release, Spirit Untamed earns only half of its $30 million budget. Obviously, it is not the film to bring huge numbers of viewers to the theaters. Its target audience is too small. I would expect it streamed in the not too distant future. So, pop some popcorn. Put your daughter on your lap, if she will still let you, and bond. This may be a forgettable movie for you, but not for her. Spirit and Lucky make a good team.
"Spirit Untamed is pure and unbridled family fun, pardon the pun. The animation is crisp and light, the voice performances are crackling good and the story of Spirit and the girl who became his best friend is filled with heart." Chicago Sun-Times
"I can picture the 10-year-old girls at a slumber for whom this movie would be the biggest hit, and I hope their parents rent it for them." Film Week
Girl befriends wild horse, girl rescues horse from bad guys, girl and horse bond forever. It's been done before, and it works, and it will work again. You've seen it, your daughters and granddaughters haven't. This is where you bond with them forever!