Why is it that The Baker and the Beauty is a hit on Netflix but couldn't find an audience on ABC? Was it marketing? Is it because that, within the pay-for-streaming service, the viewer will watch anything new? Whatever the reason, if you like fashion, food, and Florida, this romantic-comedy deserves a peek. (Note: Set in Little Havana in Miami, it is mostly filmed in Puerto Rico.) To top it off, the nine-part series provides some great Cuban/Latino music. Derived from the Israeli hit show, The Beauty and the Baker, the premise is that a fashion entrepreneur falls in love with the corner baker. She has millions, but little family connection. He is surrounded by love, but his family looks at the register tape daily to ensure the next.
The Baker and the Beauty just hits the right notes when looking for something lighter. The characters are warm, likeable, and funny. Who doesn't like to browse around in a bakery? Moreover, who doesn't want a peak into the world of the rich and famous? Brother Mateo Garcia ensures the tunes will flow as MC Cubano. Ex-girlfriend, Vanessa, brings a little nuttiness, and earnestness, to the screen. Ex-boyfriend, Colin, is not one to exit the stage without a little "stalking," to say nothing of the paparazzi. Family will meddle. Overall, it's rather pleasant to see a show where no one gets killed. I give The Baker and the Beauty 3.5 Gavels and it receives an 88% Rotten Tomatoes rating with a 7.4/10 IMDb score.
Plot
Daniel's family warns him that, after four years of dating, Vanessa will expect him to pop the question. Fashionista Noa breaks up with actor, Colin, after reports of cheating. Chance brings them to an expensive restaurant where Noa watches while, in front of a packed house, Vanessa makes a spectacle of a proposal. With no money and no vehicle, Noa offers Daniel a ride and three wishes. Rappelling down the side of her father's hotel to deface her image is NOT one of them. Rather, his requests are sweet and endearing. She can't get this ordinary baker out of her mind. Is this love blossoming, or is he just a passing fancy?
Actors
Victor Rasuk (Jack Ryan, Fifty Shades trilogy) and Nathalie Kelley have chemistry in spades as Daniel and Noa. The latter, born in Peru, raised in Australia, and fluent in Japanese for Fast and Furious: Tokyo Drift, carries herself as a model. Seen in such works as Scandal and Under The Tuscan Sun, Dan Bucantinsky is Noa's overprotective manager, Lewis. After all, a brand must be protected at all costs. If Kelley has the look of a model, Bucantinsky has the look of an agent.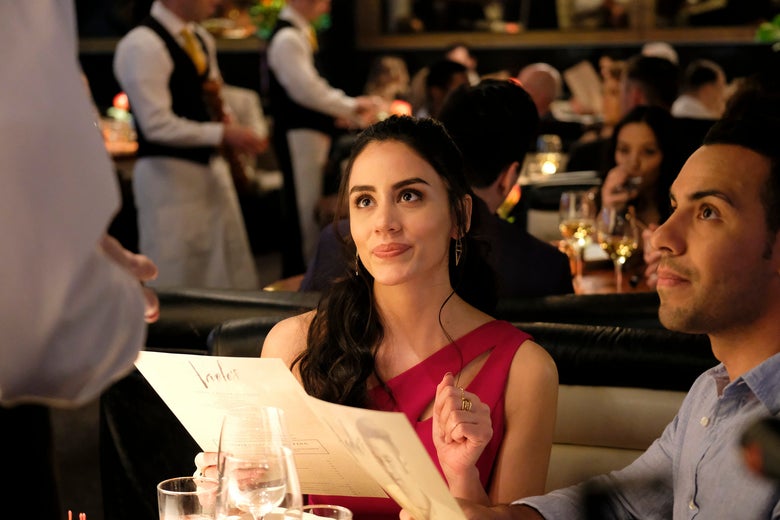 Final Thoughts
You might enjoy Vanessa's thoughts on marriage. "I'm a twenty-eight year old woman. This is what we do. We diet, we get married, we have kids, and we diet again." Or, "fighting for your man is NOT a sign of low self-esteem." To satisfy Lewis' concerns, Daniel learns "NDAs are good, PDAs are bad." (If you can't figure that out, Google can help.)
"Overall, the pilot has the makings of a great romantic comedy and admittedly, leaves you wanting more, again, just like any summer romance." TV Fanatic
"The Baker And The Beauty is a light, fun show that is less campy than ABC is making it out to be, and that's a good thing." Decider
When all is said and done, most comedies struggle to find an audience on TV. To its credit, The Baker and the Beauty has more than comedy going for it. It has love.