Silliness, thy name is Yes Day. The Netflix offering reminds me of Animal House, except for kids. Imagine allowing your kids to do anything they want for twenty-four hours. As a young adult, Allison Torres said "yes' to everything. But, with kids, "yes" became the new "no." Or, as she says, "it's called parenting." The dynamic turns when she sees a video prepared by her son which compares her to Hitler and Mussolini. A guidance counselor recommends a Yes Day. Somewhat reluctantly, Allison and Carlos agree, but the kids must earn it. That is, they must do their homework and chores, and the activities be neither dangerous nor illegal, within budget, and inside twenty miles from home.
Some of the Yes Day activities look like fun, especially Kablowey. Yet, at a quick 86 minutes the film has little to say. View the trailer and you've seen most of the movie. Of course, the kids are darling. And, the kids learn a lesson. Not so, for the audience who already knows that sometimes you have to be the bad guy. My guess is the target audience is eight to twelve although the appearance of H.E.R. may attract some teens. Who is Having Everything Revealed? She's an R&B singer already with 10 Grammy nominations including two wins by age 22. Is a fourteen year-old able to attend her concert without adult supervision? A bet decides the answer in Yes Day. Colorful, but without much substance, I give it 3.0 Gavels and it has a 40% Rotten Tomatoes rating with an early 5.7/10 IMDb score.
Plot
A lawyer at Icarus Technologies, Carlos' job is to keep them from being sued. He says "No" so much at work that he refuses to use the word to his kids. That falls on Allison. Katie wants to go to the Fleekfest concert with her friend. Mom says you can only go if I chaperone. All this leads to Yes Day and five Big Asks. Those include a Gut Buster breakfast, a car wash with the windows down, and a Nerd Party at the house. What could go wrong?
Actors
Despite the momentary lapse of judgment, Jennifer Garner just oozes the understanding of parenting. Allison Torres is a far cry from her role in Peppermint. Jenna Ortega is another name to remember. Once you've caught Disney's attention, everything opens up. As Katie, she makes Yes Day nearly watchable. As the youngest Torres, Everly Carganilla plays Ellie. I'm surprised Garner didn't adopt her in real-life.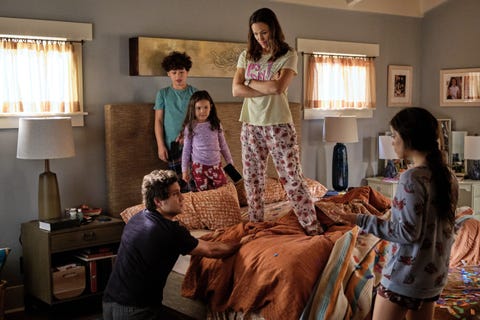 Final Thoughts
Ultimately, the Torres kids figure out that they want to be parented. In itself, that probably is a win for a Hollywood film. Even dad realizes he needs to step up and be a "partner" to Allison. They may still have some work to do on young Ellie as she wants "to be a scientist so she can blow things up."
"I thought I had wandered into a packed Chuck E. Cheese where all the doors were then locked and someone threw away the key." Deadline Hollywood Daily
"Yes Day strings together a series of just-say-yes set pieces that don't play out the central premise so much as they turn it into an extended kiddie-action-movie burlesque." Variety
This is another "the book was so much better." Maybe this one should come with the warning, "please don't try this at home."