The Wall in Fermont, Quebec is not as imposing as The Wall in Game of Thrones. After all, not many walls can be made of ice 300 miles long and 700 feet high. Still, Fermont's "inhabitable wind break" is impressive at 1.3 kilometers long and five stories high. When you are on the 52nd parallel at the border of Labrador, the northerly winds can be downright inhospitable. This self-contained structure contains everything needed to survive the seven month long winter and protects an additional 755 houses. Total population in Fermont is about 2500 persons. Fer Mont is a contraction for Iron Mountain and you might have guessed this is a mining town with, apparently, an active adult entertainment industry.
Why the geography lesson? Masterpiece on Amazon Prime presents an excellent eight-part subtitled thriller called The Wall. A young woman is found dead wearing a Chinese mask inside The Wall. Sent to investigate from Quebec City is Det. Sgt. Celine Trudeau, not known for her tact. Not only does she stumble upon a serial killer, she learns her estranged daughter now lives in Fermont, married to the apparent heir of the Ricard Mine. Gorgeously filmed in winter, the stark beauty of Quebec makes it worth a look-see. Immense mines and mining equipment, snowmobiles, and chain saws are all part of the mystery. I give The Wall 4.0 Gavels and it receives a 7.1/10 IMDb score.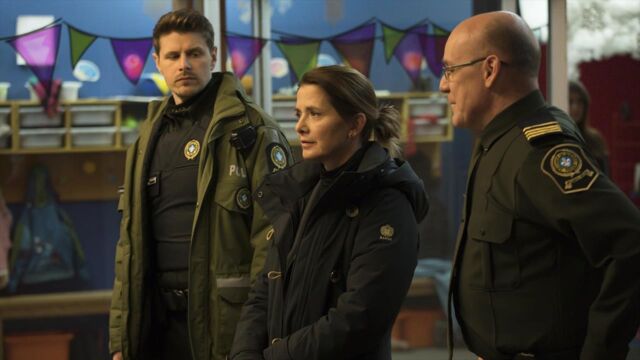 Plot
The killing of Justine Fournier by carbon monoxide mirrors the death of nine year old Gregoire Lamontagne three years earlier. As the mine sorely needs a grant from the Canadian government, no one wants to contemplate a serial killer. Yet, themes of child abuse, sex abuse, drug abuse, and money laundering indicate a possible connection. Locals want to blame the "fly-ins, fly-outs" for the deaths. Det. Trudeau soon finds that most of those in Fermont have secrets best left unexposed.
Actors
Isabel Richer (Det. Trudeau), Alexandre Landry (Officer Theberge), and Maripier Morin (Sophie, Trudeau's daughter) are all unfamiliar actors to the U.S. viewer. Don't let that stop you from enjoying this series. All are excellent. Over the past year, I've introduced you to many foreign TV shows. If you enjoyed Wisting or Van der Valk, this one is on par with both.
Final Thoughts
"Blaming him kept her from blaming herself." Trudeau knows grief can be such an overwhelming force. What caused the rift between Trudeau and her daughter? Old boyfriend and medical examiner, Martin Landry, refuses to mediate. "There's no way I'm getting between a tank and a bulldozer."
"Although The Wall is Canadian, it definitely has a Nordic Noir feel to it." Foreign Crime Drama
"The inhabitants simply call it The Wall—but what seems like a safe enclosure soon turns out to be a deadly trap." TV Maze
Notably, The Wall aka La Faille gets the green light for a Season Two, to be shown later this year. If you are looking for something a little different, this may be the one.