After a month-long search for a good Christmas film, I checked in with Godmothered on Disney+. Although it can be a bit spotty, the Cinderella spoof is well worth the 113 minute run time. After all, no fairy godmother wants to be relegated to the status of tooth fairy. Eleanor is a fairy godmother-in-training. If she isn't able to help someone find "happily ever after," the Motherland will be shut down. Her conundrum is that "she's not trained, but can't get trained if the Motherland closes." She needs an assignment but no one requests "happily ever aftering" anymore.
Although the ending will likely leave you misty-eyed, the best part may be early as Eleanor meets Beth, a female log truck driver. Clearly, Eleanor has a lot to learn about real life as well as magic. Then again, who does magic better than Disney? The writers put lots of puns into the fun in Godmothered. And, where else can you find a raccoon named Gary to help put up Christmas lights? Add in some well-placed Xmas tunes, and I give Godmothered 4.0 Gavels. It receives a 60% Rotten Tomatoes rating with a 76% Audience score.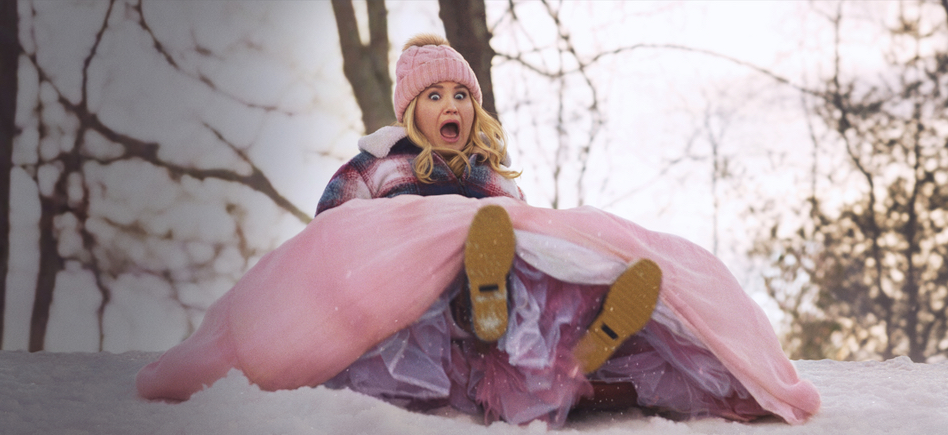 Plot
At age 10, Mackenzie Walsh asked for assistance from her fairy godmother. Now, 30 years and two kids later, she's lost her belief in happiness, including Christmas. Eleanor knows the formula. "A glittery gown turns the frown upside-down." But, what if the old formula doesn't work anymore? Time is running out and Eleanor still can't figure out how to turn a pumpkin into a carriage.
Actors
So good in Brittany Runs a Marathon, Jillian Bell makes a believable and naive fairy godmother. As Mackenzie Walsh, Isla Fisher (Tag) plays the disenchanted TV producer who thinks she will never find another prince. Jane Curtin and June Squibb (Blow the Man Down) are sister Godmothers, each with differing opinions as to what Eleanor might accomplish.
Final Thoughts
No different than any human, Eleanor celebrates forming a taste for American elixir and potion, aka lite beer and lemon drop. For those into nostalgia, Godmothered brings you a nice Sound of Music scene. For Scrooge-types avoiding Xmas gatherings, Eleanor advises "nine of ten fairy tales begin with once upon a time something amazing happened when she was home drinking wine in her sweatpants."
RogerEbert.com writes "a great display of Jillian Bell's imagination as an actor, and her dedication to a joke." AV Club states "what elevates Godmothered is an ending which manages to tie up the film's familiar themes in a surprisingly moving way." If you are not yet into the Christmas spirit and need your own "happiness makeover," Godmothered might just be the magic you need. Even if this one is only 3.5 Gavels, hey, chalk it up to the generosity of the Season.