Becoming You hooks you in the first minutes with "the first errand." The six part-docuseries on Apple TV+ takes us from birth to age five as we establish who we are and how we establish our identities. How do we learn to walk, to talk, to think, and to love? Watch three year old Ruru navigate the streets of Tokyo to purchase sushi for the family. In America, his parents would be arrested for child neglect. It is nerve-wracking as Ruru must cross streets, avoid streetcars, and use tunnels to reach his destination. Yet, that introduction to independence is so common in Japan that it has its own TV show called, appropriately, My First Errand.
"In 2000 days, we go from helpless newborn to the most capable creature on the planet," brags Becoming You. In just the first episode, the show takes you around the world. In Nepal, three year old Tenjing begins self-discovery with his "intense interest" using a camera. At age four in London, Delilah and Lachlan pick up signals and start to conform to what they perceive are the rules of society. Arzanna, a five year old in Borneo, wants to do what others do, which includes clam diving. Brilliantly colorful, I give Becoming You 4.0 Gavels and it receives an early 7.1/10 IMDb score.
Plot
Not feeling it yet? Episode two begins in Borneo as three and one-half year Radha is home alone, her family gone fishing. She lives on the water in a hut built on sticks. Her friends, sixty meters away, encourage her to swim over. One small problem is that she's never been taught to swim. For her, mobility means teaching herself so she can get where she wants to go. Nightmare or necessity?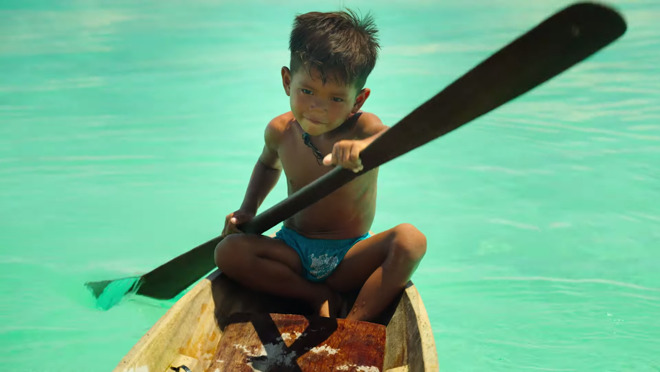 Actors
Narrated by Olivia Colman (The Crown, The Favourite), the stars are 100 children on our Earth as we observe them grow. In Mongolia, four year old Uuganbayer learns to ride a reindeer. At five, Eva learns to surf in Cape Town. London-born Rufus walks after 1,000 hours of practice and 10,000 falls. Each child is an absolute delight.
Final Thoughts
Originally, Becoming You was Inside Pixar on Disney+. The latter was also a docuseries about the "Inspired" artists at Pixar. But, after a mere 1.5 episodes, I lost interest and turned to Becoming You. That was pure inspiration.
Decider recommends that you "Stream It" noting " the beauty of Becoming You is that it's just so darn adorable." Calling it a "childhood documentary with heart and brains," Cult of Mac writes "the show is a little like David Attenborough's Planet Earth. However, it's about babies instead of animals and plants."
Every parent will see their child in these children, reminding us that children are much the same around the globe. Try not to smile too much as you explore those first 2000 days.