Billed as a "powerful story of love, war, and remembrance," I see Testament of Youth as innocent idealism wracked by overwhelming guilt. That said, there is much to like about this 2014 film, now available on Starz. It is well-cast, nicely-acted, and beautifully filmed. And, the movie is largely faithful to the memoirs of peace activist, Vera Brittain. Yet, this is a sad story, one which she profoundly regrets having to write.
Losing loved ones in war is never easy. Losing a loved one after insisting that Father change his mind to allow a brother to "fight in a noble and grand war" has to be devastating. Father tried to warn her that war is "never short and never fast," but what does youth know of history? Testament of Youth is the witness of innocence erased. While this film has artistic merit, it is never easy to watch those plunged into the depths of depression. I give Testament of Youth 3.0 Gavels and it receives an 84% Rotten Tomatoes rating with a 78% Audience score. The IMDb rating is 7.3/10.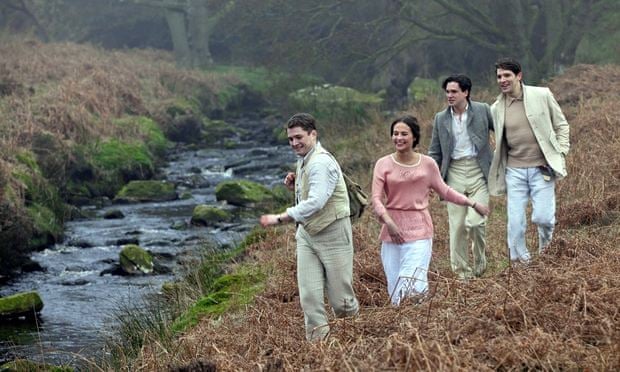 Plot
In 1914, Vera believes the world will end if she is not admitted to Oxford. Her father thinks she should be finding a husband, not spending money for an education where women do not even get a degree. Vera's "idyllic" world of adoration by her brother (Edward), love by his best friend (Roland), and friendship by another (Victor), is about to meet the horrible conditions of trench warfare in WWI. Haunted by the imagined terror on the battlefields of France, Vera sets aside her dream of an university education to become a nurse. Hoping to be close to her brother, she finds herself instead caring for the injured "Huns." Bad news is all around.
Actors
Ultimately in such films as Ex Machina, The Danish Girl and Tomb Raider (Lara Croft), Testament of Youth gave international attention to the work of Alicia Wikander (Vera). Already known for his work on Game of Thrones, this is one of Kit Harrington's (Roland) earlier films. Likewise, before he appeared as Eggsy in the Kingsman series, Robin Hood, Eddie the Eagle, and Elton John in Rocketman, this is Taron Egerton's (Edward) first major film.
Final Thoughts
Despite the very fine ratings, Testament of Youth is a box-office flop. Made at a cost of $10 million, it only earned $5.3 million. Dispiriting movies rarely attract large audiences. In a letter to Roland, Vera notes the paradox that she is "fighting to save German lives that he is risking his life to kill."
Interestingly, the San Francisco Chronicle says "in World War I, a generation learned that war was not the answer. In World War II, another generation learned that pacifism was not the answer. It would seem that there just isn't an answer." The Arizona Republic notes "this is World War I from a woman's point of view, a different perspective than we usually see. It's the story of someone who doesn't fight … but for whom the horrors of war are just as vivid and devastating."
In the darkest days after the war, a friend tells Vera "all of us are surrounded by ghosts." Vera deals with her pain and grief through her memoir. Her loved ones will not be forgotten, as she promised.