At any time, Netflix will bring you entertainment from Spain, Japan, Mexico, Korea, England, Brazil or Poland. Some is very good, for example, Cold War and The Mire from Poland. And some, like Signs, an eight-part series, misses the mark. The murder-mystery story is well above average, containing government corruption, corporate greed, religious zealotry, holocaust victims, secret affairs, and serial killings. Yet, the presentation is well below average. The mountains of southwest Poland could not be more spectacular, the production values could hardly be worse. The English dubbing doesn't match the English subtitles which is quite annoying. One punch missed its target so badly that you wonder how the victim knew to fall.
An American TV scene generally lasts several minutes. In Signs, each might last 90 seconds in which you get a clue which may, or may not, be helpful. Intended to keep you guessing, the effect is to make the series tough to follow. Better editing would be much appreciated. Finally, the ending ties up too little. With so many story lines, to leave one or two for Season Two might be forgivable. This was unforgivable. I give Signs 3.0 Gavels and it receives a 6.3/10 IMDb rating.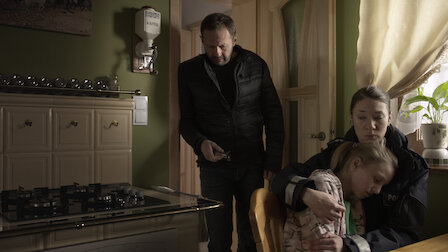 Plot
The new police chief, Trela, arrives in Sowie Doly to find that the best friend of his top police officer, Ada, is dead. Further, her murder matches the murder of another young woman, Laura, ten years earlier. Ada's husband is a prime suspect because of an affair. Or, does it have anything to do with 75,000 zlotys missing from her place of employment, a mining operation with something to hide? Soon another dead body is found, an enemy of the Mayor's daughter. Is it a coincidence that the Mayor's son dated Laura? Lots of dead bodies and lots of suspects in this small town.
Actors
Andrzej Konopka plays Chief Trela, a reformed alcoholic now responsible for his teenage daughter. Helena Sujecka, as Ada, is a much more interesting character as she deals with the betrayal by her husband and best friend. The troubled Mayor's daughter, Agata, is acted by Helena Englert. Her performance outshines them all.
Final Thoughts
Although we don't get an exact picture of their intentions, Signs provides a glimpse into evil Nazi plans. To what extent the townsfolk knew and cooperated must await Season Two. Given the well-known hatred of the Nazis for the Poles, this may well be a red herring.
After viewing only one episode, Decider recommends that you "stream it." Three episodes in, I was solidly in its corner. The ensuing five episodes cooled my ardor substantially. It's not easy to find reviews of Signs, but the two I found both complained of too many subplots and an inability to keep characters straight. Overall, the choppiness recalls the recent Polish TV series The Woods. Maybe this is the favored directing method in Poland. Still, my guess is that Signs will be too much work for most viewers.