Is this art imitating critics?
Critics adore Hustlers. They gave it an 87% Rotten Tomatoes rating. The Audience and me, not so much. I gave it 2 Gavels, the Audience a less than overwhelming 65%. With the pre-Oscar love for Jennifer Lopez, word now is they are going to make this into a musical. Perhaps the tunes could be "I Left My Drugs In San Francisco!" Or, how about, "One Bloke Over The Line." "Night Tripper" might be one of the songs. The list goes on and on.
Drugging men to steal their money is not worthy of Hollywood, let alone Broadway. The director of Hustlers says, "I think it's a safe space for people to enjoy something that maybe they wouldn't enjoy, and maybe they'll get inspired to go to an actual strip club and support the girls." That would be some inspiration.
Is supernatural horror your bag?
Locke and Key is a comic book series. On February 7, it becomes a 10 episode Netflix series. In a Massachusetts home, three kids discover keys that open portals which gives them various powers. Unbeknownst to them, a demon wants the magical keys and will kill and maim to get them. The trailer looks colorful and well-done. I still won't watch it!
Rolling Stone says he's the seventh best singer of all time!
Others say he has a voice like Shredded Wheat. Given the success of Rocketman and Bohemian Rhapsody, with others on the way, certainly a movie about Bob Dylan would be on tap. The working title is Going Electric and will explore the period when he "traded his acoustic guitar for an electric instrument and an amp." Timothee Chalamet is currently taking guitar lessons so he looks convincing as Dylan. He also took guitar lessons for Call Me by Your Name. But, can he sing? Or, since it's Dylan, will we notice?
Make money, get sequel!
I still say Daniel Craig's accent as Benoit Blanc in Knives Out is the worst ever! But, I suppose that is part of its charm. The original made $250 million on a $40 million budget. The director says Craig had so much fun, he wants more. Or, as in Oliver Twist, "Please sir. I want some more!" Then, more he shall have. Currently working on a new script, Knives Out 2 could be ready for 2021. Get ready for new lines like, "Physical evidence can tell a clear story with a forked tongue." "This is a twisted web." Heaven help us!
Say it isn't so, Joe!
The above logo will soon decide what movies you watch. Rather, Warner Bros. will use the artificial intelligence system developed by Cinelytic to determine the probability of success of films based on their budgets, brand, and associated talent. It will "crunch numbers and break down huge data sets and show patterns invisible to the human eye." The founder of Cinelytic acknowledges you still need experience and gut instinct but no movie executive is going to be around long if he bucks AI and guesses wrong. I wonder if AI will have a preference for robot movies? Wow, look at the circuits on that gal! Heaven help us 2!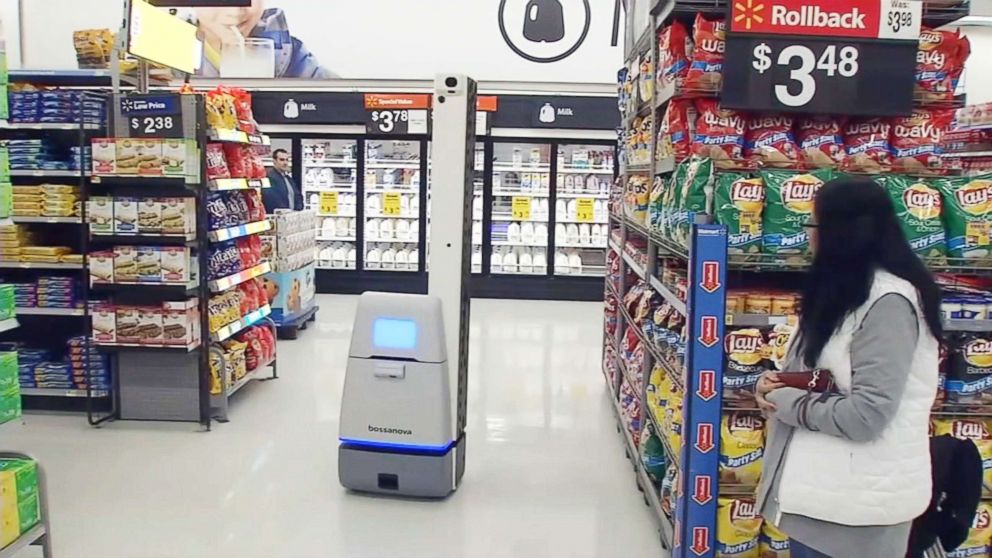 More robots!
One of the funnier jokes at Christmas is that Wal-Mart will close early so that the two employees at the checkout can be home with their families. Now, Wal-Mart is adding robots to pick out items to fulfill online grocery orders. Of course, this means even fewer workers. As I pass by the robot, will I be able to ask it "in what aisle have you hidden the mayonnaise?"
A Wall Street Journal analyst says, "the whole problem with picking inventory from a shelf is inventory is never where it is supposed to be" and "fast-moving items are never there." Or, in case of Krogers, they keep deliberately changing location of items so that we wander the store and buy more stuff. Anyway, I can see the day that a robot goes rogue and we fight it off with our shopping carts. I hope someone gets it on video!
February 9, 2020
Did you watch The Golden Globes? Me neither, although I did take in Ricky Gervais' acerbic opening on YouTube. Once again, the Oscars will have no host. Is it really because ABC saw a slight uptick in ratings last year, or is it because no one will do it? The President of ABC says the Academy promises to keep the show to a "brisk" three hours. Yeah, like that's ever happened! Like most Americans, I'll read about the winners on the morning of the tenth. Check out my choices on January 30.
Schedule of Upcoming Reviews:
Friday January 17 — Bad Boys For Life
Saturday January 18 — Dolittle
Tuesday January 21 — For All Mankind