Episode IX
Who would have thought that a young 27 year old would have to wait 42 years to see the finale of Star Wars? Finally, on December 20, Daisy Ridley stars as Rey in Star Wars: The Rise of Skywalker. It goes with the territory that endings are always unsatisfying to the hardcore followers, but it's time to put this one to an end. Of course, it will just branch off, but still . . . Anyway, the trailer does a nice job of bringing back fond memories. May The Force Be With You!
38,999 feet!
In 1862, two men in a hot air balloon broke the world altitude record. In Aeronauts, those two will be replaced by Eddie Redmayne and Felicity Jones. Ms. Jones' role is to be part Ameila Earhart, part Sophie Blanchard (first woman professional balloonist), and part Margaret Graham (first British female solo balloonist). Set to open December 6, Redmayne and Jones reportedly did many of their own stunts. No acrophobia in those two!
Hook 'em Horns!
This fall, you will refer to him as Professor Matthew McConaughy. He graduated from the University of Texas in 1993 with a Bachelor of Science in Radio-Television-Film. True to his school, his first speaking role was a commercial for the Austin-American Statesman saying "How else am I gonna keep up with my 'Horns?" Now, he has designed his own curriculum for his beloved school. Giving back is the way to go. But, I am sure Emma Stone will ask if the class will be an Easy A?
And this is conservative?
Did you see The Young Pope on HBO in 2016? A young American, played by Jude Law, becomes Pope and turns the Vatican on its head with his conservative religious views. Out later this year is The New Pope starring John Malkovich along with Jude Law. If Law is Pope Pius XIII and Malkovich is Pope Paolo III, don't we have too many Popes? The trailer shows Law in a Speedo walking past girls in bikinis. This is like no Pope I've ever seen. I'm confused.
Shakespeare
Why did Hal not want to become King? Upon being crowned King Henry V, why couldn't he trust any of his advisers? In his unique fashion, Shakespeare will reveal all on October 20 in The King. Intrigue, chaos and war await Timothee Chalamet as Hal, with Joel Edgerton as Falstaff, his alcoholic mentor. If you want an advance read, see Shakespeare plays Henry IV, Parts 1 & 2, and Henry V.
Definitely not The Big Dig!
The Big Dig through Boston took sixteen years and will cost $22 billion, including interest. The Dig, in England, began in 1937 on a 526 acre estate belonging to Edith Pretty. Together with archaeologist Basil Brown, eighteen ancient burial grounds are found on her property, including a 7th century Saxon ship. Carey Mulligan and Ralph Fiennes will star in in this true story made for Netflix. This dig should have a much happier ending.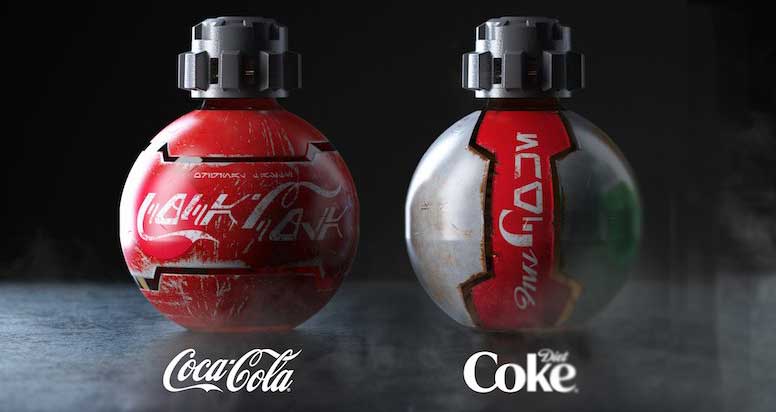 Boom!
Unique? Yes. But, close only counts in horseshoes and hand grenades. You can buy the Coke bottles from Disney's Star Wars attractions, just don't expect to take them on a plane. The TSA says they look too much like hand grenades. I couldn't find the cost of this coke bottle but EBay has them at $24.99. Of course, Disney will soon set up a FedEx station so you can ship them home for 15.99 which will include a Star Wars sticker. By and large, it just doesn't pay to get thirsty at Star Wars.