Not as good as Unbroken: Path to Redemption, nevertheless, this is a powerful story of faith.  Indivisible is a true story about a concept that never occurred to me.  Did it ever dawn on you that a chaplain might have PTSD?   Having seen this movie, it seems likely that it would be required viewing for all new military chaplains.    Told that he would not return from Iraq the same man, Chaplain Turner was skeptical.  Nothing could shake his faith, except that it did.  And that is just half of the story as his wife has her own struggles back home.  Although the war is always in the background, ultimately it is a story about family and the struggle to keep it together.  I give it 3 Gavels and it receives a 69% Rotten Tomatoes rating, albeit on only 19 reviews.
Plot
It is 2007 and President Bush orders the "surge" in Iraq.  Just out of seminary, Chaplain Turner is sent to Iraq for 15 months.  He leaves behind a wife and three small children.  They vow to stay in touch but the war gets in the way.  Turner struggles with fear, for himself and his fellow soldiers.  Heather Turner faces the difficulty of raising the children and consoling other military wives.   The fifteen months apart is just the beginning.  Once you stop communicating, how do you start over?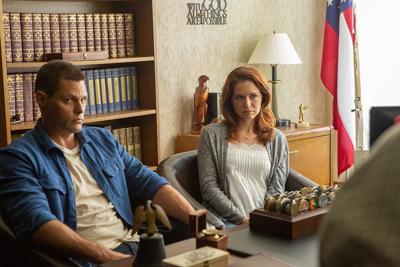 Actors
You have seen these actors before, primarily on TV.  Justin Bruening of Knight Rider and Grey's Anatomy is Chaplain Turner.  His wife is Sarah Drew of Grey's Anatomy.  The best actor, by far, is Jason George, a soldier so close to divorce and so far from faith.  He is also seen on Grey's Anatomy.  Are you sensing a pattern here?  Eric Close, a favorite of mine on Without A Trace some years ago, plays the company commander.
Final Thoughts
The movie does a great job bouncing back and forth from Iraq to the home front displaying the hardships of both.  But this story would likely work better as a documentary rather than a drama.  Other than the PTSD, there is not enough "action" to support two hours.  For example, at the end of the movie, the chaplain receives a Bronze Star.  Since most of the country will never serve in the military, the reasons for him to receive such an award need to be clearer.  While there are several times that the movie will move you toward misty eyes, overall the pace plods along a tad too slow.  While the PTSD  and family "reunion" are predictable, the questions and answers of the chaplains trying to make sense of the senseless are enlightening.  I Can Only Imagine was very good; Indivisible is just average.