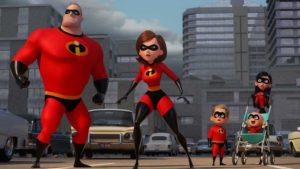 It was worth the wait! In 2004, the original Pixar movie garnered a 97% Rotten Tomatoes rating. As you can see, the critics love the sequel as do the audiences. The film opens with a very entertaining short, then offers an explanation as to why it took 14 years to bring Incredibles 2 back to the screen. After that, you sit back for pure entertainment, in an innocent way that that Marvel super-heroes and Star Wars rebels can't. This is family. Who hasn't felt the pang of "missing out" while providing child care? It is only human, incredibly human. Empathy grabs you. And the rest of this movie will, too.
Supers are outlawed after too much collateral damage is done. Mr. Incredible and Elastigirl are called out one more time to prevent a robbery by Underminer, but their efforts are not appreciated. The family must go undercover. Surprisingly, a communications billionaire offers them the chance to become legal again, but only wants Elastigirl to be the face of the resurrection. Mr. Incredible reluctantly agrees to take care of the kids so that they all might use their superpowers again. While Elastigirl is fighting a new nemesis, Screenslaver, Mr. Incredible learns that it can be incredibly hard to be a homemaker, making lots of mistakes. And, he also discovers that the baby Jack-Jack has a set of unusual powers.
To their credit, the producers did not change the voices of Mr. Incredible (Craig T. Nelson age 74) and Elastigirl (Holly Hunter age 61). Age has not dimmed their ability to convey their emotions. Sarah Vowell (Violet) and Huck Milner (Dash), although unknown, are equally as good. Samuel L. Jackson is back as Frozone with his wonderfully distinctive voice. Bob Odenkirk and Catherine Keener provide the brother-sister voices for the billionaire and the talent behind the scenes.
Lest we forget, the original made $633 million on a $92 million budget. I will be surprised if this one doesn't beat those numbers. This is the kind of movie that you will want to see again. The word-of-mouth should be very strong. Advertised as Elastigirl's coming out party, I suggest that may be too limited. Jack-Jack, if he could talk, might suggest that it is his party, too. Violet experiences some usual teenage angst. Dash gets to play with Incredimobile. All in all, a well rounded flick. I highly recommend this one. If, as some critics suggest, it is too much like the first one, maybe that ain't such a bad thing.