Winner of the Audience Award at the Sundance Festival, Cha Cha Real Smooth is unlike other films. It's sort of a coming-of-age film, but for 22 year olds rather than teens. And, it takes on a whole host of topics, from autism, bipolar disorder and depression to miscarriage, bullying, and first kiss. Consequently, although listed as a comedy-drama, it's difficult to define. Overall, although a bit aimless upon graduation from Tulane, most of us would be proud to raise a son like Andrew. "I had a good childhood, I think you are a great mom," he tells Lisa. Tearing up, she responds, "Are you trying to kill me?" That scene sums up the sweetness of Cha Cha Real Smooth.
His girlfriend, Maya, going to Barcelona on a Fulbright scholarship, Andrew takes his Tulane degree back home to New Jersey. Working at Meat Sticks at the mall is not his life's work. Then again, he's not certain where his life leads. Accompanying his twelve year old brother, David, to a bat mitzvah, it turns out Andrew has a gift as a party starter. Literally, he is stalked by Jewish mothers to be their next designated party orchestrator. Thus, a business, The Jig Conductor, is born. In high school, Macy had no interest. Now, on the dance floor, it's a different story. I give Cha Cha Real Smooth 3.5 Gavels and it receives an 87% Rotten Tomatoes rating and a solid 7.5/10 IMDb score.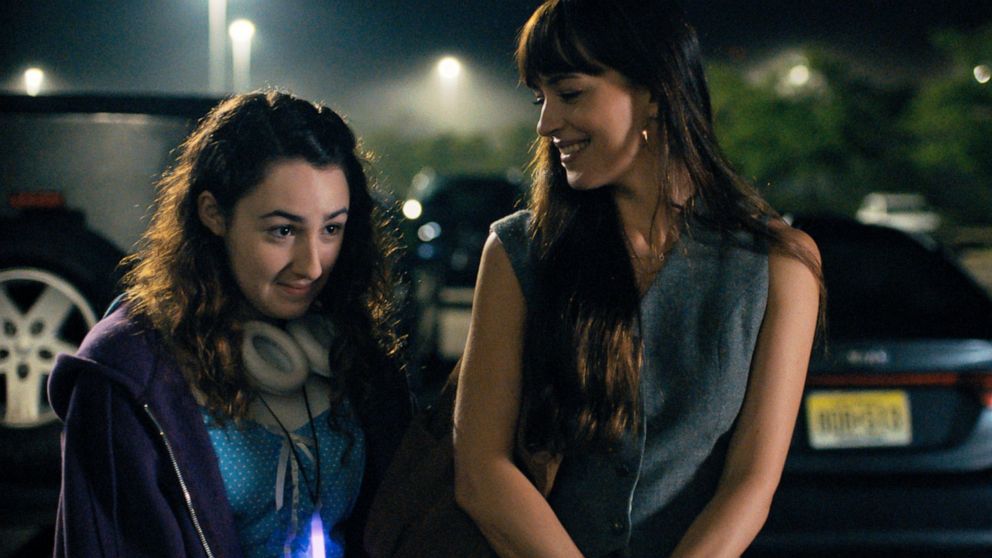 Plot
Lola is a fifteen year old autistic girl in the same class with David and friends. It's not easy for her to be around crowds of people, "sometimes I enjoy an empty room." Sitting alone with her mother, Domino, life-of-the-party Andrew bribes Lola to dance. She's comfortable with Andrew. Andrew also senses a connection with the "much older" Domino though she is engaged. Is Domino unhappy? Could Andrew really be her soulmate? Do each of us have more than one soulmate in the world? Meanwhile, Andrew still has time to give First Kiss advice to his younger brother.
Actors
Writer, director, and star, Cooper Raiff is one on which to keep a keen eye. Two films, two awards. He lands high on the likeability quotient. We've lost track of Dakota Johnson since her fine performance in Peanut Butter Falcon. Here, she returns as the seductive, vulnerable, protective Domino. Most impressive in her first role is autistic actress Vanessa Burghardt as autistic Lola. EW.com explains why there's a lot of Vanessa in Lola.
Final Thoughts
Ultimately, Cha Cha Real Smooth is a roller coaster of emotions. There are heartbreaks aplenty. Yet, for all those, Andrew knows "my memories aren't going anywhere." It is those memories that make us who we are.
"Will somebody please continue to give two-time filmmaker Cooper Raiff the resources he needs to make whatever movies he wants while firmly and in perpetuity revoking his titling privileges?" Los Angeles Times (Note: His last film was named Sh–house.)
"Cooper Raiff, who created this Sundance prizewinner, can't hide his feelings for people with disabilities and those who love them. And I can't hide my feelings for this exuberant gift of a movie starring Raiff and a never better Dakota Johnson." ABC News
Indie movies can be hit or miss. Cha Cha Real Smooth has a lot to offer.