Many critics believe Borgen is the best TV show you've never seen. And, if you like political intrigue, they may just be right. Drawn in by four seasons of 100% Rotten Tomatoes rating, I decided to check it out. Still, I wasn't inclined to go back through three seasons and 30 episodes, so I jumped right in to Borgen: Power and Glory — Season 4. First, some background. "In Danish, Borgen, literally, 'The Castle', is the informal name of Christiansborg Palace where all three branches of Danish government reside: the Parliament, the Prime Minister's Office, and the Supreme Court. The first three seasons outline the rise and "fall" of Birgitte Nyborg, Denmark's first female prime minister.
When I highlighted "fall," it seems that Birgitte is Machiavellian-type character, capable of surviving nearly anything. If you are no longer the leader of one party, then form another. If ousted as Prime Minister, then take up the position of foreign minister. Coalitions always make strange bedfellows. Birgitte and her New Democrats are ardent environmentalists. Oil discovered in Greenland will put that to the test.
What does Greenland have to do with Denmark? It is part of the Kingdom of Denmark with a population of only 56,000. It survives primarily on fishing and an annual 3.4 billion Danish Kronor block grant. Alcoholism is a big problem. In 2022, an oil find means big bucks, but for whom? Borgen outlines the in-fighting between numerous factions. Is this a "bleaker, Nordic version of The West Wing?" I give the eight-part, season four on Netflix 4.0 Gavels and it receives a 7.9/10 IMDb score.
Plot
As Prime Minister Kragh and Foreign Minister Nyborg tussle over who oversees oil development policy in Greenland, the country sees oil as a path forward to full independence. Is Nyborg too far removed from the lives of ordinary people to understand how this money could change their lives? Is the Canadian drilling company owned by a Russian with close ties to its now-despised President? Will EU sanctions allow the oil to be sold? Should Denmark concern itself with the position of the Americans? Just how far might Brigitte go to further her political career?
Actors
Recently seen in Roadkill opposite Hugh Laurie, Sidse Babett Knudsen stars as Birgitte Nyborg. Personal problems plague her character, but who is she without politics? FYI, Knudsen received an International Emmy nomination for this role. Ranging from Midsomer Murders and Game of Thrones to Pitch Perfect 2, you might remember the face of Birgitte Hjort Sorensen. Now promoted to the head of news at TV1, Katrine Fonsmark follows Nyborg's career closely. Will she help Nyborg or bring down the government?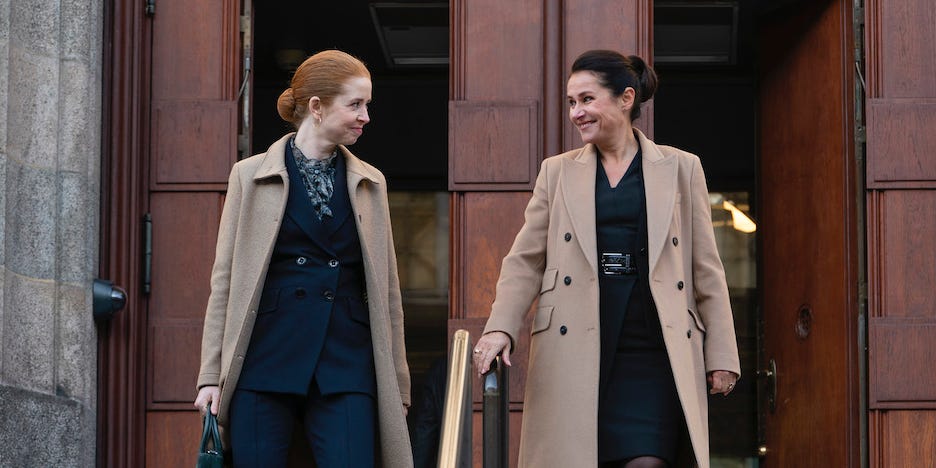 Final Thoughts
Just how much would oil development impact the ecology of Greenland? The scenes in Greenland are breathtaking. With two million tourists per year, does it suffer overtourism? Should Greenland restrict Chinese development of rare earth materials in the country? It turns out Greenland has great strategic interest.
"This new Borgen looks like other Scandi-noir dramas that have emerged since its inaugural run, but it is in a league of its own: Crisp, intelligent, and thrillingly addictive." Vogue
"Like a 2022 version of The West Wing, it is a fictional antidote to unbearable reality." The Guardian
If you are in the mood for something different, you could do a lot worse.