Siri, Alexa, and now KIMI. "I'm here," she annoyingly responds. Billed as a thriller, I deem it too much a copycat. Person who can't venture outside "witnesses" a crime. Those on the outside either disbelieve her, or actively conspire against her. She must leave her apartment, but can she? Will the killer/s come after her? They know where she lives. If all this sounds familiar, it is, and all the acclimation about a Steven Soderbergh (Traffic, Erin Brockovich) direction does nothing to make it fresh. Did the critics like it because it is set during the Seattle protests?
By now, you've probably noticed the blue hair and the orange hoodie. Angela Childs is a voice stream interpreter, clearly very smart and tech savvy. After she futilely seeks help from her boss at the Amygdala Corporation, she is on the run from bad guys. But, never, repeat never, does she try to hide her blue hair and orange hoodie. In a crowd of protestors, you can pick her out from the Seattle Space Needle. Has she never watched a chase on TV, nor played hide-and-seek? In other words, like the Geico commercial, she makes bad choices, certain to get her kidnapped. I give KIMI 3.0 Gavels and the HBO offering receives a 91% Rotten Tomatoes rating with a more realistic 6.2/10 IMDb score.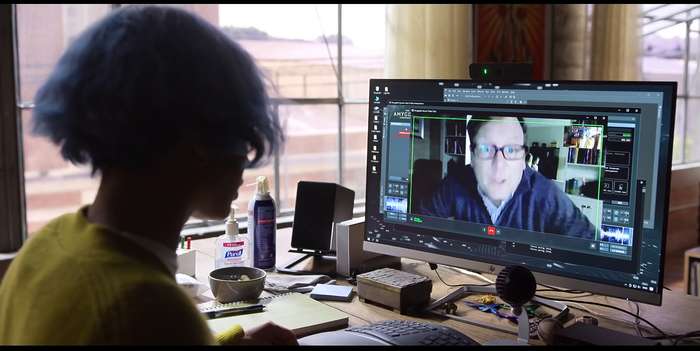 Plot
To communicate better, CEO Brady Hasling declares that human data stream interpreters are better than algorithms. He hopes to make millions when his IPO goes public next week. It's more than a nuisance when Angela Childs reports that she thinks she listened to a crime. Listening in to subscribers and crimes do not bode well for IPO's. Digging further, Angela thinks Hasling has something deeper to hide. But, who can she trust? It does seem she's pretty handy with a nail gun.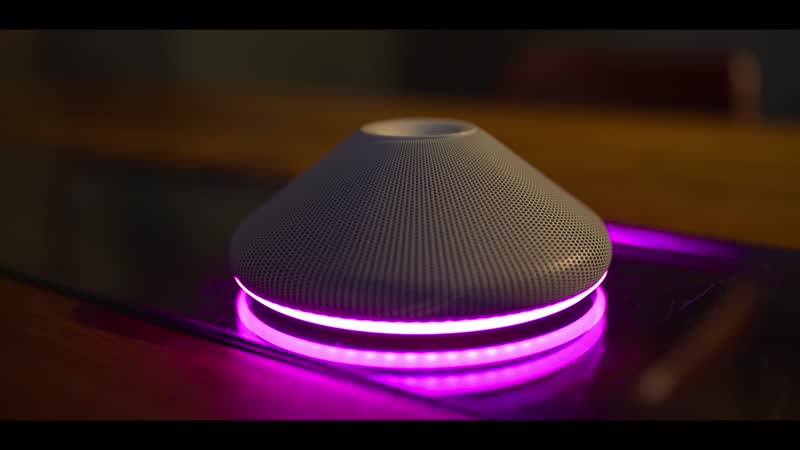 Actors
Loved Zoe Kravitz in High Fidelity, here, not so much. As Angela, she makes a nice agoraphobic, but there's so little range to the part. Rita Wilson (1883) and Robin Givens lend a hand as Angela's boss and her mother, but neither get any screen time. Byron Bowers (Concrete Cowboy) plays Angela's "boyfriend" who she spies on across the street. Their relationship is ill-defined, at best.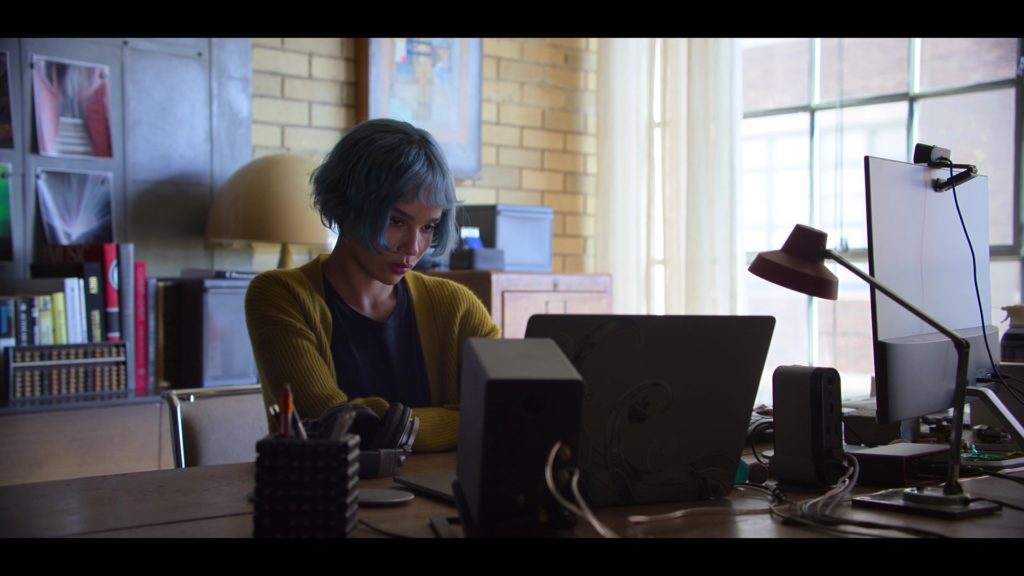 Final Thoughts
The biggest problem of KIMI is the lack of any character development. Soderbergh focuses on Angela to the entire exclusion of everyone else, and we really don't know all that much about her. We already know, or should know, our devices are constantly listening to us. In conclusion, I'm baffled by the critics' reception.
"Kimi was either not worth doing or not worth doing in quite this way, but in either case, it's a disappointment." San Francisco Chronicle
"Koepp's script builds up to a ludicrous climax, but Kravitz's convincingly disturbed performance keeps the film on the right side of realism." Wall Street Journal
Angela lives above Joe's Downtown Market. It seems she's not the only one who watches others outside their windows. Even so, it's still not enough to turn a wannabe into a Hitchcock.