Ireland never looked better than in Finding You. And, as rom-coms go, this one's pretty good, with the Audience score on Rotten Tomatoes at 91%. Available on Amazon Prime, Finding You has a few flaws, but those are far outweighed by its merits. First, Finley Sinclair is a violinist, rather, call her a fiddler for the Irish. Technically good, but playing without heart, she fails her audition to the Manhattan Conservatory of Music. As did her brother before her, she decides a semester abroad and a change of scenery might be best. What a change it is! On June 8, 2018, I posted pictures of the Cliffs of Moher in Friday Morning Coffee. These cliffs provide the spectacular backdrop for a nice romance.
Besides music and scenery, the viewer once again gets to enjoy the acting skill of Vanessa Redgrave, now 84. As a nursing home patient (Cathleen Sweeney), the scene with Beckett Rush, teen movie heartthrob, is quite funny. Dressed as a '60's hippie (see bottom picture), he shamelessly flirts with her to the delight of Finley. Unlike many rom-coms, Finding You brings multiple storylines. Besides Finley trying to find her mojo, Beckett yearns for a life beyond the headlines. Sweeney wants to re-connect with her sister, the Callaghans try to save their B & B, and homeless, drunkard, fiddler Seamus knows he still has some life in him. Most of all, the ending just might bring a tear to the eye. I give Finding You 3.5 Gavels, narrowly missing the coveted 4.0 Gavels and above. Its Rotten Tomatoes rating sits at a middling 53% with a slightly better 6.2/10 IMDb score.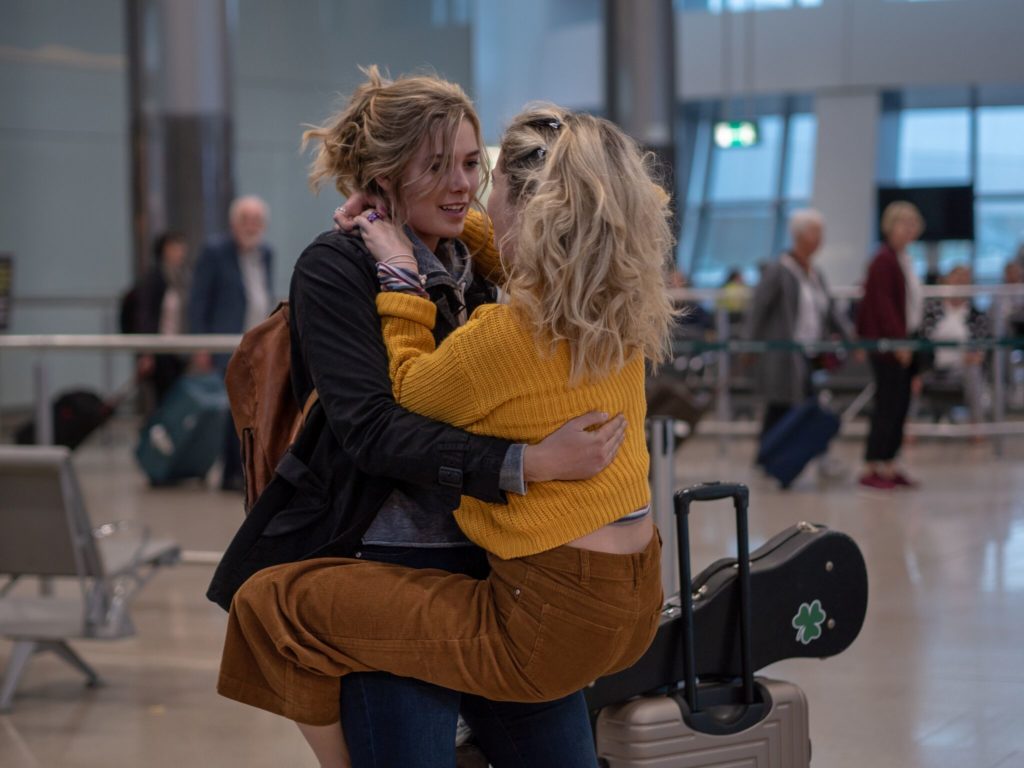 Plot
By chance, upgraded to first class, Finley meets Beckett on his way to film his fourth Dawn of the Dragons movie. Put off by his entitled personality, Beckett tells her "some people mistake confidence for arrogance." As fate, and film, have it, both are destined to meet again at the Callaghan B & B, host family for Finley. He needs help with his Steele Markov character lines; she needs a tour guide. Soon, love is in the air, to the consternation of Beckett's father/manager and his "public" girlfriend, co-star Taylor Risdale. Through it all, Finley determines that she will break the ice with the ill-tempered Cathleen, and write a new composition for her fall audition.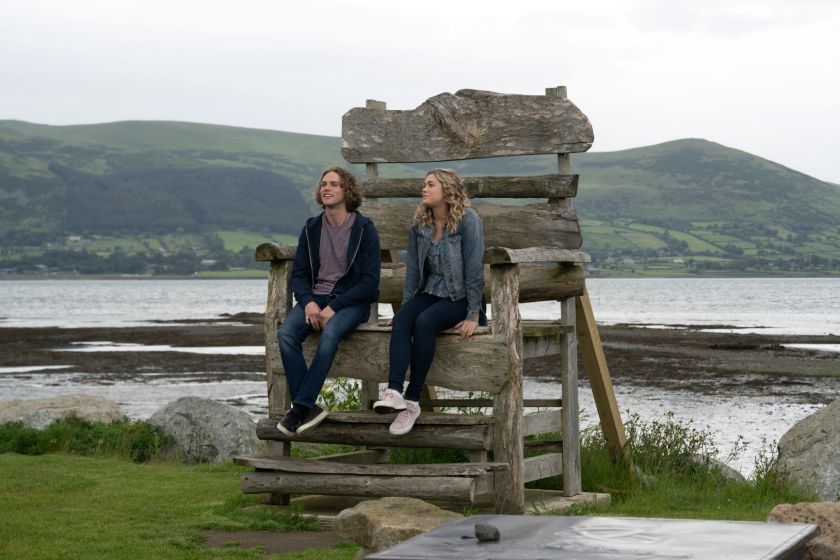 Actors
Where else would an American fiddler hail from but Nashville? Rose Reid makes a fetching young Finley who ultimately must decide what is most important in her life. Jedidiah Goodacre prevents Finding You from finding four gavels. He's very good as the arrogant Beckett, but not nearly as convincing as the "poor me" Beckett. Patrick Bergen (Free Fire) takes a fine turn as the fiddler, Seamus.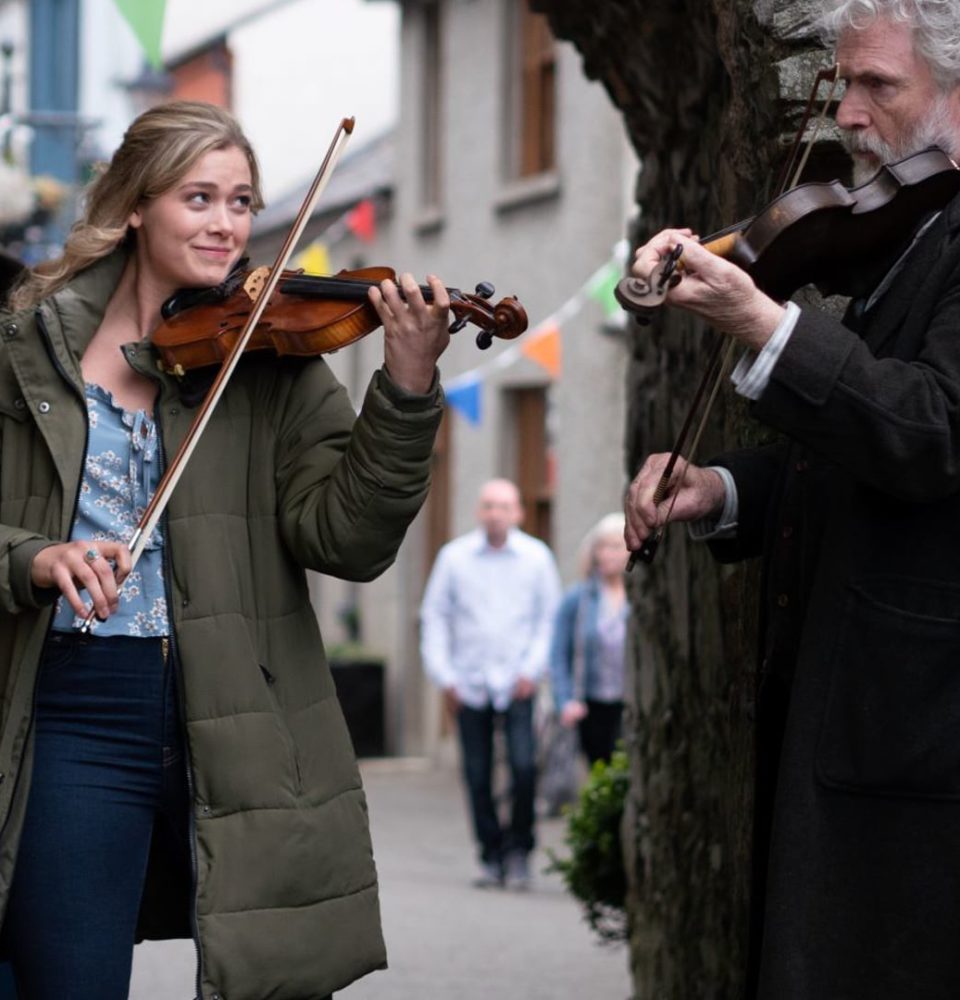 Final Thoughts
Assigned to the difficult Cathleen Sweeney as a class project, Finley begs for a replacement. The teacher refuses advising her to "make broomsticks with the witch." As Finley and Beckett discuss their differing educations, Finley describes high school as "grueling, fun and weird." A child actor, Becket had "no prom, no graduation, no embarrassing gymnastics." Seamus notes that, in Irish, Finley Sinclair translates to "fair warrior." On the other hand , Beckett would yield "bee cottage–descended from a long line of pests."
". . .effervescent performances from an ebullient ensemble make Finding You a palatable and compelling female coming-of-age tale." Variety
"If you like rom-coms, this will win your heart." San Jose Mercury News
Music and travel grab you at the start, a likeable Finley holds you in the middle, and the story comes together nicely at the end. Not a rom-com for the ages, but for November 2021, it does nicely.