As The Last Duel decries the abhorrent treatment of women in 14th Century, its marketing department needs to catch up to the 21st Century. One internet wag laughs at the podcast ad declaring the film as "the story of one woman who defied an empire starring Matt Damon and Adam Driver." Sorry, Jodie Comer. Maybe the only surprise is that you didn't get fourth billing behind Ben Affleck. A Neanderthal marketing campaign notwithstanding, Ridley Scott (Gladiator, Black Hawk Down) delivers a quality story using a stellar cast.
First, a couple of negatives. Yes, we know they didn't have electricity in the Dark Ages but does it have to be so dark? Did the sun never shine? You spent millions on costumes, scenery, and actors, so let us see them. Told from the perspective of the three major characters, The Last Duel persists a near No Time To Die 153 minutes. Leading up to the duel, much of the dialogue repeats. And, we don't need to see the rape scene twice.
For lovers of history, except for the duel itself, it seems The Last Duel is largely accurate (History vs Hollywood). Since there's a lot going on, it might be helpful to read the article prior to seeing the film. Set from 1380 to 1386 A.D., it is cool to watch the construction of the Cathedral of Notre-Dame in Paris. Since it was largely complete by 1260, this may be some "movie magic" although modifications did occur over the centuries. It is said that the actual duel was so violent that they were thereafter forever banned. While likely embellished, you will understand why. I give The Last Duel 4.0 Gavels and it receives an 86% Rotten Tomatoes rating with a 7.7/10 IMDb score.
Plot
Clearly courageous and loyal, though impetuous, Jean de Carrouges loses favor with his lord, the Count Pierre d'Alencon, cousin to King Charles VI. Fulfilling the "needs" of Pierre, Jacques Le Gris gains favor, including the land intended for the dowry of his best friend. Later, Pierre grants lands owned by Carrouges' father to Le Gris further outraging Carrouges. In dire need of funds, Carrouges undertakes a campaign for the King in Scotland. While he's absent, Le Gris sees this as an opportunity to express his love to the lovely Marguerite de Carrouges. As the ad says, the result changes history.
Actors
Anyone who's seen Jodie Comer in Killing Eve will expect her to pull out a dagger and thrust it quickly into the neck of Le Gris. Alas, it doesn't happen but her iconic role as Villanelle does typecast her a bit. As a co-writer, Damon gets to be the "good-guy" Carrouges, leaving the bad-guy part of Le Gris to Driver. As an aside, do you suppose the fictional Simon Legree's name arose from Jacques Le Gris? It takes awhile to recognize Ben Affleck (The Way Back) as the equally corrupt and wicked Pierre. Also listed as a co-writer, he may be the best of a fine ensemble.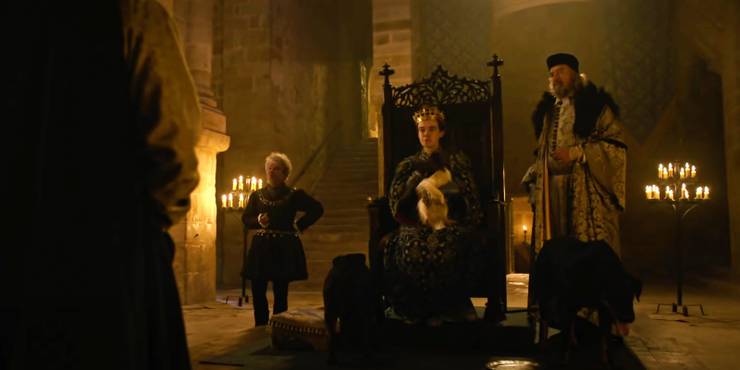 Final Thoughts
If you are into castles, The Last Duel finds them in France (obviously) and Ireland (maybe not so obviously). If you think Charles VI comes off as somewhat of a ninny, he was only 18 at the time of the duel. That, and the fact that he is known for his mental illness and psychotic episodes which plagued him throughout his life. He seems to be the only one who enjoys the savagery.
"The story's action is visceral and relentless; the atmosphere gray and thick with intrigue." New York Times
"Its old-fashioned movie-making energy commands attention as well as its ingenious, if overextended three-act Rashomon structure…" Guardian
"It's been 24 years since Matt Damon and Ben Affleck last collaborated on a movie script (Good Will Hunting) . Let's make it 100 next time!" New York Post
Although I liked the film, that last quote was too good to pass up. To each his own.