Hoping for a film the equal of Free Solo, The River Runner falls well short. Make no mistake, kayaking the most dangerous rivers in the world is death-defying. Scott Lindgren laments the loss of many fellow kayakers. Waves, holes, rocks, and currents are nothing to be taken lightly. Class Five rapids are defined as "extremely difficult. Long and violent rapids that follow each other almost without interruption. River filled with obstructions. Big drops and violent currents." Now put that in the Himalayas, four time over. The River Runner takes you to Tibet and down the four great rivers of Mount Kailash. Lindgren is the first and it took him twenty years.
The viewer will find The River Runner on Netflix. The critic will have a hard time finding a trailer and any reviews. Not only does Rotten Tomatoes ignore the documentary, the IMDB score reflects only 16 votes. Rarely do I have less than thousands, and then it is still hundreds who express their opinion. The River Runner takes us on a journey, just not quite the one expected. While kayaking the rivers Karnali, Tsangpo, Sutley, and Indus carry a prominent role, the film is more a journey of discovery of Scott Lindgren. From a difficult childhood of divorced parents, to a demanding expedition leader, to a disabling brain tumor, Scott remains "emotionally unavailable." What will it take for him to paddle that last river, get past that last hurdle? In a story of fast-rushing glacial waters surging through 800-900 meter canyon walls, I give The River Runner 3.5 Gavels.
Plot
Skipping college, twenty year old Scott Lindgren joins forces with Charlie Munsey, the King of the North Fork of the Payette. It is Munsey who suggests a trip to Nepal, but how does one afford the cost? In 1997, a production company forms followed by more sponsors, bigger budgets, and bigger trips. In 1999, it's the Karnali, after which Charlie decides the danger is too great. Later, the Sutley must be conquered before it is dammed. Then the Tsangpo with 25,000 foot mountains on each side and a 12,000 foot descent. By 2007, he's on to the White Nile in Uganda with its crocodiles and hippos. Losing spatial awareness and too weak to roll, Scott takes time off. Will he ever get to the Indus?
Actors
No actors here, as Scott, brother Dustin, and a series of co-adventurers takes the viewer through Scott's life. No one sugarcoats his initial lack of empathy, nor undersells his drive. Even girlfriend, Patricia Damon, recognizes his passion for Indus far outweighs their commitment to each other. Like many professionals at the top of their game, Scott cares little about being liked. Can you perform or not? Are you going to be a weak link? If so, go home!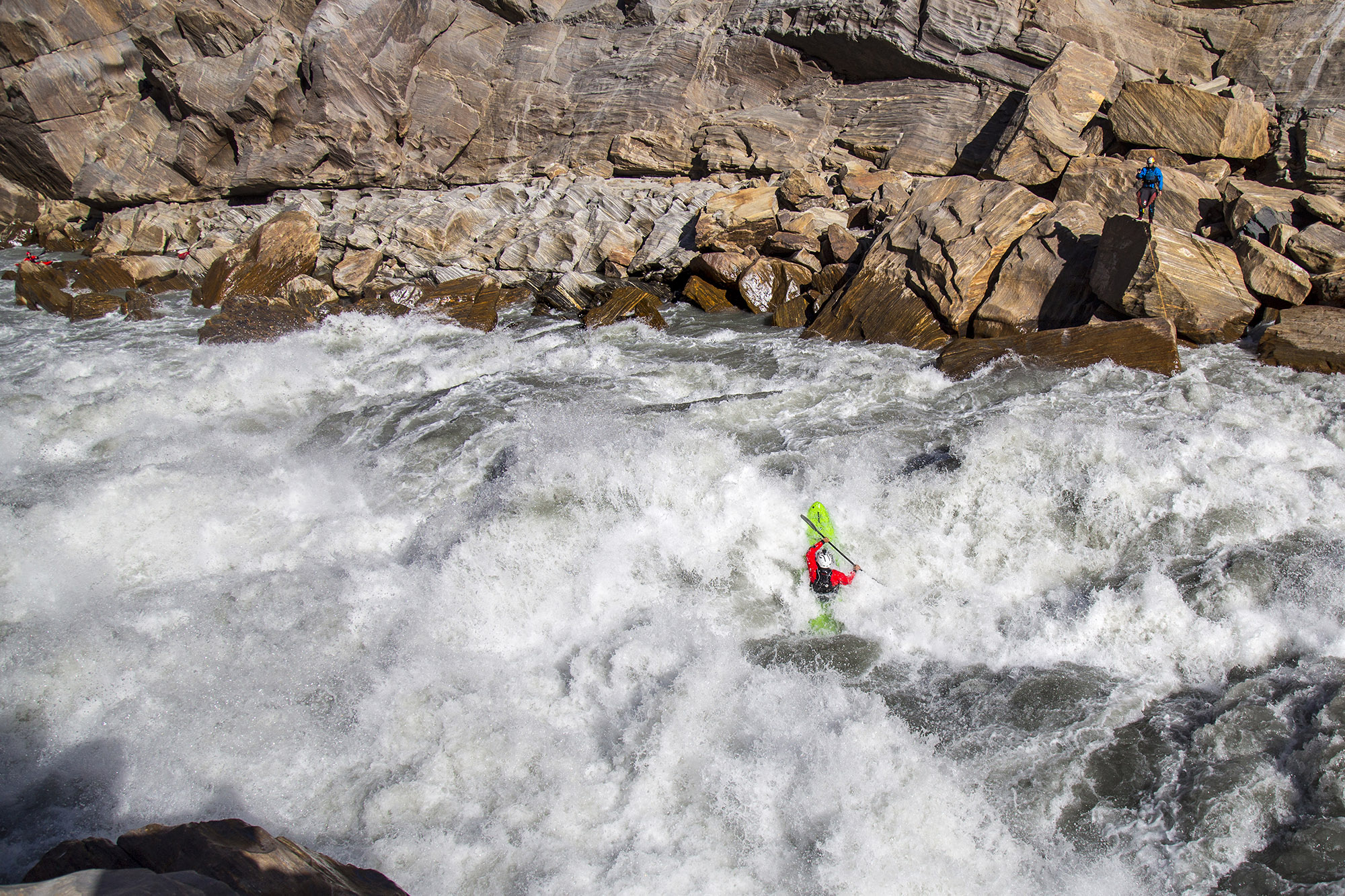 Final Thoughts
One of the drops on the Tsangpo is a 70 foot waterfall followed immediately by a 110 foot waterfall. Notwithstanding this is his own production company, one never gets the feeling of depth as you do on Free Solo. Actually, the best film of the difficulty of the kayaking is late in the film on the Indus, followed by even better film in the credits. When falling, how do you know what's at the bottom? What does it take to get out of a hole with thousands of gallons of water holding you down? The River Runner is not a how-to film.
For more information on Scott Lindgren, and frankly, better written, see After a Hard Diagnosis, One Athlete learns to Soften Up. Find even more in a nearly three hour podcast on The Hammer Factor.
"Much like Warren Miller did for skiing, Scott redefined the genre of whitewater films. But he was not content just staying behind the camera, he was also breaking boundaries on the river, paddling some of the most difficult whitewater in the world." Rush Sturges, Director
The mental health of athletes hit home with all Americans this summer watching Simone Biles at the Tokyo Olympics. Even with concentration and focus, injury and/or death are constant companions. It's a reminder for all of us to take care, mentally and physically.