Unlike Vivo, Val Kilmer claims to have no regrets. On a scale of one to would-I-recommend-this-documentary, the answer is No! Rotten Tomatoes gives Amazon Prime's Val a 92% rating and it receives a very good 7.9/10 IMDb score. So, why am I in the less-filling category? Overall, I find the film wanting. Is he a difficult actor, a perfectionist? Dustin Hoffman, among many others, gets the same complaint. Kilmer denies the allegation, but since this is his "autobiography," the issue gets no in-depth discussion. As Iceman, Batman, Jim Morrison, Wyatt Earp, and Mark Twain, Kilmer played iconic roles. But, in the end, mostly we get hand-held, herky-jerky home movies. You know how I feel about those.
In case you didn't know, in 2017 Kilmer finally admitted his two year battle with throat cancer. To bring Twain to life, he sold his 6,000 acre farm in New Mexico in 2011. Divorce and other debts needed to be paid. He wants to bring his show to Broadway. On tour in Nashville, Val loses his voice. After several operations, he can speak only by pressing his finger to a tube in his throat. We now see him attend events signing autographs and making short speeches. What's not clear is if he does this for income or adoration. The choppy editing does the documentary no favors. In any case, the spectacle of a sick man nearly collapsing is both shocking and sad. Some may like this raw realism, but it's no fun to watch. I give Val 3.0 Gavels.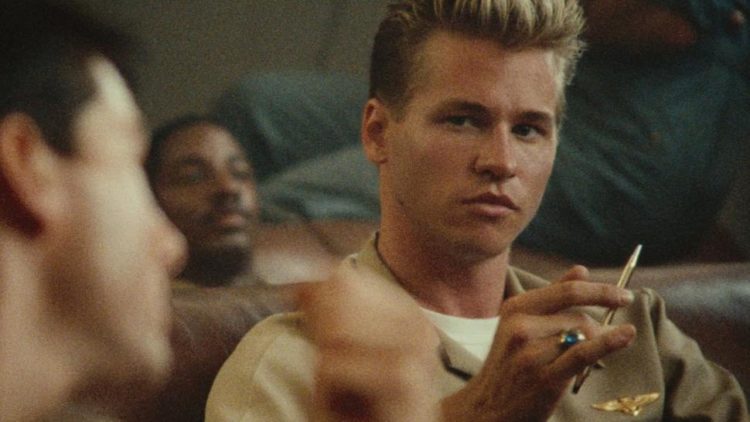 Plot
Val says he was the first person he knew to own a video camera. From childhood, he collected hundreds of hours of videos. To tell his story, the director provides clips over memories usually narrated by Val's son, Jack. From Julliard to Top Gun, marriage to Joanne Whalley and subsequent divorce, to the ill-fated The Island of Dr. Moreau and beyond, Val provides "self-reflection."
Actors
For a guy who indicates it will be hard to understand him, Val Kilmer seems easily understood, at least vocally. He's far more understandable than the aging Marlon Brando. Whatever the case with his 1996 divorce, Kilmer's relationship with son and daughter, Jack and Mercedes, appears solid.
Final Thoughts
Not sure why, but the direction of Val gets telegraphed early. You just know this is not destined to end well. Is that why the critics love it? Do they enjoy seeing the downfall of the rich and famous? Val likes to talk about the "truth and illusion" of acting. Nevertheless, he remains positive. Despite the setbacks, he knows he is "blessed."
"It's sentimental, as obscuring as it is revealing, occasionally indulgent, offhandedly brilliant in spots and filled with oddball detours and self-regarding tangents. A perfect compliment to, and mirroring of Kilmer's career, in other words." Rolling Stone
"This is a mea culpa on some level, but Val Kilmer doesn't take any blame… I wished it had been more self-critical." Film Week
Why are actors' home movies of such terrible quality. More than anyone, you would think that they would know that steady camerawork is a must. Val finally reaches that point in the last 15 minutes or so. By then, he'd already lost me.