Once again, I groaned when the words "Inspired by a True Story" appeared on the screen preceding 12 Mighty Orphans. As shown by its 97% Audience score, the film is clearly inspirational. Yet, anyone who knows anything about football will believe it highly unlikely that one could build a team of inexperienced players to compete for a Texas state championship in one year, even in 1938. It didn't happen. It took five years (History vs Hollywood). The coach, the doctor, the star player, and the other members of the team each have a nice story to tell. It's a shame that we wait until the credits to learn them.
12 Mighty Orphans is based upon a 2008 book written by Jim Dent. He also wrote Bear Bryant's Junction Boys that ESPN made into a movie in 2002. He is one heck of a writer. He's also currently serving a 10 year prison sentence after his 10th DUI conviction. He certainly knows about "demons."
In the film, those demons surface in the form of Frank Wynn, the administrator of the Fort Worth Masonic orphanage. Never one to miss a chance to beat his charges, things change when Rusty Russell and his wife show up to teach and start a football program. During the Depression and the Dust Bowl, folks had little hope. With his team of Mighty Mites, Russell's underdogs gave hope to a nation. I give 12 Mighty Orphans 3.5 Gavels. It receives a 61% Rotten Tomatoes rating with an early 6.8/10 IMDb score.
Plot
A successful coach in his prior high school, Russell takes the job at an orphanage of 150 boys and girls with no team and no field. Initially denied the opportunity to play because the school didn't enroll 500 students, the orphans get a second chance. Problematically, only twelve passed the basic academic test to allow them to play. Their first game proved them too few and too small to compete with the best. With the help of his daughter, Russell innovates with the Wing-T and "spread offense." With speed and confusion, the team begins a winning streak. Back at the orphanage, the same old problems exist.
Actors
Luke Wilson (The Goldfinch), a Texan with a strong jaw, does well as Coach Russell, determined and straight-laced. Martin Sheen (Judas and the Black Messiah) plays the good-hearted doctor and assistant coach, a man who likes his liquor just a tad too much. The inspiration for Dent's book is Hardy Brown, one of the most feared tacklers of all-time in the NFL. "His reputation was such that supposedly, on one occasion, when future Hall of Fame quarterback Bob Waterfield was hit by a car, his first response was, 'I didn't know that Hardy Brown was in town.'" Jake Austin Walker plays the moody Brown.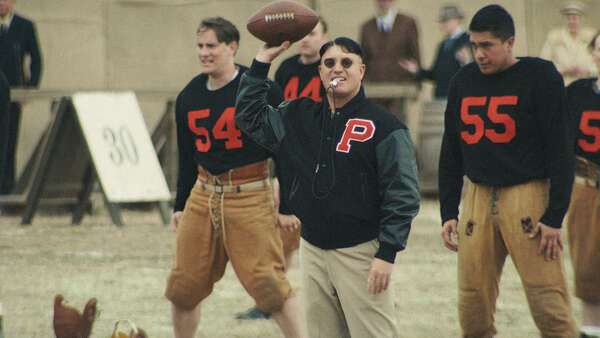 Final Thoughts
How good a coach was Rusty Russell? At least two his orphans reached the pros. Later, he coached such iconic players as Kyle Rote, Doak Walker, Bobby Layne, and Forrest Gregg. Along with Bud Wilkinson and two others, he co-wrote the American Football Coaches Association Code of Ethics. Although the 12 Mighty Orphans was a stepping stone for even more success in the ensuing years, he was no carpetbagger. He remained their coach from 1927 to 1942.

"If you're looking for an old-fashioned sports drama, this is it." San Jose Mercury News
"Nothing that happens in 12 Mighty Orphans is unexpected, but these two pros still react with infectious wonder as the messages they send to their students take root and then sprout." Los Angeles Times
Hopefully, I've whetted your appetite for this sports feel-good film. It's never going to replace Hoosiers in your heart. But, it should push Bad News Bears Go to Japan from your memory bank.