For those who think only Netflix hosts really bad films, I present Spontaneous on Hulu. As you can see by the 98% Rotten Tomatoes rating, critics apparently think they should encourage "science fiction romantic black comedy." On the other hand, I might say this comes from a warped mind. Who dreams up kids spontaneously combusting? As you can see by the pictures, blood spews every where. As I write my reviews, I am aware of the ratings, but not the reasons. I don't see those until my rant finishes. Until then, it seems to me that this film is just another voyeuristic take on teen life with an excuse to talk sex, drink alcohol, and do drugs. So why do we have to blow up 31 kids?
Besides the Clint Eastwood quote "None of you deserve it. Deserve's got nothing to do with it," Spontaneous has little to offer. No reason is given why the seniors in the town of Covington start to explode, nor why it stops seven months later. All we're left with is the platitude, repeated over and over, is that we must live for today. For that, the director needed to "splat" 31 kids? If there is comedy to be mined in Spontaneous, black or otherwise, I failed to find it. This is more like finding a lump of coal under the Christmas tree. I give Spontaneous 0 Gavels and it receives a 6.5/10 IMDb score.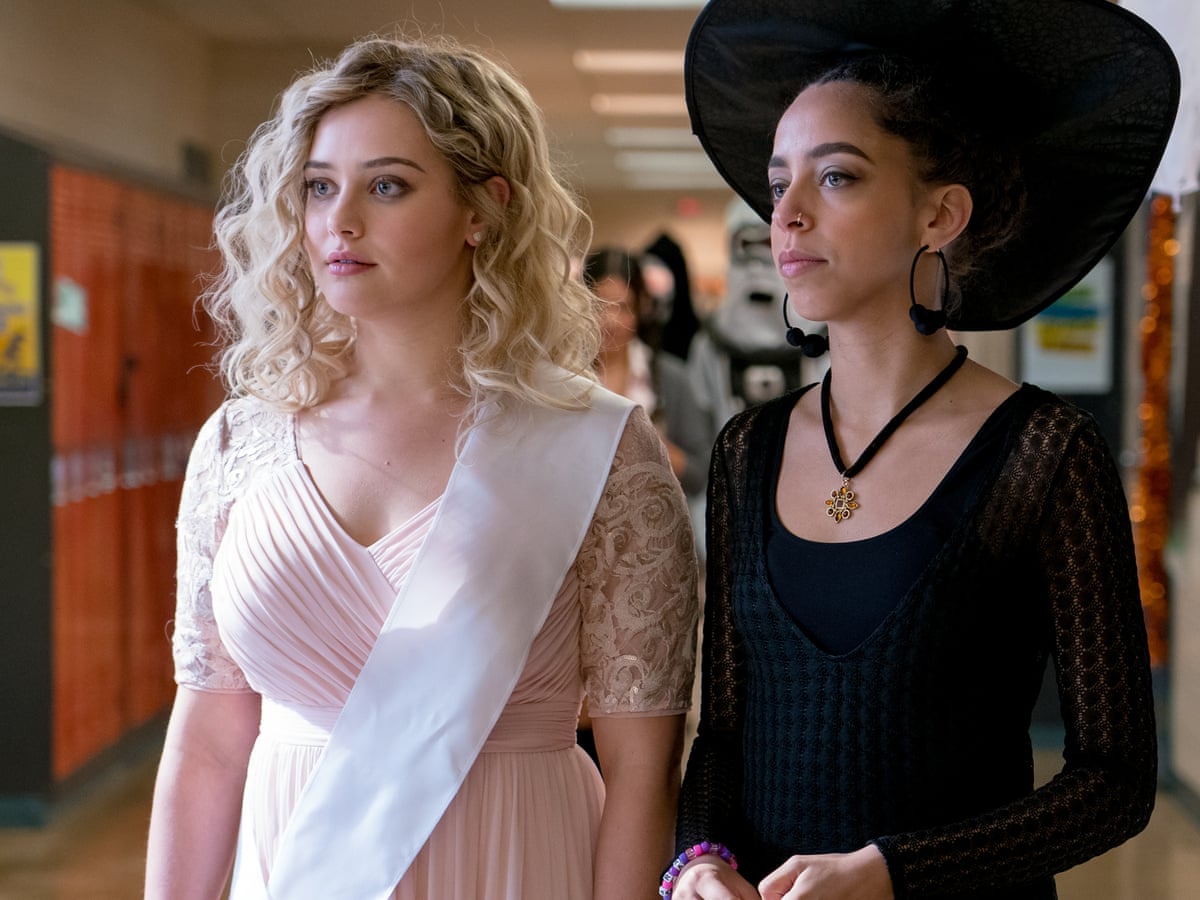 Plot
Mildly paying attention in class, Mara Carlyle leans over to pick up a dropped pencil. Had she not, she would be covered with the bloody remains of the girl in front of her, Katelyn Ogden. As the town struggles to understand, Dylan Hovemeyer decides to confess his love for Mara, just in case he might soon combust. For what passes as humor, he sends her a d__k pic. No, no that; rather, a pic of Richard Nixon. Love blooms as Mara shows him football players, "Wie, Love, Cox" as they line up beside each other each Friday night. More kids explode and Mara slips further and further into drugs, alcohol, and sex. Besides, who knows when their time is up?
Actors
Is Katherine Langford (Knives Out) being typecast? From the girl who commits suicide in Thirteen Reasons Why to being Cursed, and now witnessing multiple violent deaths, the poor girl must be seeing a therapist. As Mara, she does receive a Critics Choice nomination for Best Actress. Last seen by me in the depressing Lean on Pete, Charlie Plummer reappears as lovestruck Dylan. He seems a nice enough guy, but he needs a better haircut. Piper Perabo (Angel Has Fallen) pops up as Mara's mother, with little to do. As a matter of fact, this might be my choice for Worst Ensemble Acting. Then again, maybe it's just the topic.
Final Thoughts
Spontaneous is one of those films where you constantly look at your watch. Please, let this be finished. Just when you think it can't get any worse, you have to listen to mea culpas. "It's all my fault." Really, it's my fault for not turning it off after five minutes like I did for The Stand In. I could tell that one was going nowhere. Now, the critics get their turn.
"You can't help but look at this film and think there's some underlying commentary about [school shootings] . . . It really is tough to watch, although it does get funny occasionally." KPCC-NPR Los Angeles
"Between Duffield's direction, the breezy style, and Langford's infectious spirit, Spontaneous makes for a highly entertaining time that'll give you all the feels. It's a coming-of-age story that has a blast killing teens." Bloody Disgusting
Believe it or not, Bloody Disgusting is listed as a Top Critic for Rotten Tomatoes. Unlike her, I found Spontaneous to be bloody disgusting.