The urban slang for Zero Chill is the inability of an agitated person to calm down. Warning: If you watch too many episodes of Zero Chill, you may suffer similar symptoms. Does anyone besides me think it unlikely that one of the stars of Canadian youth hockey would move to England for better training? Granted, my knowledge of hockey has its limits, but Britain does not seem to be a hotbed for hockey. To prove my ignorance, I scoffed at the use of Mac's fifteen-year old figure skater sister to train his team. However, the internet says every NHL team brings in figure skaters to re-teach their players how to skate. So, what do I know? Besides, Zero Chill can also mean temperature of approximately zero degrees. Maybe that's why this ten-part Netflix series leaves me cold.
To its credit, Zero Chill does open with an impressive scene. Kayla skates in an arena alit only by twenty or so flashlights in a circle. You get a brief picture of it in the trailer. Yet, I kept wondering who has that many flashlights and how did she get them all onto the ice. If you are not familiar with the website Decider, their writers view an episode or two and give opinion whether you should Stream It or Skip It. As of this writing, no such opinion exists, but I'm betting on the latter.
Although the quality of figure skating appears about the same, Spinning Out is much better. Besides the opening scene, is there anything else I particularly like about Zero Chill? Yes, the episodes are each a brisk 30 minutes, better to get on to the next offering. I give the show 2.5 Gavels and it receives an early 5.6/10 IMDb score.
Plot
Torn from her pairs partner back in Canada, Kayla tries to keep in touch skating through Face Time. She finally makes a friend at the skating rink only to find that her brother also has designs on Sky. Mac's "massive ego" fails to impress Sky, but the ice begins to melt, much to the dismay of Kayla. Meanwhile, Kayla searches for a partner in England and finds "67." Except, "67" hides behind a hockey uniform and mask? Who is he and what does he have to hide? The competition between Mac and Kayla is just heating up.
Actors
Grace Beedie and Dakota Taylor form the sister-brother duo, Kayla and Mac. Neither have an extensive resume, nor anything with which you are likely familiar. Their inexperience shows. Early on, none of the actors make much of an impression, but the name of the week must be Anastazie Chocololata, who plays the divorced wife of the hockey coach. Thus far, all we know about her character is that she doesn't want her figure skating daughter to eat pizza. But, is chocolate okay?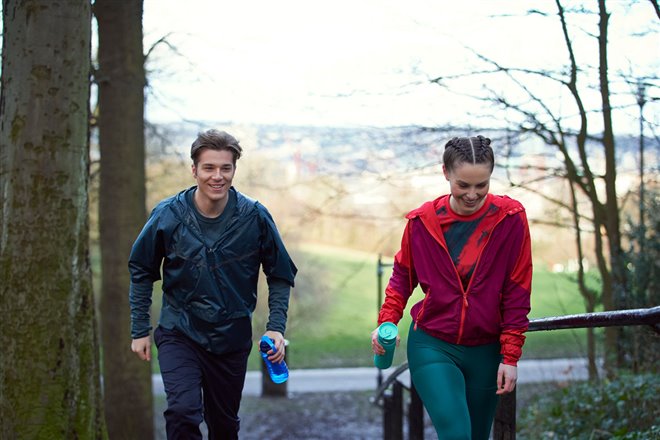 Final Thoughts
Mad at her brother, Kayla rushes onto the hockey rink, steals the puck, and everybody stands around watching her brother chasing her to get it back. Does improbable come to mind? I'm pretty sure they have more than one puck.
Entitled "Netflix drums up a bottom of the barrel script," ReadySetCut.com says, "Zero Chill feels like having the same tasteless dinner every night."
On the other hand, Fangirlish, a publication more in line with the audience writes, "the pace is fast, that is, secrets and misunderstandings don't take long to come to light and that is great because that way they can develop the consequences without wasting too much time."
And, there it is! Wasting any time is too much. I will chill out watching something else.