Let it be said, once and for all, critics are cranky, old curmudgeons! They compare Forever My Girl unfavorably to Nicholas Sparks films when they have no use for them, either. For example, Rotten Tomatoes ratings for The Notebook sit at 53%, A Walk To Remember 23%, Safe Haven 13%, and The Best of Me 11%. Given those numbers, Forever My Girl fits right in at a 23% Rotten Tomatoes rating. Audiences pay no attention to critics when it comes to love stories. Moreover, if you like music, especially country music, grab yourself a glass of wine and be prepared to fall in love with Billy, a seven year old girl who will remind you a bit of an unfiltered Young Sheldon. I give Forever My Girl 3.5 Gavels and it earns a 79% Audience score.
Plot
Childhood sweethearts, Liam and Josie set the date, but fame gets in the way. Instead, Liam abandons Josie at the altar to pursue a life in the music world. Eight years later, despondent from rampant drug and alcohol use, and the death of his best friend, Liam returns to his hometown of St. Augustine, Louisiana. Josie and the town moved on, but did not forget, including his father, a pastor (Grampy). The lure of stardom is strong, but so is his previously undisclosed daughter, Billy. Can Josie ever forgive, and trust, Liam again?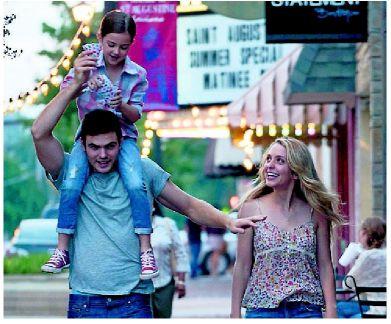 Actors
Handsome Alex Roe fits the mold of a country singer, and his efforts are surprisingly good. He plays Liam Page a little too mopey for me, but the ladies will like him. As the forsaken Josie, Jessica Rothe (Happy Death Day) has the vulnerability, and the strength to pull it off. Still, the star of the show is Abby Ryder Fortson (Ant-Man and The Wasp, A Dog's Journey) as Billy. As Ed Asner said about Mary Tyler Moore, slightly altered, "Billy has spunk! I love spunk." For the grandfathers among us, check out John Benjamin Hickey as Pastor Liam.
Final Thoughts
Now on Amazon, Forever My Girl earned $16.4 million at the box office against a $3.5 million budget. Since the critics are so brutal, I feel compelled to provide a sampling. "Sentimental dreck of the fluffiest order." "There is more pleasure to be had in the dwindling returns of CMT's Nashville than in this country soap-opera." "Just about anyone with a level head would see 'Forever My Girl' as the story of a narcissist manipulating a naive doormat." So, there you go! You are an idiot if you are even partial to it! Like Robert Frost, I took The Road Not Taken and enjoyed the film. Is it a perfect movie? No. Is it a chick-flick? Yes. And, sometimes that's enough for a date night on the couch with your significant other.