In Thursday Morning Coffee – 3/12/20, I picked Roger Moore over Val Kilmer as the better of The Saint. Doing insufficient research, I failed to acknowledge The Saint made in 2013 for a proposed TV series which failed to hit the small screen. Since Roger Moore appeared in cameo, upon his 2017 death, its release was direct to video. Now available on Netflix, let me say that Adam Rayner slots in third place, at least until a new Simon Templar rises up.
As it turns out, The Saint comes from a series of books dating back to 1928. Fourteen films, nine television movies, and two TV series depict this fictional character. Quite the popular fellow, I'd say. This version shows scenes in Moscow, Paris, Washington D.C., London and San Diego. And, Simon is up to his old tricks, but this one gives background on our "hero" and his associate, Patricia Holm. I give The Saint 3.0 Gavels and it receives a 4.9/10 IMDb rating.
Plot
After foiling a rogue Russian plot to provide a nuke to terrorists, Templar learns of $2.5 billion stolen from Nigeria. The brains (Arnold Valecross) behind the theft has second thoughts and prepares to return the funds. His superiors are not happy and kidnap his daughter. Certain the FBI can not help, Valecross leaves enough clues to entice Templar into the game. Neither the bad guys, nor the good guys, are pleased to see Templar involved.
Actors
Undoubtedly, you will remember Adam Rayner as the pediatrician who becomes the reluctant leader of his Middle Eastern country in Tyrant. As Simon Templar, his steely blue eyes are perfect, his fighting skills adequate, but his boyish charm is slightly off. Much more than an associate, Eliza Dushku (Dollhouse, Bull) plays Patricia Holm, the tech brains and love interest of The Saint. Despite her slight stature, she has skills. Yet another former Simon Templar (1978-1979), Ian Ogilvy, gets a major part as The Fixer.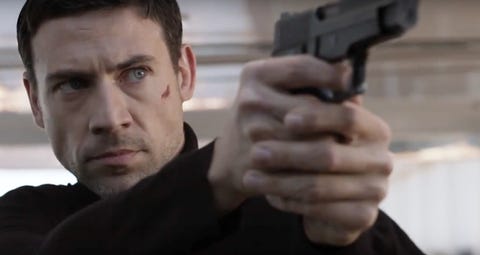 Final Thoughts
As the head of The Brotherhood, Jasper's (Roger Moore) mission is to wipe all Templars off the face of the earth. Since the TV series didn't get picked up, we miss his diabolical plans. Xander, Simon's trainer, gives the young lad great advice. "How do you prepare for the unexpected? By expecting everything." Even so, Miss Holm has several surprises for The Saint. Roger Ebert wrote in a 1997 review that "The Saint is a James Bond wannabe which is irony because . . . when Ian Fleming began writing the Bond series, he must have had The Saint in mind." In character, Roger Moore proclaims "the world needs a Saint." I agree, although this one doesn't live up to his predecessors.