Female empowerment? You go, girls! Mature women empowerment? Certainly! Ladies in their 70's in cheerleading outfits shaking their booties? Or, like the 1977 movie, is that A Bridge Too Far? At times, Poms is just silly, and plain stupid, then it becomes so sweet, and surprising, that its Audience score of 71% is well understood. Poms is just much better than expected, perhaps because the bar was so low. The movie public doesn't want to see retirement communities, yet this is about friendship. Even at the cost of personal embarrassment, these ladies stick together. I give this movie 3 Gavels and it receives a 32% Rotten Tomatoes score.
Plot
Martha is dying of cancer. She moves to a Georgia retirement community to live out the rest of her days in peace and quiet. To her dismay, this is an active community with a requirement that you join at least one club. If you don't like any, you may start one. Martha and her eccentric neighbor decide to start a cheerleading club, but can they find six more members?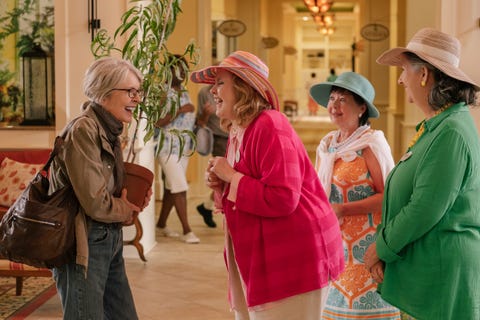 Actors
Diane Keaton plays Martha, the gangleader in more ways than one. Jacki Weaver is that ditzy, naughty, up-for-anything neighbor. Rhea Perlman's husband says she can be a cheerleader over his dead body. You guessed it! The next day he's dead. Bruce McGill is the typical Southern security chief who is always seven steps behind. Seen in 13 Reasons Why, Alisha Boe appears here as their teen cheerleading coach. Her performance is sub-par.
Final Thoughts
Noted critic, Rex Reed, thinks Poms is "preposterous," although he does give it 2 out of 4 stars. Another critic is unhappy with the raunchy jokes. Yet, for all its faults, it gets under your skin, in a good way. Thanks to the plot device, there will be no sequel. Poms does not ignore aging, nor death. It touches on some of its difficulties, sometimes bitingly so. As the younger generations try to "advise" these ladies that their time is past, expect some sass in response. If this were "free" on my Netflix account, would I have watched it? Probably not, but Mrs. TMJ wanted to see it, and she fits squarely into its "Women over 25" demographic. In the end, the "friends are forever" story won me over.