Although The Favourite, Roma, and Mowgli:Legend of the Jungle opened this week, none of the local theaters showed them.  So, back to an exploration of GOATs.  Last July, I looked at the Greatest Football Movies of All Time.  As football winds down, let's look at the Greatest Basketball Movies of All Time.
 Hoosiers  —  Although we Ohioans hate to admit it, Indiana probably invented basketball, notwithstanding some claim by James Naismith with a peach basket in Massachusetts.  Of course, for better or worse, we gave them Bobby Knight.  With Gene Hackman and Dennis Hopper, many claim this underdog movie is the Greatest Sports Movie of All Time.  "You gotta' promise me you won't get kicked out of any more games."  "My practices aren't designed for your enjoyment."  This is a classic.
2.  Space Jam  —  Any movie that wants to be a GOAT has to star the GOAT.   The highest grossing basketball movie of all time brings together Michael Jordan and the incomparable Bugs Bunny.  The soundtrack went 6X platinum and the merchandise sold $6 billion.  As an aside,"this through the rafters, off the scoreboard, off the floor, nothing but net," is the Greatest Basketball Commercial of All Time starring Jordan and some guy from Indiana named Larry Bird.
Sorry, I got off message there; back to the movies!
3.  White Men Can't Jump  —  Wesley Snipes and Woody Harrelson battle it out, shot for shot, street-talk for street-talk.  "You can put a cat in the oven, but that don't make it a biscuit."  "It's hard work making you look so bad."  "Yo, pretty boy. I looked up basketball player in the dictionary and it said 'not you'."  It is universally agreed that Harrelson was the better basketball player, but his dunk was on a nine and one-half foot basket.  After all, white men  . . .
4.  Love and Basketball  —  Can you love basketball without having love in basketball?   The story of Sanaa Lathan and Omar Epps begins in 1981 when, as kids, they profess their love of basketball and share a kiss.  Over the next 13 years, their relationship goes hot and cold as each tries to reach the pinnacle of their sport.  Eventually, a basketball game decides their future.  Rotten Tomatoes gives this 82%.  This is not a typical "jock" movie.  "All's fair in love and basketball."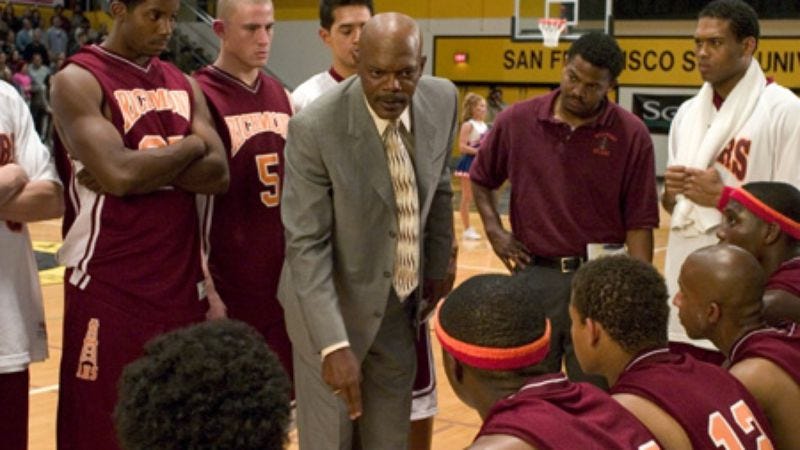 5. Coach Carter  —  What do you do when your players are not going to class?  "Basketball is a privilege ma'am. If you wanna play basketball on this team, these are the simple rules you have to follow if you want to want to enjoy these privileges. If you decide to follow these simple rules, I need you and the boys to sign these contracts."  Samuel L. Jackson faces tremendous pressure when he locks down the gym for players failing their coursework.  The community learns a lesson.  "You said we're a team. One person struggles, we all struggle. One person triumphs, we all triumph."