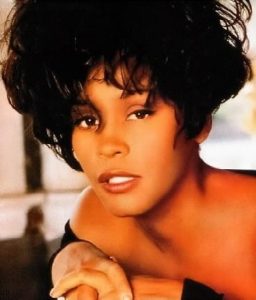 A documentary should be a fair assessment of a person's life, good and bad.  If you are expecting lots of celebration and music for this consummate singer, you will be hugely disappointed.  More lows than highs, Whitney is more of a train wreck.  You can't take your eyes off what you know is coming. This movie is one of the more difficult to rate, as I typically want you to enjoy the experience.  Sadly, such is not the case, but the movie is compelling nevertheless.  It does not skimp on the warts.  I am not entirely certain there is a lot of new information contained in the story, but it gives that behind-the-scenes feel that only those close could know. I give it 3.5 Gavels, and Rotten Tomatoes has it at 90%.
Viewer Experience
Editing can make or break a movie. Why bring this up?   Curiously, much of the never-before-seen film is old and grainy, not cleaned up.  Interviews of family and friends will give opposite opinions on the same subject, like whether or not she had a good childhood.  Especially early in the movie, cutting back and forth on topics gave it a real choppy feel.  If these were done to give a hint as to the bumpy ride ahead, I say brilliant. Otherwise, it was somewhat disconcerting.
Synopsis
Whitney is presented, as you might expect, from birth to death.  Her mother, the disciplinarian, was a very good singer in her own right. She was a cousin to Dionne Warwick; the genes were aligned.  Her father and brothers were to protect her.  Stealing from her and doing drugs with her is an odd way to to do it.  The story suggests that Whitney was molested at a young age by her cousin, Dee Dee Warwick.  There are hints of a bi-sexual relationship with her best friend.   And then there is the toxic marriage with Bobby Brown and the death of their daughter.
Final Thoughts
You will be reminded that Whitney Houston had seven number one hits in a row, a record.  Further, she still holds the record for the most sales of one song by a female.  So how did this voice remain pure through all the alcohol, drugs, and cigarettes?  The answer is that it didn't.  Those in position to help her failed her.  After you witness the crash, the credits roll.  During those credits, you see her in her prime, singing like we all remember.  It will bring a tear to your eye.  You will want more of that side of Whitney.   You will have to look elsewhere.  Perhaps a re-visit to the Bodyguard is in order.  Whitney, I hope you are resting in peace.  This portrait makes it appear you had little in your lifetime.