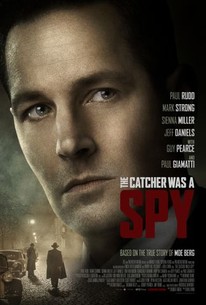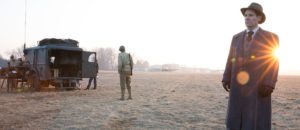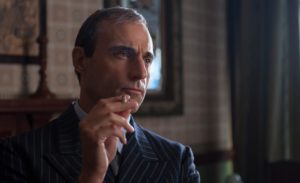 Churchill said that Russia was a riddle wrapped in a mystery inside an enigma. The same might be said of Moe Berg. The critics vociferously complain that the movie does not tell us enough about Bergman and who he was. They miss the point. Berg didn't want you to know who he was. He said he was good at keeping secrets. Was it because he was bisexual as the movie hints? For his exploits, he won the Presidential Medal of Freedom. In typical Berg fashion, he refused to accept it and never said why. Berg helped insure that the Nazis did not get their hands on the bomb; he risked his life to save ours. His story deserves to be known.
In 1938, the German physicists' work with the atom is said to be the start of the atomic age. During this period, Berg was a journeyman catcher with four different teams. Reporters referred to him as The Professor because had a B.A. from Princeton and a Law degree from Columbia. He spoke seven languages fluently and understood several others. He was exceptional on a radio quiz show. After Pearl Harbor, Berg volunteered for the OSS. Eventually, he was assigned to interview physicists to determine how close the Nazis were to the development of the bomb. One of the key German physicists was Werner Heisenberg. If the bomb development was close, Berg was ordered to kill Heisenberg.
Paul Rudd plays Moe Berg, never giving away anything more than Berg himself. His frustrated girlfriend of many years was Estella Huni, acted by Sienna Miller. The stellar cast includes Mark Strong as Heisenberg, Jeff Daniels as Bill Donovan (the head of the OSS), Tom Wilkinson as Paul Scherrer (a Swiss physicist friend of Heisenberg but sympathetic to the Allies), and Paul Giamatti (with a terrible accent) as Samuel Goudsmit (a Dutch-American physicist assigned to assist Berg). Overall, you couldn't ask for a better cast.
History buffs will enjoy this movie, as I did. It takes a trip to the Esquire to find it, but combine it with a visit to Biaggio's Bistro just a few doors away, and it makes a great date night. It is fair to say that this movie did not have a huge budget. My guess is that these actors probably worked for less than their usual take. This is not Star Wars or Marvel production quality. Yet the story is as compelling as were the consequences of failure of the mission. If a trip to Cincinnati is not on your agenda, then pull out your pencils. You could do far worse than spending a couple of hour with Professor Berg. You will probably want more closure than this movie provides, but Berg wouldn't want it that way.